Maria Larkin and Dean Harvey were crowned Senior Women and Senior Men National Champions at the 2023 Cyclo-cross National Championships on Sunday, January 15th.
Fans from all corners of Ireland flocked to McCrystals Track for the championships, while a host of youth races and the Youth National Championships took place on Saturday, January 14th.
The first National Championships of the year saw some thrilling racing, with overnight rain ensuring that riders would have to contend with plenty of mud and a technical track in Co. Louth.
On a day that saw many of Irish Cyclo-cross' veterans lead the way once again, fans were reminded that the future is bright as some young guns impressed.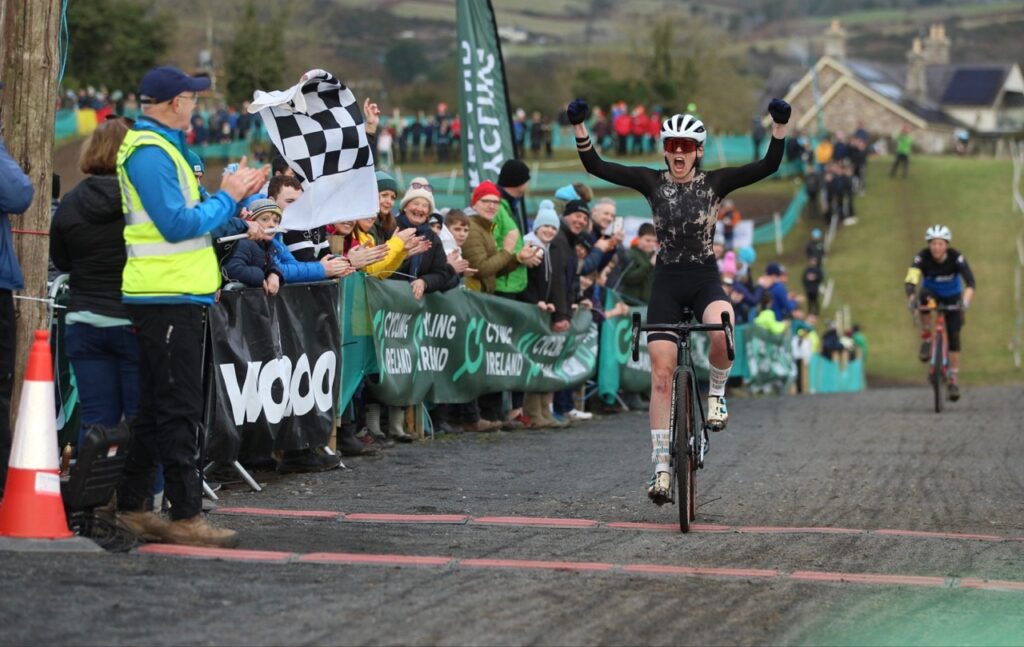 Maria Larkin retained her Senior Women's National Champion jersey in a battling performance that saw her take the lead and hold it with two laps to go.
Embroiled in a back-and-forth battle with Hannah McClorey, Larkin lost her lead midway through the race due to a problem with her shoe. But she managed to take a small lead into the final lap and keep McClorey at bay to take a brilliant win.
Harvey Continues Dominant Streak
Dean Harvey was dominant from lap one all the way until the finish in an intriguing Senior Men's race, the Trinity Racing rider followed up his National Series dominance to seal his first senior National Title in style.
Defending National Champion Chris Dawson put in a strong ride to finish in second place despite suffering a crash on the opening lap, losing traction on a technical section made more difficult to navigate by heavy rain and hail minutes before the race.
He recovered well in the following laps and passed Darren Rafferty, who took third place, with two laps to go. Darnell Moore and JB Murphy finished fourth and fifth respectively.
Masters and Junior Champions
Grace Young was crowned Masters Women's National Champion in a dominant display, finishing clear of second placed Heather Foley and third placed Helen White.
Liam O'Brien continued his impressive form in the Junior Men's race, building a comfortable lead early on while Joseph Mullen and Oisin Ferrity battled for podium positions with Mullen claiming second while Ferrity finished in third.
The day got off to a flying start as reigning European champion Robin Seymour showed his class to take the M50 National Title. He proved just too strong for Trevor Woods in second and Jason Henry in third.
The M60 race saw Johnny McCabe continue his winning ways with a fine performance, finishing ahead of Paul Birchall in second and Christopher McCann in third.
Fans were also treated to a heart-racing M40 race that saw reigning champion Alan Bingham do battle with Glenn Kinning.
The race being Bingham's final and Kinning's first National Championships competing at M40 level made their battle for victory one of the more dramatic races.
The pair were neck-and-neck heading into the penultimate lap before Kinning pulled a lead that he managed to maintain in the last lap to take the victory.
You can re-watch the broadcast here.
You can view the full live-timing results here. Results from Saturday's Youth Races can be found here.