Former National Aquathlon Champion Emma Porter has gone mad for cycling and in particular gravel biking in recent times. The Galway girl currently based out of Girona in Spain has embraced her time on two wheels and fallen in love with the adventure and buzz of gravel racing.
In recent weeks has had some solid results and podiums taking 2nd place in La Santa Vall in Sant Gregori, Spain, in March, and finishing 2nd in the Traka 100 last month in Girona. Last Sunday she came 3rd in the Wish One Gravel in Millau, France, and qualified for the UCI Gravel World Championships! Go Emma.
I had a chat with Emma about the event, how her race unfolded and how she fuelled on the course!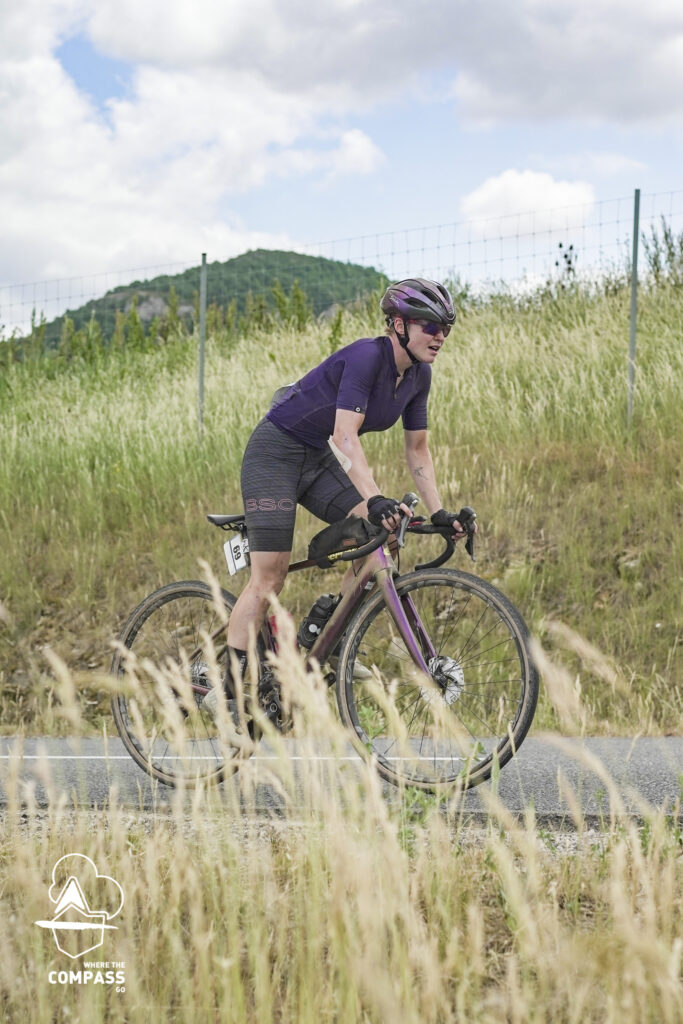 What was the race and why did you choose it? 
The race was Wish One Gravel Millau. Wish One has previously organised a number of gravel races in France, and this one was selected to be part of the new Trek UCI Gravel World Series.
The route consists of approximately 40% woods/trails and 40% gravel roads, with the remaining 20% on paved roads. It's advertised as a 130km hilly course. I was expecting about 2,000m of elevation based on the course map and profile we received before the race, but my Garmin clocked 2,531m, so it was definitely a challenging day out! It took me 5:51:45 on the day to complete the course.
What attracted you to this race?
I got a message from a friend saying to sign up, they were going and that there would be one or two more from town heading to the race too. I just saw it was a gravel race, not too far away, and thought it would be a good weekend adventure with friends. I had actually initially thought there would be a "pro" race separate from ours.
What was your race plan, did you stick to it?
We arrived on Friday evening, so I rode the first 15-20km of the race on Saturday at an easy pace to see what we were in for. The route starts with a 2km neutralised zone through the town of Millau before a long steep road climb, covering about 500m in the following 6km, before turning off-road to the gravel and dirt trails. It was a brutal start but it broke up the field of 200 plus racers nicely.
I planned to push very hard on the opening climb to find faster wheels for when we got off-road. After that, all my plan really involved was staying upright and trying to race as smart as I could. Keep it simple. I went out hard like I planned and, apart from one small mishap, stayed upright.
You led the race for a bit, how was that?
I suspected I might have been lead female for a while based on my effort during the opening climb, but I couldn't be sure due to the mass start. With so far to go, where so much could happen, it didn't play too much on my mind while I was out there.
In hindsight, it's pretty cool that I led the opening 55-60km of a World Series Race. I don't speak French so I wasn't sure if I had been told I was lead femme or second or third etc. and there was no one on the ground who might have given me a time gap or anything like that.
So, in the moment I was aware I had gone out very hard (as planned) and was ahead of some of the women I had seen at the start, but also that there were some incredible athletes out on the course and that 70km, on mixed terrain, is a long way to go.
I stuck with the two women who passed me for a few km. I had come off a few minutes before and hadn't quite shaken it yet. They put over ten minutes into me in the end. I needed to stop at the next aid station, throw some water on myself and give myself a minute to let the extra sugar kick in. I think I should have been able to stick with them a little longer when they were passing, but the overall result would likely have been the same. My plan was still to race as smart as I could, and letting them go at that point was a measured decision.
Did you expect to do well?
I knew my legs were in good shape, but I wasn't confident at all going into the race. I had come off my road bike two weeks previously. I hit a patch of loose gravel on the road while descending and had to get seven stitches close to my right elbow, along with covering a good portion of my leg, hip, and arm, in road rash. I took two days off the bike and then I was on the turbo for the rest of the week. I had been riding on the road and gravel in the week leading up to the event, but I didn't feel confident in my handling. It's only my third race on gravel, plus the stitches were still in on race day, so I was a bit self-conscious of my ability and possibly doing myself more damage.
I felt awful on Saturday when we were on the trails. I left the guys I was out with to finish their reccie without me and went for a swim in the river to clear my head. I don't really know what changed in the 18 hours before we lined up, but I managed to park most of my handling fears for the race. If I hadn't, I'd probably still be out on the course trying to finish.
What was your fuelling strategy for the distance?
This is the longest race I've done yet. One of the guys, who travelled with us and raced, Steven Davis, is a chef with the Cycling House in the USA. He cooked for us the night before – loads of pasta, with feta, tomatoes, chicken, bread, and salad, around 6:30 pm. We went to the race briefing in town, came back and I had another bowl before bed.
We start at 8 am on race morning, so I'm up around 5:15 am, and have a massive bowl of porridge with coffee. It generally feels like a chore to finish the bowl of porridge on race day as it's that big. I've an electrolyte with a bottle of water throughout the morning, and I'll try to eat some bread or toast before we leave the apartment, and finally, a half bottle of coke – with the other half going into a bottle on the bike, topped up with water (it's not as awful as it sounds.)
I had five Marten gels with me on the course, two caffeine, three standard, a banana, some dried fruit at the aid station at 73km, some type of granola bar, a bag of jellies, and some type of apricot puree sachet they gave us in the race pack.
I had the half coke water mix in one bottle, and water with an electrolyte in the other bottle. I sipped on both of these until the aid station, where I topped up with similar for the rest of the race and had a cup of coke while stopped. I don't normally drink much coke, but I think between pre, during and post-race I probably had close to two litres of it on Sunday.
I had eaten plenty before the race and had enough fuel for during it that I didn't feel hungry at any point. However, if I was lining up for the same course again, I'd pack more with me. Not feeling hungry isn't the aim; it's having the fuel for your body to keep the effort up.
Did you enjoy it?
I'm still trying to figure that out! It was a brutal course. I enjoyed most of it, but I definitely didn't enjoy all of it. There is a new cyclo-cross course where the race finished. So after 134km, and 2500m of climbing, we had to do a lap before crossing the line.
It took me 11:29 to cover the 1.66km according to my Strava file. I was absolutely cooked by that stage. I've never done any cyclo-cross at all before, so having to navigate the track on the side of the hill after over five and half hours of racing, wasn't the introduction I'd have liked for the discipline.
Aside from that, parts of the route were spectacular, I'd love to have time to explore the area more and get the chance to take in the views. It's without a doubt the hardest race I've done to date.
How's the recovery?
Easy spins for the past two days and plenty of food.
You've qualified for Worlds? Where are they on and are you excited about them?
Rumour has it they're on in Italy in October, although it hasn't been formally announced yet. This is the first ever Gravel World Champs so it's a bit surreal to have qualified.
What is your next race?
Road Nationals in Cork with UCDCC, possibly followed by the Newry 3-day stage race the weekend after. I'd love to do Rás na mBan in September, and then I'll do the Ranxo 166km gravel race in Lleida, Spain, also in September, and hopefully, then it's on to Italy in October.