Rhasidat Adeleke (Tallaght AC) and Sarah Lavin (Emerald AC) provided Irish fans with one of the most memorable nights in recent Irish athletics history at the World Athletics Championships in Budapest this evening (Aug 23rd).
Lavin set the tone in the semi-final of the 100m hurdles, breaking Derval O'Rourke's long-standing national record with a stunning 12.62 before less than an hour later Adeleke stormed to a 4th place finish in her first global senior final in the 400m.
Running from lane four, 20-year-old Adeleke stuck to her race plan from the gun, finishing powerfully down the home straight to cross in 50.13 ahead of several world-class athletes.
Speaking after the race, the Irish 400m record holder said, "I gave it all I had and that's my goal every time I go out onto the track. I executed my race plan and I'd be kicking myself if I didn't stick to it and things didn't work out.
"To come out here at the end of August and come 4th in the world is something I can be proud of. I'm 20 years old and I'm going to keep working and improve over the next 12 months so I'm looking forward to what's to come."
The women's 400m medals went the way of Marileidy Paulino (DOM) 48.76 NR, Natalia Kaczmarek (POL) 49.57, and Sada Williams (BAR) 49.60.
The fireworks of the 400m came on the back of Sarah Lavin's simply remarkable championship performance in the semi-final of the women's 100m hurdles which saw her break the national record which she has threatened for so long.
Lavin took her place in the starting blocks alongside five athletes who boasted personal bests of 12:50 or better and the Limerick hurdling star looked very much at home in the company, finishing in 5th in the new national record of 12.62.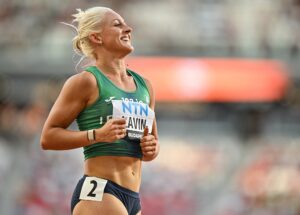 Speaking after the record-breaking performance, Lavin said, "Bittersweet, but we've got it. I've dreamt about that nati
onal record for so long and Derval set the bar so high. I'm not going through to the final, but I was up there with some of the best in the world and twelve months out from the Paris Olympics, I'm where I want to be
"I felt like a local when I came into the stadium this evening, the cheer from Irish fans here was just unbelievable. It's been a difficult time, but I've definitely had something wonderful around me for the last few months and I'm so grateful for that."
Day 5 Results Summary
Louise Shanahan – Women's 800m – Round 1 (H4) – 2:00.66 (27th)
Sarah Lavin – Women's 100m Hurdles – Semi Final – 12.62 NR (11th)
Rhasidat Adeleke – Women's 400m Final – 50.13 (4th)