Well first off all when this triathlon craic started with me back in 2008 I never thought that I'd have gone so far, done so much and met so many great people.
If you know me you will know I don't plan things I just turn up. Suppose taking part is all a big part of swim, bike and run.  I couldn't count the number of events I've taken part in but it's fair few. My triathlon adventure started for me with a local race in Groomsport, I got it done just about, but the IRONMAN craic really started when I went to good old Lanzarote for IRONMAN Lanzarote.
Fast forward to August of last year where I rocked up to race at IRONMAN Cork, after being there the first year in 2019 staying out to watch and cheer people on the whole day. Well Cork 2022 was unreal, so good, that my name went straight down the day it opened for 2023! Roll on August this year!
Kona Countdown
I qualified for Kona in Cork last year, getting a roll down.. it rolled quite a bit down, but I was delighted to get the slot!
My prep was seven weeks or so to plan everything so, me being me, I sorted flights and accommodation with my good friend Dermott Connolly and said whatever may be may be, no point getting excited at this late stage. Training for the heat, swim, bike & the run didn't happen as my work life has changed big time since covid with more time being spent in the shop (McGales Furniture in Omagh) than ever before.
Anyway, I eventually got to Kona, after taking three long haul flights.  We got picked up at airport by the guy we hired house from, got dropped off at house and got a taxi to the local big supermarket. First shock we got was how expensive it was, spent a clean fortune and got very little.  Back to the house straight to bed, then up early & down for dander to check the place out. No jet lag which was a shock.
It was a case of up early every morning down for swim, meet few of the Irish, have breakfast, chill & go for spin on bike & maybe an odd run. The heat in Kona is unreal not the sun but the humidity is unbearable.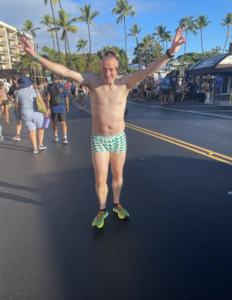 Parade of Nations I'll never ever forget, to walk down the road with such a great bunch of like minded people just made this trip for me, very proud to be Irish and for Mike Reilly to join us at the end was unreal. Onto the underpants run and I think everyone back home especially the ladies prob couldn't sleep for few nights after seeing my shamrock boxers 😉
Race Day
Up early, chilled breakfast and away we head, walking down the road I throw the thumb out and the first car stopped and gave us a lift, happy days. Into transition and got my stuff together, had an hour and a half to kill before my race start so chilled as best I could.
Swim start and away I went, it was as good as it could be for me. Out of the water, into transition and away on bike.  Now this bike course isn't for me as it's out and back on a very quiet warm stretch of road, got back eventually and onto the run.  Felt grand at the start and Francie (Oliver Harkin) was waiting to cheer me on and give me some advice. When I left him, his words rang in my head for the next 19 or so miles, which at times were very lonely, he said "Don't let it beat you kid" so I didn't!
Onto the finish line and not that many about by the time I finished so I timed it perfectly with the one and only Mike Reilly there to call me over the line and to top it off our very own Joanne Murphy was there to welcome me to the finish line too! What a day what an experience!
Final Thoughts
I never wanted to go to Kona but so glad I did, note for the future, always go to rolldown at awards!!
I'm lucky to be part of the triathlon community and made lots of great friends over the years and hope to have lots more fun in 2023 across swim, bike and run fun, creating memories that will last for ever.