James Edgar was the best of six Irish athletes racing Alhandra European Cup in Portugal on Sunday.
Fresh from his victory at the Draft Legal Sprint Distance National Champs in DCT, the Lisburn man finished 5th on 51mins 17secs, 20secs behind winner Maxime Hueber-Moosbrugger of France.
In the same race, Jonathan Oakey was 46th, Ian Manthey 53rd, and Luke McCarron 55th.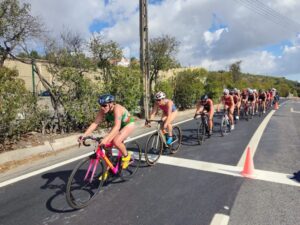 Later in the women's Elite race, Erin McConnell finished 16th and Shannon Kelly unfortunately DNF'd.
Next up for Edgar, McConnell, McCarron, and Oakey, are World University Triathlon Championships in Maceio, Brazil, on the 9th of September. The squad will also be joined by Sabian Kulczynski.
Photos: Claisse Henriques was there to capture the action for Triathlon Ireland.