All roads lead to Mondello Park this weekend for cyclist Karen Cassidy and her crew for the inaugural Mondello 24 Cycle race starting at 12pm this Saturday 16th October.  Riders take to the track for 24 hours to cover as much distance as possible before the race ends at 12pm on Sunday afternoon.
Karen a fellow member of the Galway Baybes cycling team who hold the Irish Record in the Race Around Ireland from 2017 and the Race Record for the Donegal Ultra 555k from 2018 for a four person female team is going solo this time, in what will arguably be her toughest sporting challenge to date.
No stranger to an individual challenge she completed IRONMAN Barcelona in 2015,  swimming 3.9km, cycling 180km and finishing off the day with the 42.2k run in the Spanish town of Callella.  Since then her love of endurance cycling has taken hold and she has embraced the journey with both hands.
The challenge this weekend will undoubtedly test her mentally, physically and emotionally as she tackles her first 24 hour race as a solo rider. Where every second counts in the race there will be limited time for resting and certainly very little time spent off the bike over the 24 hours as she aims to complete as many miles as possible on the Mondello Track.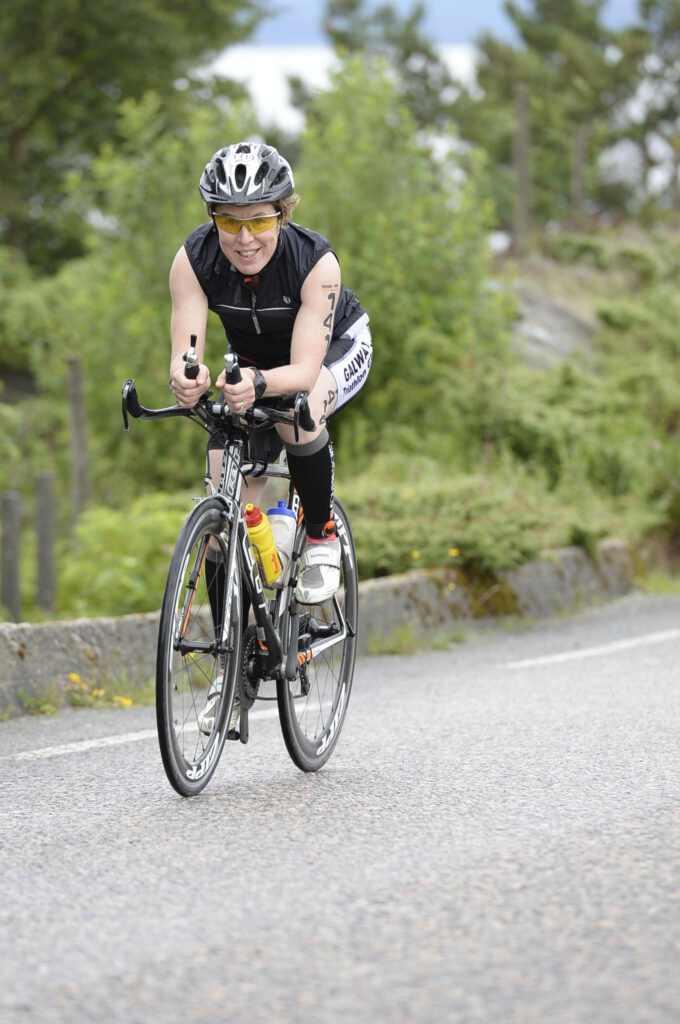 Speaking about the challenge,  Karen said "I'm looking forward to getting to the start line on Saturday morning, all the hard work and training is done.  I'm going into the unknown with the solo aspect of it and of course the 24 hours of cycling is quite daunting, but it's also very exciting.  I have an experienced crew around me from the Galway Bayes team so I know I am in great hands. My crew of Padraic Benson, Pat Dirrane and Damien Moloney crewed for our races in 2017 and 2018, Bríd Ní Neachtain and Joanne Murphy who rode with me in 2017 and 2018 are crewing this time around which is a big bonus.

With super support at home from my husband Noel and three boys Cormac, Dylan and Jack they have endured my training and supported my efforts to get to the start line in great shape. My colleagues at Fat Tony's are behind me all the way too and I've had great support from my fellow club mates on and off the road at Galway Triathlon Club, so now it's up to me to go and race the best I can, enjoy the experience,  soak up the atmosphere and do myself my family, friends and my team proud"
A keen open water swimmer Karen has chosen to raise funds for the RNLI Galway Lifeboat station as part of her challenge.  You can donate on the link https://bit.ly/KAREN24HRRNLI and support her cycling by powering her pedals with your donations.  To follow Karen's progress at the weekend check out Galway Baybes on Facebook and Instagram.
On a personal note, I'm looking forward to crewing for Karen, after training with her for the last few months I will have some serious FOMO to not be racing,  but  I am delighted to be supporting her on the sidelines and seeing first hand how her race unfolds, she has put so much into the training and preparation for the race she will do us all so proud this weekend. #GoGalwayBaybes