Nick Griggs (Candour Track Club) won a superb silver medal in the 3,000m at the European Athletics U20 Championships in Jerusalem on Wednesday evening.
Griggs, who will represent Ireland at the World Athletics Championships later this month over 1500m, clocked 8:45.69 in a valiant defence of the 3,000m title he won back in 2021.
The Tyrone teenager hit the bell well-positioned before unleashing a run for home with 300m to go in what was a hugely tactical race. Jonathan Grahn (SWE) was the only athlete to stay on the heels of Griggs with both athletes rounding the final bend side by side. The Swede managed to pass the defending champion in the final 80 meters to cross in a winning time of 8:44.67.
Speaking after the race Griggs said, "It was tactical, I tried to move up and do what I did last time by taking it up with 300m to go but Jonathan is a really good athlete and he's got speed."
Griggs continued, "This was driving me all season, to come here and defend my title, so I'm disappointed. I'll take some time to reflect, and I'll head to Budapest in ten days which I'm really excited about. I'll go out there and give it a go, there's no pressure on me so I can just go out and see what happens".
The men's 3,000m bronze went to Bradley Giblin (GBR) in 8:47.26.
Ava Rochford (Nenagh Olympic A.C.) was also in final action this evening, claiming a top ten finish with an equal lifetime best of 1.80m in the high jump competition. The 17-year-old also equalled her personal best in yesterday's qualifying round and will take much away from her impressive championship performance.
The women's high jump medals went to Angelina Topic (SRB) 1.90m, Elisabeth Pihela (EST) 1.88m, and Joana Herrmann (GER) 1.86m.
Oisin Joyce (Lake District AC) picked up Ireland's third top ten finish of the day, finishing in a brilliant 6th place in the men's javelin with a best throw of 70.25 which was only marginally shy of his 70.56 pb.
Today's morning session saw Elizabeth Ndudi (Dundrum South Dublin AC) ease her way through to tomorrow's long jump final. The national senior champion posted a second jump of 6.37m which was enough to see her through as one of the top 12 qualifiers. Tomorrow's medal decider is set for a 7.15am start (Irish time).
The 4x400m relays teams also stormed into championship action this morning with both the men's and women's teams securing their places in tomorrow's respective finals.
The women's 4x400m relay team of Kate O'Connell, Hannah Murray, Renee Crotty, and Niamh Murray finished 3rd in their semi-final in a season's best time of 3:39:02 SB to progress as one of the fastest non-automatic qualifiers.
The men's 4x400m relay team of David Bosch, Joe Doody, Stephen Mannion, and David Mannion were just as impressive, clocking 3:10:43Q for second place.
Anna Gavigan (Lambay Sports & Athletics Club) was another to impress on day 3 for Team Ireland, going agonisingly close to making tomorrow's discus final. Gavigan produced a best throw of 46.09m which was just one place shy of progressing from this morning's qualifying round.
Fintan Dewhirst (Tir Chonaill A.C.) bowed out of this year's championships at the semi-final stage in the 400mH, finishing 7th in 56.64. Dewhirst has already shown that he knows how to win medals at European level and is sure to take much from his 51.49 PB in Tuesday's opening round.
Victoria Amiadamen (Dooneen A.C.) also finished her individual championship at the semi-final stage of the 400mH, signing off in style with her second personal best of the week (59.53) securing 13th place in Europe for the Dooneen star.
Ndudi Takes Long Jump Title
Elizabeth Ndudi (Dundrum South Dublin AC) has won gold for Ireland in the women's long jump at the European Athletics U20 Championships in Jerusalem this morning (Aug 10th).
The Irish national senior champion put in a stunning round of jumps with her best leap of 6.56m (+1.4) smashing her own Irish U20 record of 6.44 which she posted just last month.
The result moved the newly crowned European champion to second on the Irish all-time list behind Kelly Proper's national record of 6.62i (2010).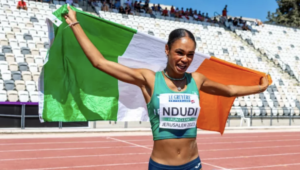 Speaking after the race, Ndudi said, "I'm in shock, I'm amazed how well the event went for me. I was confident in myself coming in here but it's a huge improvement and to do it in such a high competition makes the national record so special".
She continued, "I really focused on my mental preparations as well as the physical side coming in here. I made sure to really get in the zone in the morning and evening before sessions. Last year I was a bit nervous and I think that's why I didn't post a big jump but today I came in here full of confidence, so I was mentally prepared".
Ndudi, who came into this week's championships ranked sixth, becomes Ireland's first ever field event champion at European U20 level.
Result:
1. Elizabeth Ndudi (IRL) 6.56 NU20R
2. Plamena Mitkova (BUL) 6.54 SB
3. Laura Raquel Muller (GER) 6.51 PB
Away from Ndudi's incredible performance, the men's 4×100 relay team also secured their place in this evenings final with a smooth 40.56 SB to qualify as one of the fastest non-automatic qualifiers.
The full day three results can be found HERE.