Darragh McElhinney (UCD AC) and Sarah Healy (UCD AC) claimed their first national senior titles at the 123.ie National Cross Country Championships at Rosapenna Hotel and Golf Club, Co Donegal yesterday afternoon (Nov 20th).
Both Healy (21) and McElhinney (22) were pushed all the way in quality senior races, but it was the UCD pair who would ultimately star on a day filled with outstanding performances across the 10-race schedule.
The women's 8000m race came down to a duel between two 1500m specialists in Healy and European silver medallist Ciara Mageean. Both athletes raced side-by-side over the first 5,000m before making a decisive move which saw them broke from a group which included defending 2021 champion Michelle Finn (Leevale) who would ultimately cross for third.
Healy waited until the final uphill climb before making her race-winning-move which saw her surge clear on the run for home, crossing the finish 15 seconds clear to take her first Irish senior cross country title in 27:05. Mageean's performance to claim silver was made all the more impressive in that the City of Lisburn star was forced to run much of the final lap with one spike.
Speaking after the race Healy said:
"I'm so excited, it means a lot to me against such good girls. I enjoyed it, as much as you can enjoy 8K cross. It's a very scenic course."
Speaking of the upcoming European Cross Country Championships on December 11th, she said: "I'm excited to run the U-23 race and to be running 6K instead of 8K. I was fifth last year, so I have to be going for a medal."
Dublin City Harriers were led home by Lauren Tinkler (7th) to claim the team title with an impressive showing which saw 4 athletes finish in the top 20.
The men's race was hugely tactical from the gun with likely contenders of Efrem Gidey (Clonliffe Harriers), Peter Lynch (Kilkenny City Harriers), and Hiko Tonosa Haso (DSD AC) paying close attention to any potential moves from Darragh McElhinney.
Haso was first to make his move for home from 600m out, but McElhinney covered it expertly, using the descent off the final hill to open up a sizeable gap which allowed him enjoy the finishing run-in to his first senior gold in 29.59.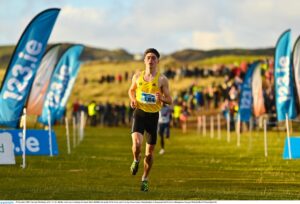 Haso crossed four seconds behind, with Peter Lynch claiming a superb bronze ahead of Gidey who led Clonliffe to the team title.
Speaking after the race McElhinney said: "After winning the indoor (3000m) and outdoor (5000m), I wanted to make it three and win the cross country, and it was probably the most challenging as I'm more comfortable on the track,".
"It took me a while to get going, but I felt comfortable the whole way. Being at the course yesterday, I knew if I wanted to win I had to be the strongest going up the last hill and I did that." For the Glengarriff native, the win erased much of the pain of his 2021 defeat.
"Last year was my first year running it and I was disappointed with the way I ran it, I didn't make good decisions during the race but today, I executed it the way I wanted to," he said.
In the men's U-20 race, Nick Griggs (Mid Ulster AC) prevailed in another exhilarating race with Dean Casey of Ennis Track, the 17-year-old eventually breaking from Casey over the final bends to win by two seconds in 17:43.
Casey took a well-earned silver with Jonas Stafford in third, also booking his spot on the Irish team.
Griggs said: "You always know when Dean's in the race it's going to be hard," said Griggs.
"It was a similar race to last year, and down that last home straight I knew as long as I was ahead of him, I had enough to get away. I didn't have to fully extend myself so it went perfectly to plan. It's on to the Europeans now. I'm not as naïve as last year so I know to get a medal will be incredibly tough. The goal will be top five and as a team, hopefully we can take home that gold for Ireland."
Leevale's Anika Thompson was a decisive winner of the women's U-20 title after making the trip from Oregon for the event.  Thompson finished clear of Anna Gardiner and Roise Roberts (North Belfast Harriers) who will be once again be looking forward to a European Cross Country Championships over the coming weeks.
Speaking after the race Thompson said: "It was tough out there but I had a lot of fun. Whenever I commit to taking it early, there's no going back. I look forward to continue competing in Ireland for sure."
There was no also shortage of drama and quality action in the races that proceeded the afternoon's fireworks. Lorraine O'Connor's performance in taking the U16 title was ultra-impressive, while the loudest cheer of the day was undoubtably saved for Caolan McFadden (Cranford AC) who claimed the U16 boys title in from of his home fans, scenes that will live long in the memory.
Athletics Ireland would like to thank all in Cranford AC for hosting a National Cross Country Championships which will live long in the memory.