Whether you're racing your first IRONMAN or IRONMAN 70.3 this year, or you are a seasoned athlete, we've put together a list of all the essentials you'll need for race day to help reduce the pre race nerves!
The following list is what we consider the essentials and is by no means exhaustive. It's designed to help you remember what to pack for each stage of the race, from registration to post-race celebrations and everything in between, we hope you'll find it a useful tool ahead of your big day!
Pre Race
Online Briefing – Know Before You Go!
If there is an online race briefing this will be released in advance of race week, this is ESSENTIAL viewing, also make sure to take the time to read the athlete guide so you are well versed on timings, logistics and pre race requirements before you start packing your bags.
REGISTRATION
Before you travel, check your email in the week/days leading up to the event for key information the race organisers may provide in advance of your arrival.  This will contain information on race briefings, race check-in times, racking locations and potentially any last minute changes to the course.
Licence & I.D.
You will need to bring your race licence from your recognised governing body, if you don't have a yearly licence you will need to purchase a one day licence in order to race, which in most cases can be accessed via the online athlete guide. You will also need to bring I.D., along with your race confirmation email and QR code. 
RACE GEAR
SWIM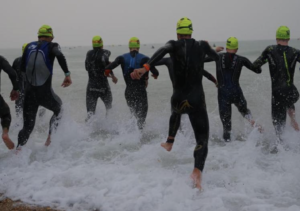 Trisuit
You may chose to wear a tri suit or a two piece depending on your personal preference, you wear this under your wetsuit for the swim. Depending on your personal preference you may decide to change into specific cycling gear in T1.  *See the note below on the 'Full Change of Gear'
Wetsuit
IRONMAN has strict rules in relation to water temperature and the necessity of a wetsuit. These differ for age-group athletes and pros. You can find the 2022 Competition Rules HERE, it is unlikely you will have a non wetsuit swim especially if you are racing in Ireland or the UK.
Swim Hat & Goggles
You'll receive a hat with your race pack, this is your official swim cap and must be worn on race day, you are permitted to wear a second hat but your official race hat must be clearly visible.  Wearing two hats can help your goggles stay in place during the swim. (*Order: Hat, Goggles, Hat.)
It's also a good idea to bring a spare pair of goggles to the race, just in case! Depending on where your race takes place, it might be a good idea to consider bringing both a clear lens pair of goggles and a tinted lens pair. If you're lucky enough to be racing somewhere bright and sunny, you'll enjoy the swim much more with a tinted pair of goggles!
Ear Plugs
Personal preference, if you normally wear them, make sure you pack them!
Flip Flops
Keep your feet protected on the walk to the race start, don't expect to get them back post race.
Anti-Chafe Cream
Not only will this make your swim more comfortable, it's also likely to make the rest of your race more comfortable. Identify those areas most likely to chafe throughout the swim and race and apply your preferred anti-chafe cream. It will also help your wetsuit to come off more easily in transition after your swim.
Watch
Some people will wear their watch the whole race if it can track multiple disciplines across swim, bike and run, make sure to bring the charger so it is ready to rock n'roll on race morning.
You can use the WHITE, transition bag to bring all your swim gear to race start, ideally you would wear your tri suit and bring everything else you need for the morning and your gear and treats post race in your white bag.  You drop this white bag off in Transition 1 on race day morning, IRONMAN will bring this bag to the finish line for you.
Don't forget your timing chip, this you will collect from IRONMAN ( generally when you rack your bike the day before your race – check the race specific athlete guide for the exact details for your race). On race day the timing chip goes around your left ankle.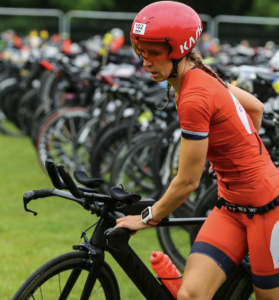 BIKE
Helmet
You will not be allowed to race without a helmet. In fact, you will not be allowed rack your bike without one, wear you helmet when racking your bike.
Bike
The obvious one, but we wanted a complete list.
Race Belt
Your race belt and number go in your BLUE bag and are only put on when you head out onto the bike course, they are NOT worn under your wetsuit. (This is the rule in Ireland and the UK, check relevant guides for specific races)
Sunglasses
Not just for the sun, they'll also keep the wind out of your eyes as you fly through the course.
Transition Towel
Transitions can often be in areas that are normally car parks or fields, a small towel will allow you wipe the water and dirt off your feet post swim before putting your shoes and socks on in the transition area.
Bike Shoes & Socks
Shoes clipped in, or not, your choice, just don't forget them.  At an IRONMAN they must be either clipped in on your bike ready for you to do a flying mount upon exit of transition, or placed in your blue transition bag and put on before you run out to your bike.
Sun Cream
Even if you're racing in Ireland or the UK on an overcast day, you'll get more sun than you think. It's worth having a bottle in transition and applying before heading out on the bike course.
Water Bottles
Stay hydrated, the bike leg is a long distance!
Fuel & Food
Find what nutrition works best for you in the weeks/months leading up to the race. We recommend not trying anything new on race day if you can help it.
Bike Computer
Whether it's to stick to your prescribed/desired watts, or simply monitor how far you've gone, don't forget your bike computer and its charger!
Pump/CO2, Spare Tube, Levers and Multitool
Remember, you are not allowed ANY outside assistance during your race. While we hope you don't need to use any of these items on race day, don't forget to bring them. Make sure you know how to fix a puncture!!  Don't forget your multitool, a must for packing, especially pre-race if you need to build your bike or make any last minute adjustments.
Pack your BLUE transition bag with everything you need for the bike section of the race. When you finish your swim you will pop all your swim gear into this blue bag and either re rack the bag in transition on the rack, or hand to a volunteer. If the transitions (1 & 2) are not in the same location, ie a split transition, IRONMAN will transport your blue bag for you to Transition Two so you can collect it post race along with your bike and your red bag.  Your blue bag gets racked with your bike in T1 the day before your race.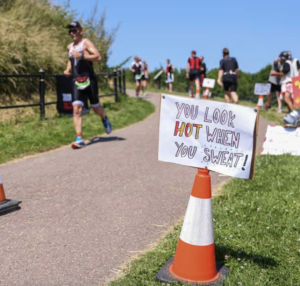 RUN
Glasses & Visor
You've probably got them on from the bike, but if you're helmet has a visor remember to pack your glasses for the run.  The run visor, not only help keep the sun out of your eyes, but useful for keeping some of the sweat out of them too.
Runners/ Trainers
If you use a different pair of runners for racing in than your day to day training, make sure you bring the right ones.
Sun Cream
Bring a small bottle for the run course bag, so you can reapply after the bike,  especially if the sun heats up the day, tri suit tan lines are grand for a day or two but you really don't want to get burnt to a crisp during your race, yes even in Ireland it can happen.
Change of Gear
Socks 
Because it is a long day out, some people prefer to change their socks for the run portion of the 70.3 or IRONMAN race, this is a personal choice, better to have them in the bag and not use them, than not have the option to wear them.
Full Change of Gear
For a full distance race many people will change from their tri suit in the swim, to bib shorts and cycling top for the bike and then into running shorts and a running top for the run, others will race the full day in whatever tri suit or gear they wore in the swim. There are nude changing facilities in transition so you can do a full change of clothes in T1 & T2 if you want to.  This is a personal choice, if you plan to change your clothes mid race, don't forget to pack them!
Pack your RED Transition bag with everything you need for the run course, when you finish the bike section you place all your bike kit including your helmet into the red bag and either rack there bag or give to to a volunteer to rack it for you. Your red bag gets racked in T2 the day before ( or maybe 2 days before) your race. 
We have compiled an article on tips for registration and racking for your IRONMAN/ IRONMAN 70.3 race, check out that article HERE especially if you need some tips on packing those Blue, Red and White Bags that you receive at registration. 
Other Essentials to Consider:
Bike Pump
Your tyres have an optimal pressure for performance and this can also be affected by conditions. Have the pump on hand to make sure the pressure is where you need it to be. Track pumps are provided in transition, if you can't bring one with you or are travelling overseas to your race don't panic!
DI2 Charger
Don't get caught out on race morning with a dead battery if you have electronic shifters, pack the charger so the gears are rolling for race day!
Nutrition
This is incredibly important. Bring the right nutrition for YOU and avoid trying anything new on race day.
Some people will have their nutrition planned to the exact gram for the bike and run. An extra gel or set of blocks/chews could be a life saver on the day. Remember, you've trained hard to get to your race day, it would be a shame to run out of fuel before the end of the race. Whilst you might have planned for a specific race time, uncontrollable scenarios can happen. If you've a head wind on the bike, this can add more than a few minutes to your race, carrying an extra gel, and not needing it is definitely better than wishing you'd one more with you!
Hydration
Similarly, make sure to sip regularly from your bottles on the bike course and grab water and drinks as needed at aid stations. If you take certain electrolytes, remember to pack them so you have them for race day.
Post-Race Recovery Food
If you have a food allergy or if there is a specific snack/meal you need post-race, pack it in your white bag.  There are post-race refreshments in the athlete village, however, you might not be guaranteed to get exactly what you're looking for and in the last portion of the half marathon or marathon the thought of your favourite treat waiting for you at the finish line in your white bag might be all the motivation you need to keep those legs turning on the run course before you hit the magic carpet!
Warm Clothes
It's a long day; be sure pack some suitable clothes for changing into after you've crossed the finish line! A light layer to wear pre-swim is also a good item to include, these can all go into your white bag on race morning drop the bag off in T1 on race morning and you can collect them at the white baggage area post race at the finish line.
Medication/ Contact lenses
If you have any conditions which require daily medication, remember to bring them with you, similarly if you wear contact lenses it's always good to have some spares in your transition bags just in case.
Ultimately we will all pack the kitchen sink for fear of forgetting some essential items, the best way to prepare for your packing is to firstly make a list and then start gathering the bits and pieces you need for your race over a few days.  As you pick up something and place it in the pile, tick it off your list, so when it comes to leaving home to head to your race you can double check everything and make sure nothing that is essential to you is left behind. Just like Santa Claus, be sure to check that list twice before you even leave the house!
Finally remember to pack a smile, your race day is the victory lap of all your training over the past few months, go out and enjoy it and be sure to celebrate your finish line in style.
*Article cowritten by Joanne Murphy & Emma Porter for Tri Talking Sport, if you found this article useful please feel free to share it.