The 2022 Intermountain Healthcare IRONMAN 70.3 World Championship Presented by Utah Sports Commission takes place this week.  With the women racing on Friday and men racing on Saturday, over 6,500 athletes from 104 countries, regions and territories are registered to race the much anticipated 2022 IRONMAN 70.3 World Championship.
The Pro fields are stacked with talent from both the short and long-course racing scenes and we can expect some superbly exciting racing across both days. With defending IRONMAN 70.3 World Champions Gustav Iden (NOR) and Lucy Charles-Barclay (GBR) headlining the list just weeks after their IRONMAN World Championship title and second-place finish respectively as well as the reigning Olympic Triathlon Gold Medallists Kristian Blummenfelt who finished third in Kona three weeks ago, and Bermuda's Flora Duffy, this is shaping up to be a very exciting World Championship.
As the athletes return to St. George for championship racing for the second time this year, and third time in thirteen months, just weeks after many of them toed the line in Kona,  we've reviewed the start list and selected a few athletes to make sure you keep an eye on, in what is sure to be a hugely exciting race day.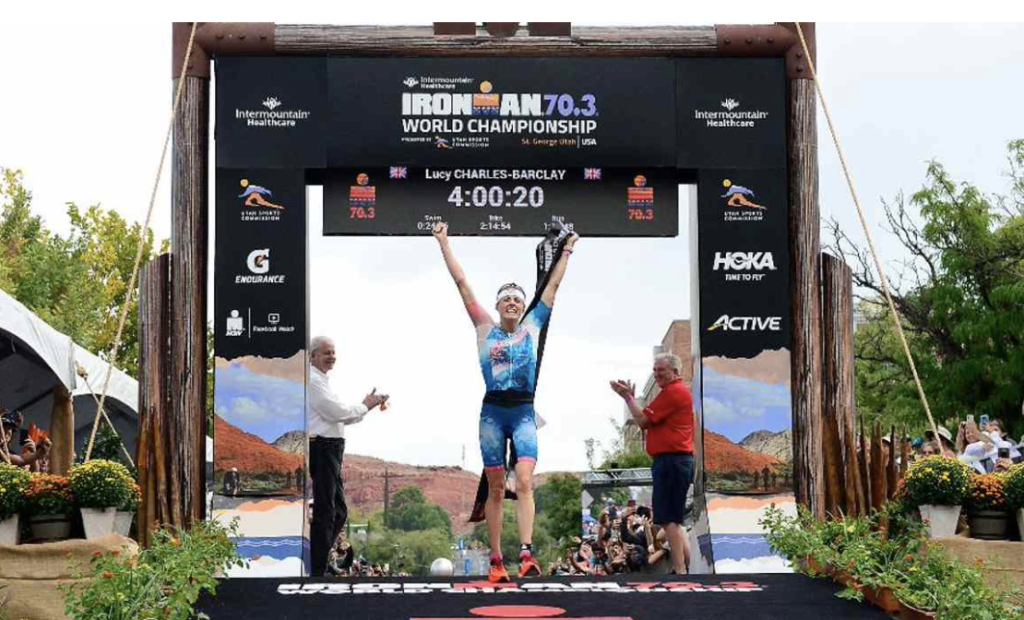 The Women's Race
Lucy Charles-Barclay
Back to defend her 2021 IRONMAN  70.3 World Title, and fresh from her fourth time in the runner-up spot on the podium in Kona, she's made an impressive post-injury comeback. Despite being injured for a large portion of the year, her podium performance in the PTO US Open in September along with her strong performance to finish second in Kona just three weeks ago, show that she's back in form and ready to defend her title.
Her last outing at the IRONMAN 70.3 World Championships in St. George saw her claim the fastest time across swim, bike, and run. Whilst definitely one of the favourites for the race, with many short course athletes on the start list with the ability to match her swimming prowess, the race is likely to play out quite differently to the recent full distance World Championships in Kona.
However, according to a recent YouTube video, Charles-Barclay's ultimate goal after she got injured was to try and be back for the IM 70.3 Worlds and defend that title. We expect to see her leave everything out there for this race.
Flora Duffy
Duffy received a Wild Card for the 70.3 World Championships after her attempts to qualify this year were spoiled by a COVID infection prior to Chattanooga, and the failure of her bike to arrive pre Mont Tremblant.
The Tokyo Olympic gold medallist, reigning World (Short Course) Champion, and Commonwealth Champion possesses somewhat less experience at the 70.3 distance. However, Duffy secured the win at South Africa's IRONMAN 70.3 in 2020, her only IRONMAN 70.3 race,  following up more recently with a second place against Daniela Ryf at the Collins Cup earlier this year.
Taylor Knibb
Knibb placed third at the 2021 IRONMAN 70.3 World Championships in St. George. Finishing 8 minutes down on Charles-Barclay by the time she crossed the line, she did stand out during the race by riding a road bike instead of TT bike.
Similar to Charles-Barclay, she has also been hampered by injury earlier this year. However, her previous results suggest she's capable of taking the race by storm. Last August at the inaugural Collins Cup, with clip-on tri-bars, she posted the fastest course time of the day, also notably putting 7 minutes into Daniela Ryf on the bike.
Looking back only as far as the recent PTO Dallas, Knibb has shown she's capable of swimming with Charles-Barclay and even biking away from her which could make for a very interesting women's race.
Knibb has previously claimed an overall silver in the World Triathlon WTCS series, a bronze the 2021 70.3 Worlds, and an Olympic silver medal from the mixed relay in Tokyo. She has shown she has what it takes to challenge for the top spot.
Emma Pallant-Browne
A former Aquathlon World Champion and two-time World Duathlon Champion, Pallant-Browne travelled to Chattanooga for the IM 70.3 World Championships as one of the favourites in 2017, rising to the challenge and securing a silver medal for her efforts.
She placed 5th in last years 70.3 World Championship in St. George, and will be looking to challenge for another podium position this week especially after her run of form this year in her racing over the IM 70.3 distance with four wins from four starts.
Paula Findlay
Another former short course expert, Findlay has been racing longer distances in more recent years and has won the IRONMAN 70.3 North American Championship in 2018, the IRONMAN 70.3 at Indian Wells in 2019, along with Challenge Daytona in 2019 and again in 2020. With the change in weather this week in St. George in Utah to cooler temperatures, this could suit the Canadian who is very familiar with the course in St. George.
A large contingent of strong contenders will be coming from Great Britain and includes 2016 IRONMAN 70.3 World Champion and 2019 IRONMAN 70.3 Word Championship runner up Holly Lawrence, as well as Nikki Bartlett who only two weeks ago took second place at IRONMAN 70.3 Portugal in Cascais.  Ellie Salthouse (AUS) Tamara Jewett (CAN), Jackie Hering (USA), Anne Reischmann (DEU) and many more, will all join in the battle for a spot atop the podium and the World Championship Crown.  With over 60  professional female athletes taking to the start line on Saturday, expect to see hot competition and fast splits across the board.
The Men's Race
Day two of racing in St George will see the men's field toe the line for their IRONMAN 70.3 World Championship Race. Both Gustav Iden and Kristian Blummenfelt top the tables for the Men's pre-race favourites. However, there are a few more notable names to keep an eye on who could make waves on the day in what is sure to be a very fast day of swim, bike and run.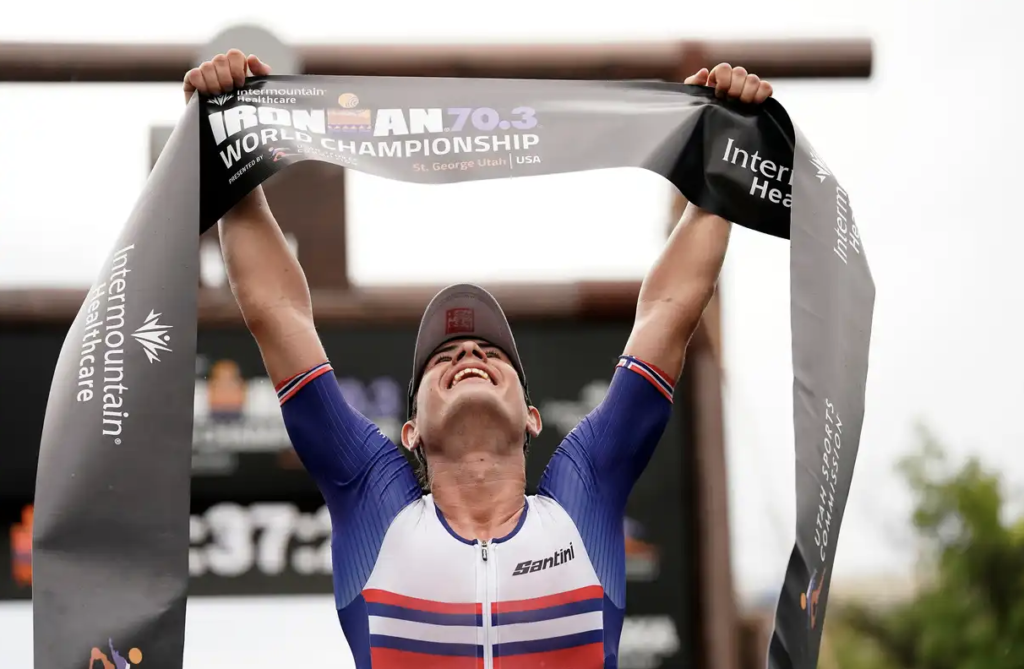 Gustav Iden
The two-time IRONMAN 70.3 World Champion showed excellent form at the PTO Edmonton earlier this Summer taking the win, after withdrawing from IRONMAN World Championship in St George earlier in May due to an illness.
Since then he's added the IRONMAN World Champion title to his incredible sporting CV,  confidently running away from the pre-race favourite Kristian Blummenfelt at the 30km point to chase and pass Sam Laidlow with just under 7km to go in Kona just three weeks ago.
Iden will take extra confidence from his exploits in Kona as he seeks to not only defend his IRONMAN 70.3 World title but secure both the IRONMAN World Champion title and the IRONMAN 70.3 World title within a three week period.  Will the young Norwegian have had enough time to recover from his race in Kona to retain his World Championship Title?  This question remains to be answered on Saturday.
Kristian Blummenfelt
Blummentfelt will be familiar with the course from his 2021 IRONMAN World Championship win earlier this year. The Olympic champion, WTCS World Champion, and 2021 Ironman World Champion will be aiming to take the IRONMAN 70.3 World Title from his fellow countryman Gustav Eden.
Despite a third place finish on the Big Island in recent weeks, the Norweigan could either use that experience as fuel to prove he is the best  in the world or perhaps, he could have gone too deep in an attempt to chase down Iden and Laidlow in the final miles of the Queen K. Time will tell on Saturday whether the racing and subsequent short time for recovery from Kona will impact his ambition to become the 2022 IRONMAN 70.3 World Champion.
Sam Long
The current IRONMAN World 70.3 silver medallist, Long has been in top form over the 70.3 and middle distance racing throughout 2022; securing three wins and two course records in the process, a second and a third across five middle distance races this year sets him up for a great race on Saturday in Utah.
Having chosen not to compete in Kona in order to focus on the IRONMAN  70.3 World title, he's definitely someone who'll set a hard pace to challenge the Norwegians. He is going all in to become the 2022 IRONMAN 70.3 World Champion.
Magnus Ditlev
Ditlev was eighth in Kona despite receiving a penalty and is the young-gun to look out for. Now 24, by the age of 20, Ditlev was an (age-group) Ironman 70.3 European Champion, his conversion to the pro ranks followed shortly afterwards. His pro debut was put on hold as he recovered from a serious road accident, but when he belatedly made his appearance on the scene, he made something of an impression.
His breakthrough event was IRONMAN 70.3 Gdynia in 2020, and he's added a number of impressive placings in variety of races since then. Whilst he's renowned for his incredible bike splits, his run has previously prevented him from staying in podium positions. He finished eighth at the 2021 IRONMAN 70.3 World Championship and is most certainly looking for a higher finish on the podium in the 2022 edition of the event.
Ben Kanute
Kanute is one of the key athletes to watch this week,  he has previously finished fourth in 2018 at the IRONMAN 70.3 World Championship behind one of the greatest fields to line up, with the podium consisting of Frodeno, Brownlee, and Gomez. Having also finished 2nd in 2017 behind Gomez, Kanute has finished in the top 10 on each occasion he has taken part at the IRONMAN 70.3 World Championship.
In 2021 he took the win at IRONMAN 70.3 in California, with the fastest split across swim, bike, and run, a second place at IRONMAN 70.3 Texas, third at Challenge Miami, along with the fourth fastest overall time at the Collins Cup, and a sixth place finish in St. George at the IRONMAN 70.3 World Championship. He is on form and looking to rise up the podium position in this years World Championship Battle.
Aaron Royle
The former short course triathlete is a two time Olympian, but Royle has more recently started to make his mark on the middle-distance scene. Having won IRONMAN 70.3 Sunshine Coast on only his second outing at middle-distance in 2020, Royle went on to win Challenge Wales in 2022 and finish 3rd at the PTO's Canadian Open behind Iden and Blummenfelt. Will Royle be the one to spoil the Norwegians podium party?
Other speedy contenders who will take the start-line include Jackson Laundry (CAN), and Eric Lagerstrom (USA), who enters as a dark horse coming in riding some momentum after an impressive win at IRONMAN 70.3 Santa Cruz, along with many more talented professional male triathletes hitting their stride, including some young and upcoming talent in New Zealand's Kyle Smith and the Netherland's Youri Keulen.
Race Details 
The race will kick off with a 1.9km ROKA Swim Course, which takes place in Sand Hollow Reservoir located in Sand Hollow State Park in Hurricane, Utah. A challenging 91.3km FULGAZ Bike Course follows and will lead athletes through stunning desert landscapes with 1003 meters of elevation gain and an unforgettable climb into Snow Canyon State Park and surrounding Washington County. The 21.2km HOKA Run Course will take athletes on two loops through the stunning Red Hills Parkway and wind through historic downtown St. George where the finish line is located.
You can tune in to watch the event LIVE HERE