Triathlon is a multi-discipline endurance sport that requires participants to swim, cycle and run in succession. It's a challenging activity that requires physical fitness, mental toughness and discipline. It's also a challenge anyone can undertake once they put their mind to it and find the right support to help them achieve their goals!
For those who are passionate about triathlon or those who want to challenge themselves, joining a triathlon club can be a great way to learn new skills, improve existing ones, increase performance and enhance your journey as a triathlete.
We've compiled some of the best reasons why you should consider joining a triathlon club.
Community, Motivation and Support
Triathlon clubs provide an excellent support network that can help you stay motivated and committed to your training. The members of the club are like-minded individuals who share your passion for the sport and can provide encouragement and motivation during difficult times. Being part of a community of athletes can be incredibly motivating, especially when you're training for a race or working towards a particular goal. There's nothing like the accountability of having people to meet for a training session when all you want to do is stay in bed on a cold winter morning or hide away from the rain on the couch when you need to get your long run done.
You will most importantly make new friends for life who will support and encourage you to chase and achieve your goals. What once might have seemed impossible, becomes very possible when you surround yourself with the right people. Going it alone in triathlon is a lot less fun than having a gang to train with, dissect your race results with, and celebrate your success with, especially when you start talking about watts, electrolytes, cleats or cadence and your non-triathlon friends or family immediately think you are speaking a different language and switch off from listening to you!
Learning Opportunities
Most triathlon clubs offer access to resources that can help improve your training plan to reach your goals. These resources can include coaching, training programs, equipment and nutrition advice. Many clubs often have coaches or experienced individuals who can help you develop a personal approach to your training, supporting  you to meet your specific needs and goals.  Learning from fellow club members is also a key part of being in a club, you can't buy the experience and knowledge you will gain from being in the company of your fellow club members as they reflect on their own training and racing experiences, this is priceless and invaluable.
Training
Triathlon clubs offer a variety of training options that cater to all levels of fitness and experience. Whether you're a beginner looking to improve your swimming technique or an experienced triathlete looking to take your performance to the next level, there is a training option that can meet your needs.
Clubs often organise group training sessions that can include swim, bike, and run workouts, as well as strength and conditioning training. They often organise club trips away too which are always great fun with plenty of training amidst the fun and friendships all enjoyed away from the daily grind.
Most clubs will also recognise that you have a long list of other priorities in your life and will need to be flexible in your approach to training. In most instances, you'll be able to identify certain sessions that you are able to attend and others that you will do in your own time.  Joining a club provides the opportunity to also link up with individual club members that are at your level of ability so you have ready made company for sessions in your own time, even if you can't make the club sessions.
Competing as Part of a Team
Whilst triathlon is considered an individual sport, being part of a club means you'll almost never be racing alone! You'll have support through every race as you see your club-mates in the team colours along the course.
Added to this, triathlon clubs often organise their own races and events or participate in local, regional, national and in many cases international events. Local and club run training events provide an excellent opportunity to put your training into practice and compete against other local athletes as you prepare to race and put your training to the test. Participating in these events can be a great way to measure your progress and gain experience racing in a variety of conditions in a familiar environment, as well as having lots of fun in the process.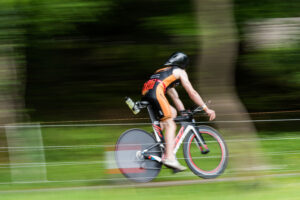 If you are new to a club, don't shy away from kitting yourself out in the club gear, from the bobble hat or hoodie to the full cycling kit or club tri suit.  Club committees and gear officers go to great lengths to ensure quality, comfort, fit (and price) of the gear is the best option for their club members, saving you searching for random kit online, and most importantly you can easily identify your fellow club members and be identifiable yourself when you participate or spectate at a race.
Make New Friends
We said it already, joining a Triathlon Club is a sure way to make new friends who you'll have plenty in common with! You may also meet people who can provide you with valuable connections in the sport or offer advice on everything from training to nutrition. These connections can be incredibly valuable, not just for your triathlon pursuits but also for your personal and professional development. Who knows where the connections in the club could lead you in sport, love and life!
Give Back to Your Community 
Clubs are run by volunteers, you can enhance your experience of being part of the club by giving back when you can.  Not everyone has the time to sit on the club committee or commit to a role in the club, but if you can help with marshalling at a club event, organising an event or simply offering your help to the club for a variety of small roles, it can go a long way towards you really embracing your life as an triathlete.
Who knows where giving back to the club will lead you, maybe you will fulfil your goal of becoming a coach, or a technical official, it could also lead to you finding a whole new career for yourself!
What are You Waiting For?
Joining a triathlon club can be an excellent way to enhance your triathlon training, improve your performance, and connect with a community of like-minded individuals. If you're passionate about triathlon and want to take your training to the next level, consider joining a triathlon club in your area.
So… if you are based in Ireland, go to the Triathlon Ireland website and click on the link HERE to find a club in your local area, if  you are based in the UK then go to the British Triathlon website and click HERE to find your nearest club!