Emma Porter took on the
Unbound Gravel
event in Kansas on Saturday, this is a short abbreviated version of her race day
"I went out a bit too hard in the first two hours, chasing people after the mud section. Average heart rate for two hours 182. For four hours 171.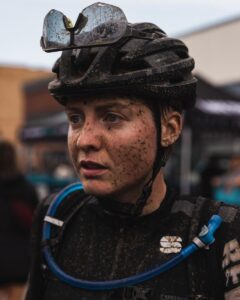 At 150km I was thinking of my team mate Jaume at the Traka who had a bad day and wanted to get a train home and I was wishing I could get a train.
At 170km I wished I was doing the Ranxo instead because I'd have finished the distance.
At 200km I felt good again.
At 250km I punctured in a lightning storm/tornado and thought I was going to die It was insane.
My Garmin might be broken because of the rain. Some random guy at the second aid station kindly loaned me his to finish as he was out of the race.
At 320km I was in a group with a few girls from the lifetime grand prix. The most fun I had all day was the sprint finish  (I won 😂)
Everything hurts and that was the least fun I've ever had in a gravel race  I have never seen mud like it…. I am sunburnt and I finished soaking wet. This is a crazy race and I'm not sure I'm in a hurry to do it again 😂 "