2022 IRONMAN World Championship Kona, Hawaii 6th October.  What a day and what a race, third in the 60-64 AG (age group) and way beyond my expectations. 
The World Championship race in Kona is noted for being one of the most gruelling physical and mental one day sporting events of its kind.  The 3.8km swim which begins and ends at the Kailua Kona Pier takes athletes into the crystal clear beautiful Pacific Ocean.  With the water temperatures greater than 28.8 degrees Celsius means the swim is non-wet suit, an additional challenge for the not so strong swimmers (like me).  The swim is followed by a gruelling 180km cycle taking athletes north of the island through extremely hot lava fields, wind gusts can get up to 40kmph coupled with scorching hot temperatures and high humidity.  The cycle takes in the famous Queen K highway, the climb up Hawi  is where the real battle starts with the crosswinds and once you reach the village of Hawi you turn around and head back the same route.  With the swim and the bike complete there is just the small matter of a 42.2km marathon, which takes athletes up the same highway as the bike, down through the energy lab where the heat really intensifies, turn and back up on to the Queen K highway and the race finishes on Ali'i Drive.
The Road to Kona 
I qualified for Kona in October 2019, winning my AG at Ironman Louisville, a race where due to water conditions the swim was cancelled.  My partner and coach, Martin Kirwan had also qualified in Louisville.  We were both due to travel to Kona in October 2020 but as we all know the Covid pandemic put a stop to all sporting events.  We had the option of racing Utah in May 2022 or Kona in October.  We opted for Kona because we had both raced Kona in 2018 and there certainly is something magical and very special about Kona.
My build up to Kona was a little hectic.  I had a busy 2022 as some races were carried over due to Covid. I was very much aware I had a lot on my plate with races over several different distances.  As with most people, first I needed to get my head back into racing and more importantly back into long distance.  With that in mind I decided to run the Zurich marathon in early April and was delighted to finish an unexpected 2nd in my AG.  I switched to the shorter distance to compete in the World Duathlon championships in Targu Mures, Romania in June, winning both the Sprint and Standard distances.  I also had a deferred 2020 entry for Challenge Roth, and it was a race I had to pull out of after 120km on the bike due to stomach issues.  So going to Kona I had not raced a full Ironman distance since Kona 2018 (no swim in Louisville) and it did play on my mind.
The Build Up on The Big Island 
We arrived in Kona on Friday 23rd September, and we were fortunate to have no problems at all with bikes and baggage being lost or delayed.  We allowed ourselves the first day to unpack, put the bikes together (I cannot claim any credit for putting my bike together) and get over any jet lag.  We stayed at the same accommodation as we did in 2018 and the condo is right in the centre of Ali'i Drive, a great location.  On day one the first two people we bumped into were Paula Roberts (also competing) and her husband Bill Brown.  The next couple of days were spent acclimatising to the heat and humidity.  Morning swims at 6am were such a pleasure especially coming from the Irish climate, being able to walk down to the ocean and know you are not going to freeze.  The water is crystal clear with plenty of fish to keep you company.  It is a swim where it is a pleasure to swim out from the pier but more of a battle to swim back into the pier.  Swimming is my Achilles heel and over the covid period I had missed out on a lot of swimming and that concerned me, however as the days went on, I was definitely getting more comfortable in the ocean.  We did a couple of cycles along the Queen K and up to Hawi.  We also did a couple of runs and this time around we took part in the 5k Charity Fun Run where we were welcome across the finish line by Joanne from Tri Talking Sport, who had just arrived in Kona.
I think I had forgotten how tough the conditions were in Kona, heat, humidity and wind all in abundance.  As the days went on the volume of athletes really increased and you could feel the atmosphere starting to build. We went to 'Breakfast with Bob' –  where Bob Babbitt interviews some of the Pro Men and Women and it was great to listen to and meet the Pro's. We had plenty of time to sit, relax and soak up the atmosphere, which is a huge part of the Kona experience, drinking expensive coffee and enjoying the ambience of Kona Coffee and Lava Java.
I really had no expectations travelling to Kona, the standard is exceptionally high, and I am very much aware that the women in my AG had to win an Ironman race in order to qualify for Kona as there is generally only one spot in the AG, so you are up against the best in the world. Also, I had not completed a full Ironman race since 2018.  For me initially it was all about enjoying the experience, crossing the finish line safely and in doing so compete the best that I could on the day.  To be honest Roth was at the back of my mind and I was worried the same thing would happen to me.  However, the evening before the race as I sat with Martin discussing the race plan, I felt that if I could finish in the top ten, I would be happy, we both knew that I would be well down in the swim. My renewed expectation came from the fact that I had started to settle into Kona and felt more at ease mentally with both the distance and the conditions.
I get very nervous before a race and I am my own worst critic, questioning and doubting my ability, not a great trait to have, however when the gun goes, I can generally put all those doubts to the back of my mind and focus on the task in hand.
Race Day Early Morning Antics 
Race day for all female athletes was Thursday 6th October, men in the 50+ AG also competed on Thursday with the rest of men racing on Saturday.  On race morning my alarm went off at 4.30am, not sure anyone really needs an alarm as sleep doesn't come easy to most athletes the night before a race, but the alarm was set for the early morning wake up call.
With breakfast over I packed my nutrition bag and my special needs bag for the turnaround point at Hawi with the bottles I had put into the freezer, and when I was dressed and ready, Martin and I walked the kilometre or so down to transition.  The atmosphere was quite electric. A little emotional saying goodbye to Martin and off I headed into transition which I found to be a bit chaotic.  I dropped my special needs bag in line with my race number and then headed over to my bike.
I had a new TT water bottle and although I had tried it out, I decided to try the straw again and I thought "the suction was really poor, I'd be winded trying to get a mouthful of drink" and for a few minutes I was making ridiculous adjustments until I had a word with myself and said, "calm down and leave things as they were".  With my nutrition on the bike, next task was to find a bike pump. I met a volunteer who told me there was a shortage of pumps and they were trying to get more pumps.  I then went to the mechanic on hand to see if he would pump the wheels, but he informed me that unless it was an emergency, he couldn't pump the wheels.  I tried to nicely say to him it was an emergency, the queues of women looking for a pump was growing as too was the voice of the volunteer who was announcing '5 mins left in transition'.  I joined one of the queue's but shortly after the mechanic started to call out if anyone wanted their wheels pumped to go to him, I promptly left the queue, got the wheels pumped and returned the bike on to the rack.  Bike ready I headed out of transition and down then to my allocated swim coral.  Standing in the coral listening to the US national anthem is a tense goosebump moment and the nerves start to build.  At 6.25am the cannon is fired to send the pro women on their way, this was it, the race had started.  The corral starts to slowly move as each wave progresses towards the swim start.  Chatting to the other athletes in the corral does help to ease the nerves (slightly).
Go Time, Let's Do This
My start time was 7am and there was approximately 180 women in my wave.  We entered the water at 06.50am and swam out to the start line which is approx. 100m.  The 5+mins threading the water waiting for the start feels like a lifetime and all you want is for the gun to go, which it does promptly at 7.00am.
I found the start of the swim tough and probably for the first 500m a rough battle. I tried to concentrate on keeping my composure and out of as much trouble as I could.  The turnaround point is around a boat at 1,850m and I felt I had got to the turnaround fairly quickly, but I knew the tide wouldn't be as kind on the way back in.  Swimming back in was all about getting from buoy to buoy, concentrating on my stroke (as best I can) and getting back to the Pier.  As I approached the last 200m, the AG men (50yrs +) who were also competing on Thursday and started 25mins behind us had started to catch up on the slower swimmers, one being me. They were ploughing through the water, literally swimming over me, one side of my goggles was lifted off my face, the salt water started to really scald my eye.  My thoughts "just keep swimming, suffer the scalding, it is not going to last forever and get to the pier".  Out of the water I immediately looked at my Garmin to assess the damage and was delighted with 1hr 35mins, same as 2018 and not a bad non wetsuit time for me!  I had a quick shower to wash off the salt, grabbed my cycle bag and headed to the changing tent.  I quickly got out of swimskin, had a couple of mouthfuls of coke to drink, put on my cycling gear and then made the long run through transition to my bike.
Wind, Wind and More Wind
It took me about 20kms or more to settle into the bike and although we had a headwind as we headed up the Queen K I felt I was moving pretty ok.  The famous straw on the water bottle was still giving trouble so I just pulled off the mouthpiece and put into my pocket, last thing I needed was not to be able to take on drinks.  Once I reached Hawi however the wind as expected intensified, and I felt we had a mixture of a headwind and crosswinds.  From that point I really had a mental battle with the bike and all I wanted to do was reach the turnaround point at the Hawi village.  My speed and power were dropping but I could not allow that to play with my mind.  Once at the turnaround I stopped at the special needs station (probably for too long) to pick up my drink's bottles which were still surprisingly slightly frozen.   I really thought we would have a tailwind once we turned.  We did have a tailwind but only for about 2km and then we had strong crosswinds for the majority of the cycle back down from Hawi and to my disappointment no tail wind.  At this point I just wanted to get back up onto the Queen K, convincing myself we would have a tailwind but no, we had a headwind all the way back to transition. The winds were not as strong as they can be, but I found the bike a constant mental battle.  It was just one of those days!  My stomach didn't feel great, and I was taking on coke at all the aid stations (something I would never do) along with water to pour over me and to drink.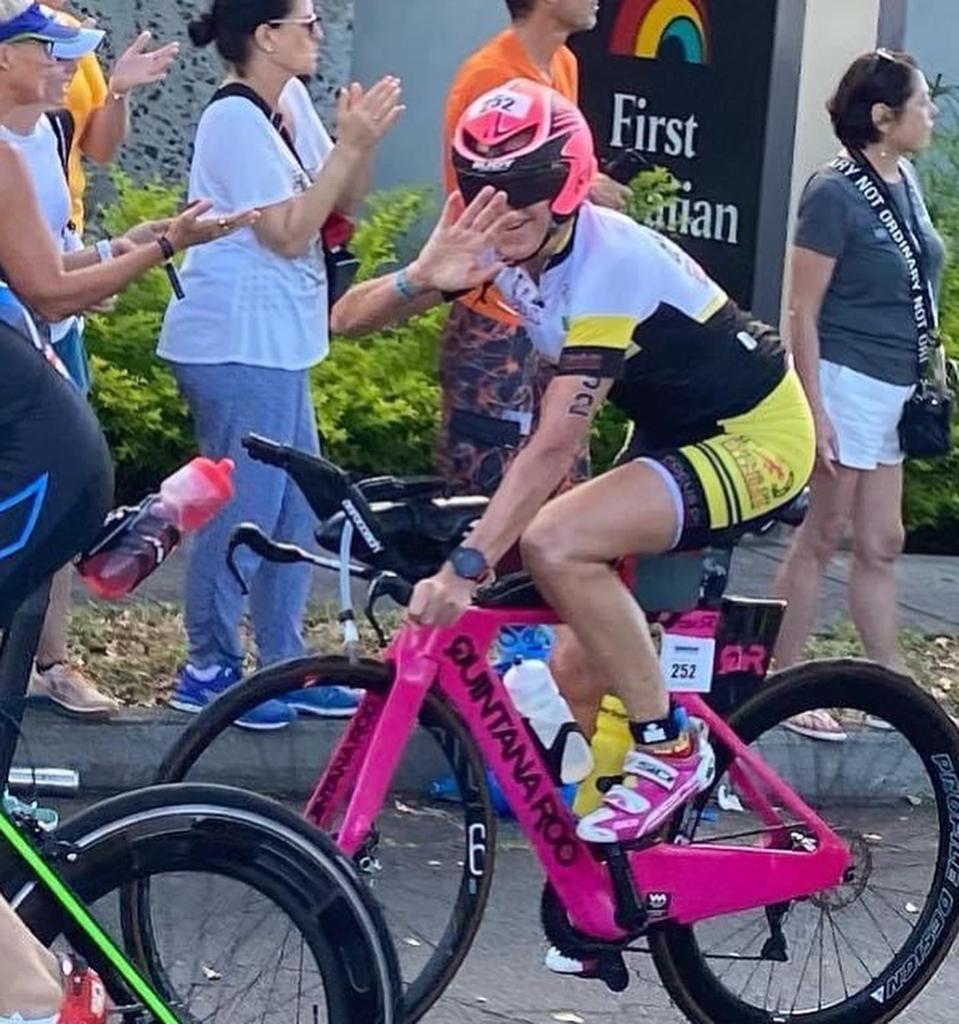 At the start of this report, I mentioned that the race is not only a physical challenge it is also a gruelling mental battle, you might ask why?  The first 15km are an out and back section through Kona and then you are up on to the Queen K highway.  Once on the highway there is nothing only barren lava fields, no spectators and the highway road just looms ahead of you for kilometre after kilometre, no twists, no turns, nothing to occupy your mind just what seems to be a never-ending road in scorching heat.  The course certainly challenges your mental capability like no other race.
Marathon Time,  Just Keep Moving 
I was never so glad to get off a bike, rack and then make the long run/walk to collect my run bag and head into the changing tent.  I was delighted to meet Paula Roberts in transition.  We exchanged some 'choice' words about the bike and the wind.  Paula very kindly gave me a drink of coke before she left transition.  I got myself together while all the time questioning "how I was going to be able to run a marathon".  But run a marathon I did!  As I left transition, my race belt with the gels started to slip down off me, I welcomed the excuse to stop and try adjust the belt before continuing to make my way down to the out and back section of Ali'i Drive.
I met Martin on Ali'i Drive at about the 2km mark, he told me I was approximately 10mins off 10th place, I genuinely thought "it doesn't matter what position I am in as I will be walking fairly soon".  Martin was encouraging me to slow down my run pace. I thought I was running about 6km pace or slower but when I looked at my watch it was about 5.15km pace, I had been told to start slow, so I needed to adjust my pace.  All I was concentrating on was the next aid station and the chance to stop get ice, water and coke.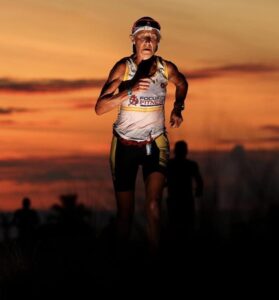 Once the Ali'i Drive leg is complete, I knew the very steep Palani Hill was next!  Bill Brown was at the Palani aid station offering me oranges which I very politely refused.  While conversing with Bill I heard Martin's voice telling me to get a move on!  At this point I was at about 12km and about to head out on the Queen K Highway.  Martin told me I was then about 30secs off 10th place and to keep moving, keeping stops to a minimum.
Up on the Queen K Highway, like the bike there are no spectators only the road ahead which just seemed to go onwards and upwards, it is a good climb for the next 10km until you get to the Energy lab.  However, once I got to the Queen K, I started to settle, and steered my focus away from 'walking' and towards getting to the Energy lab.  I kept my stops as brief as I could, stopping only at the aid stations to pack my singlet with ice, and take on water and more coke, and I had a couple of loo stops.  I knew I was constantly passing athletes, but I had no idea what AG I was passing as I couldn't see  race numbers, I thought I had passed two in my AG so that would put me in 8th / 9th place but I quickly put that thought out of my head, I had a long way to go and I needed to keep my focus on getting  to the energy lab and then the focus was on getting through the energy lab.
As you enter the energy lab the sight of the Irish flags which Aisling Martin had put in place really do give you a great lift. Down in the energy lab I met an athlete in my AG, heading back up out of the energy lab and I guessed she was about 3kms ahead of me but what position she was in I had no clue.  I knew when I got up out of the energy lab, I would only have 12km left to run, that thought kept me going.
It gets dark at about 6 o'clock and the sun goes down pretty fast.  Unlike 2018 the light on the highway wasn't great and it was hard to know at times if you were going uphill or downhill which on reflection wasn't a bad thing. I continued to pass athletes (it was surprising to see a lot of fit athletes walking at this point, the elements really start to take their toll on people) but I still did not think of the final finishing place until I had about 3km left to run, then I had a very fleeting thought, "as there are 5 on the podium I don't want to be 6th" but I kept my focus on running, counting down the long slow km's.
Podium Position
I made a quick decision not to stop at the last aid station which was just before we came off the Queen K as we only had about 2km left at that point.  With about 1km to go I met Martin on Kuakini Drive, he told me I was in 4th place but to keep pushing all the way to the finish, which I did as you can never take anything for granted until you cross the finish line.  However, the last kilometre has to be the longest kilometre you will ever run, and the red carpet seems to go on for a lifetime but the feeling of crossing the line, hearing Mike Reilly and Joanne Murphy is a magical feeling and words cannot describe or articulate the sheer euphoria, happiness and above all relief.
Emmajo Whitehead (Tom Britton's partner and one of the Irish supporters) was also volunteering and was one of the 'athlete catchers', and it was great to have a familiar face escort me through transition. I spent a short time in the finishing area, chatting to other athletes, comparing notes (particularly the wind of which we were all in agreement) getting my photo taken and just soaking up the relief of having crossed the finished line and trying to let it sink in that I was on the podium and as I thought in 4th place.
I had collected my bike and bags and started to make my way out of transition and there was Martin eagerly waiting for me and delighted to tell me that I had finished 3rd, I was absolutely thrilled, hugs, kisses and sheer euphoria. There was 40secs between myself and the woman in fourth place (who coincidently was the woman I had met in the energy lab), I had no clue where I had passed her, but it was obviously in the last 1km.  My run of 4.11 was the fastest of my AG by over 20+mins.  I was 54th coming out of the water and down 36 mins on the leader; 19th getting off the bike and out on to the run and 3rd across the finish line 11 mins behind the leader. The lesson to take away  – never give up until you cross the finish line!!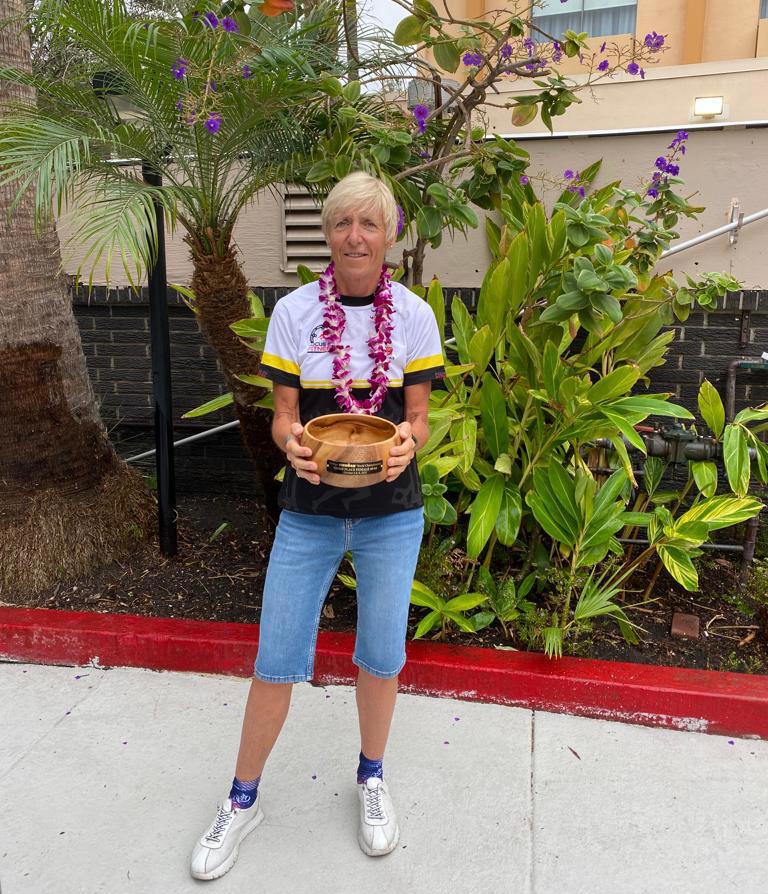 Savouring Success in the Sun 
It was great to have the race done and dusted and be able to relax and support the men on Saturday,   Martin was happy with his race and looked comfortable throughout.  The holiday could begin.
On Sunday night we headed up to the awards ceremony.  As an Irish female athlete, it was great to be called up on to the podium by another Irish female, Joanne Murphy.  Joanne had done a fantastic job over the course of the week as part of the World Championship Announcing Team in Kona.
It was a very proud moment not just for me but also for Martin and too for Focus on Fitness, to stand on the podium in Kona and be presented with one of the coveted Umeke trophies. These are the carved wooden bowls that are part of the Hawaii tradition and the most iconic award in the sport.
If qualifying and racing in Kona is your dream, then believe it is within your grasp.  There is nothing exceptional about my sporting ability. I train, I put in the work, I aim to be as consistent as I can be (and I have a great Coach)
Through dedication success will come.  Train hard, race easy.