Thanks to Francis Yates of  Galway Triathlon Club for this insight to his race weekend at IRONMAN Ireland 2022. 
Hello Youghal!
My race build-up had not been ideal; I had tweaked something in my achilles tendon either during the run at Challenge Roth in early July or shortly after, and after getting in two training runs, I knew something was wrong – a quick visit to the physio and she said no more running, exactly what I did not want to hear!
I knew when I entered IRONMAN 70.3 Cork that it would either be fantastic or a disaster as I hadn't allowed much recovery time from completing a full distance on 3rd July. Still, I had so much FOMO when entries re-opened with so many of Galway Triathlon Club doing Cork that I just had to enter and be there and we had so many athletes in the 70.3 we were the second biggest club at the race!
The week of the race, and finally, I was able to do a test run. The achilles held, and no pain! I packed the car and headed down on Friday to get registration done, GTC group photo on the finish line and then get everything sorted and into transition – Excitement was in the air!
Pre Race Build up 
Once arriving in Youghal, you could feel the buzz of everyone getting ready; this was my first time attending a race with a half and a full on the same weekend, creating a fantastic atmosphere. Registration was a breeze and very well organized, and we got our race packs and headed off for the photo. For many in the club, this was their first experience of the famed IRONMAN red carpet, which they would all get to experience properly on either Saturday for the 70.3 or Sunday for the Full. Once we completed the photo, it was time to start getting the bikes into T1 and the run bags into T2 – With it being a split transition and no access to the run bags on race morning, it was essential to ensure everything that I needed for the run was packed! I grabbed some dinner with the GTC crew and headed to bed for an early night.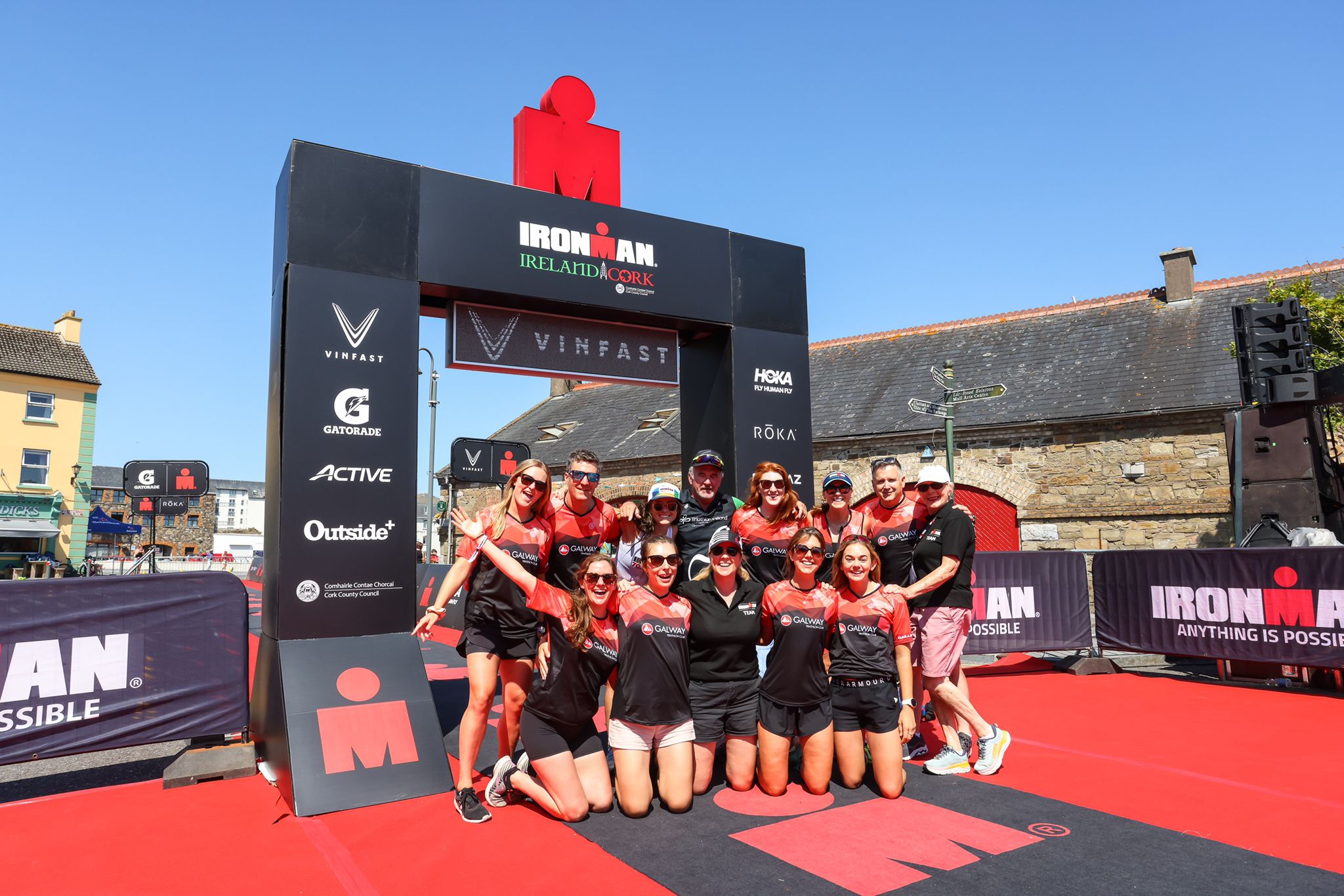 Race Day 
4am (yes, that early!) the alarm went off – (I don't remember any of my other races having such an early start time), but with a 6am start, it was time to get up, fuelled up with oats, yoghurt and bananas and make my way to transition to put nutrition on the bike, pump up the wheels and do some final checks before heading off to the swim start – It was strange feeling as the usual pre-race nerves didn't kick in, I think this was because I hadn't set any massive targets for this race and just aimed to go out there and have fun.
Took some photos with the GTC gang, made our way to the swim start and quickly moved into our starting pens, final good lucks given everyone self-seeded. As I moved my way up near the front (I obviously thought my swimming abilities were better than they are!) I saw Joan Murphy  – aka Joanne's Mum –  and after a quick good luck hug, it was time to get ready to race.
Swim 
With the sun slowly rising to our left, the moon still shining high and bright to our right, the National Anthem played and the boats on the water released green smoke, the atmosphere was great, and just like that, it was go time,  to the sound of Thunderstruck booming over the PA!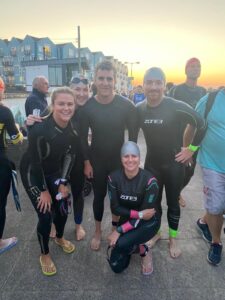 We made our way into the water in the self seeded rolling start,  swam out to the first orange buoy before turning right and swimming into a strong current. Immediately my goggles fogged up, which I hadn't had before, and I could see nothing and had to stop 1 or 2 times to try to clear them. After finally getting them un-fogged, they started leaking, which they hadn't done previously either. After another stop, I finally got the goggles sorted and headed off to the first turn buoy, which felt like it was taking forever (it turns out it was!). 
After finally getting into a rhythm, I made the double left turn and had the current now assisting and I flying down toward the swim exit while thinking that you really couldn't have wished for better conditions! The sea was flat and calm, and the sun was slowly rising over the hill! Out of the water at 00:36:52 and was a bit disappointed as this was about 2-3min slower than I had hoped for and into transition. Upon entering transition, I was very quickly told by an ecstatic fellow GTC member Elizabeth that she had beaten me in the swim, and off she went on the bike; I would later find out that I had also been beaten by Rosanna – also from GTC – in the swim and will be reminded about it for a long time to come! (We have had a swimming rivalry since Westport Triathlon last year)
Bike
It was time to head out of transition and onto the bike and make up some of that lost time. Aiming for around a 2:45 bike was the plan and was all programmed into my bike computer, which then wouldn't turn on (and still hasn't turned back on), so I was riding blind / by feel – I knew the first 50km or so to Midleton was flat and fast and was time to put the hammer down before the climbing started after Midleton. A lot of people in the run-up to the race had made out the roads were in terrible condition, and whilst not anything like the roads for IRONMAN 70.3 Dubai, they were not in the worst shape with only 2-3 uncomfortable sections.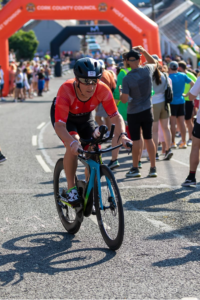 I had only put 1 bottle on the bike and planned to grab nutrition at the aid stations, which was not the most fantastic idea! The aid stations handed out warm Gatorade bottles that didn't fit in my bike cage properly and rattled around for the next 20km until I got to the next aid station and disposed of them! Change of plan, it was going to be water, gels and bars to get me through as I was not going to deal with another Gatorade bottle.
I got to Middleton and was making good time, I was on track for close to 2h40 on the bike, but I knew this would slow down a bit as the hills started. I was surprised how quickly the hilly section actually went by and next thing I knew, somebody was shouting from the side of the road that it was all downhill from this point – Now, this is a prevalent thing to hear from spectators; but for a change he was right! (Almost) with just some tiny bumps left before the infamous Windmill Hill! I was pushing hard and then suddenly remembered that I should most likely save some legs for Windmill Hill as I was not going to walk it!
Windmill Hill – WOW 
As you approach Youghal, you take a final right turn at a roundabout and then ride through the town; at this point, I saw Eugene already on the run and knew he was flying! – As you got closer to Windmill Hill, you could hear the excitement and crowd, and I knew it was close; time to get into the correct gearing as it's a sharp right turn into Windmill Hill with no run-up into it and then power up as much as you can! There is literally no hill in Ireland like it, and it is insane; it's so steep yet so short yet takes so long! I was gasping for air by the time I got to the top, and it took a while before I managed to get my breath back while entering T2 and racking the bike.
Upon entering T2, I saw Colm (another GTC member) who had come flying past me about 50km into the bike; I was surprised to see him in the tent, so I must have had a good bike – Bike time was 2:44:12 which was just ahead of target, and I was thrilled with this.
Run
Onto the run, and it starts with a lonely (in terms of spectators) 2.5km drop back into Youghal down the side roads before turning left and running past T1 and into the town – The people of Youghal were out there supporting in full force! The run was made up of 2 laps of approx. 9km out and backs through the town, and this meant that the crowd was with you for the majority of the run. The loops also allow you to see your "competition", and I knew Colm was just ahead of me, and I knew that Kate Smyth from GTC  would be chasing me down, and I was going to have to run hard if I wanted a chance of holding her off (spoiler alert.. she caught and passed me with about 3km to go!).
The weather was much hotter than most Irish would be used to, but for some reason, I seem to thrive in hotter conditions (must be the 32 years of living in a hot climate in South Africa), and the people of Youghal had many hosepipes out to cool us down which was an absolute godsend! Having not really been running for 5 weeks, this was the portion of the race I was most unsure about and was hoping for around 1h45, but I thought this might be a bit optimistic with the lack of run training.
I quickly settled into a pace of around 4:50min/1km and did the maths in my head (it's what I do when I race to keep my brain occupied) and figured this would give me around a 24min 5km (about a 1h41 half marathon) and was happy with this pace and thought to myself I would try to keep it for the first 5km and would revaluate the pace every 5km to see how it was going
As we completed the various loops and aid stations, I was surprised to be catching Colm, but at the same time, I could see Kate catching me and at about 12km, I passed Colm – One of the great things about the loops was being able to see my club mates and shout some encouragement as you crossed paths and always gives a bit of a boost. Once I hit 15km, I could feel a bit of the lack of training on the running kicking in,  but knew I just had to hang in for another 30min or so and started the final loop.
I tried to increase the pace, but the legs very promptly told me to get lost, and I came to an agreement with my legs that we could carry on at the 4:50min/1km pace. At about 19km into the run, Kate came zooming past (no real surprise, she had the fastest women's run split of the day!) and quickly vanished into the distance, and the legs could do nothing to try keep up, it was now just time to finish the run – The blue flags and inflatables of the HOKA run course could be seen in the distance, and the music was pumping, the crowds of Youghal doing an incredible job of motivating the athletes and there it was, the red carpet and the finish line! I could see Kate's name on the finish board, and we had our very own GTC member, IRONMAN Announcer Joanne Murphy welcoming the athletes home! What a buzz!
The run was over, and I was delighted with a time of 1:41:47 (22 seconds faster than the Dubai run) and an overall time of 5:12:54 – This gave me 13th in my age group, which I was shocked by, and I actually had a decent swim I may have been top 10!  Joan Murphy again welcomed us into the finish zone and made sure we made our way to the tent to get our finisher shirts, pizza, beer and ice cream! I relaxed and chatted with Eugene (3rd in his group!) and Kate (2nd in her age group and 8th female overall!) before making my way back onto the run course to support the rest of Team GTC! Once everyone from GTC was safe across the finish line, it was time for more beer, pizza and showers before heading off to Awards Celebration and Slot Allocation.
Awards, Would You Like To Go to Finland? Yes Please
I had set a goal to qualify for IRONMAN 70.3 World Championships for 2023 in Finland, but it hadn't even crossed my mind that it was a possibility in Cork, I  went to to slot allocation to see if any roll downs occurred – It was great to be at the Awards as GTC had three podiums (Eugene, Kate and Natasha) and then it was time for slots – They start with the women, Kate was the first to get her slot and accept it; next up was Natasha (who is  going to the 2022 70.3 World Championships in Utah), but unfortunately, she didn't get it as only one slot was available for her age group, and the winner took the slot.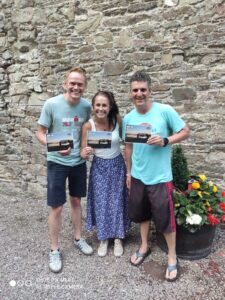 Onto the men now, and the slots were going fast and very little rolldown. Eugene's age group was called and had a few slots , his name was called and he accepted it – My age group came up shortly after, and we had five slots, the first two people took slots, and it started to roll down; I thought maybe I would get one! Lady luck/luck of the Irish was on my side, and it rolled down, and I got a slot, and I am off to Finland in 2023 to race world champs! I last raced world champs in 2019 in Nice, and it was an incredible experience, once the awards were over it was time to celebrate our race day.  
Spectator Sunday
Sunday morning was IRONMAN Ireland and we had a number of GTC athletes taking on the full distance race. I was woken up by Joanne on the microphone at around 5am; we had made a deal on Saturday after Awards that if I could hear her from my Airbnb, I would need to bring her a cup of tea, in a proper cup! I headed down to the start with a cup of tea (true to my word!) and watched the brilliant Irish dancers on the stage dancing to music over layed at the start with words of encouragement from Mike Reilly (The Voice of IRONMAN) who had recorded a message for the athletes as he wasn't able to be in Cork himself.
After watching the swim start it was off to bed followed by a second  breakfast and then we  headed to spectate at Windmill Hill which was incredible.  Later int the day we set up at various points on the run course to shout and cheer on our GTC teammates and many others taking on IRONMAN Ireland. After some celebrations in the pub, we braved the rain and thunderstorm to cheer on the athletes in the last two hours of the race right to the final finisher which was very special.
Overall the weekend was an incredible experience and very possibly the best IRONMAN 70.3 I have experienced – The people of Youghal made this race super special, and I will definitely be racing it again in the future – a massive THANK YOU to the people of Youghal, I will be back!
*Photo Credits: Huw Fairclough for IRONMAN Ireland  & Michael Buckley for Triathlon Ireland