Little did I ever think I would get to Hawai'i,  never mind to compete in the IRONMAN World Championship there!  I will never say never ever again, as the last time I said that about doing an IRONMAN I ended up doing another one…Kona..seven weeks later.
I've been competing in triathlons since 2013. I have travelled to Mallorca and did the IRONMAN 70.3 in 2015, I enjoyed that, but after that year took a break from triathlon, only dipping the toe in and out of it throughout the years, until this last year; when during the big P throughout the world, thought about giving triathlon another go whilst the latest addition to the family was still smallish…note to self: maybe wait until the toddler years are over before IRONMAN training and competing!
Anyway I signed up to James Walton, NewMeta coaching in October 2021, and we began our coach/athlete journey, me mentioning Kona during one of our first chats. James was fantastic, pushing me, yet taking family and work life into consideration.
IRONMAN One and Done?  But Kona is Calling….
IRONMAN Ireland in Cork, my first IRONMAN, was the end game and the year flew with a few curve balls along the way, such is life! Cork was a fabulous race, the weather gods smiling down kindly this year! I couldn't believe I placed 3rd in my age group, knowing that there might be a possibility of a slot in Kona.
It was only for mam and Dave's support and encouragement at the awards ceremony, that I accepted the slot! Thanks to the support and kindness of so many people was even able to afford to go. Kona is not cheap!
Before I knew it six weeks had flown by, and off myself and the mother headed on our 2 day journey to Hawai'i! Tired and jetlagged we arrived Friday 30th September, under a week to race day, not ideal for heat acclimatisation but I hadn't won the lotto in time to come to Hawai'i sooner! It was Kona after all, I knew it was going to be hot so all you can do is get on with it.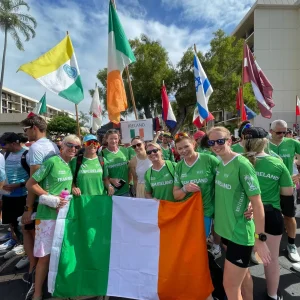 I ran the Kona 5km fun run and took part in the Parade of Nations meeting some of the Irish gang and having the craic as we do, 93 nations were represented that day, unreal.
Race Day – Keep Cool & Keep Moving 
It wasn't long until the big day. Getting up at 3am that morning was no problem.   Thanks to jetlag I had been going to bed around 6:30pm most evenings and waking very early the next day, so pre-race night I had a great sleep all things considered.
On race morning, transition was mental, a box of emotions and a lot of athletes stressed off their heads. I was grand, soaked up the atmosphere, got my bike ready, knowing this was really my last IRONMAN. No seriously.
It wasn't long until the race was about to start in Kailua Pier, with the theatrics and dancing and music. I know I'm biased but I think I preferred Cork, nothing will beat seeing the tri colour in flares held by canoeists out at sea and the girls dancing to Riverdance!
Before I knew it I was treading water in most beautiful sea I have ever swam in, and off we go! The swim was grand, slower then Cork. There was more of a swell and I missed my wetsuit! I was passed and I did passing, the hardest part was the last 800m to finish! Into transition then, longest transition ever! Got ready to go and off I went on the bike.
I wasn't 2km on the bike when my front water bottle came off. I kept going and I tried not to panic as it was 1 of 3 bottles of my nutrition. All I could do was take on water at every aid station. I think that was my saving grace that day, as I drank half a bottle of water and threw the rest of it over my head, it kept me cool; well as much as possible. I also found with the heat I didn't want to eat on the bike but I made myself, and that definitely stood to me the rest of the day.
It was windy on the bike on the  famous Queen K, but living in the West of Ireland I've had waaaaay windier and waaaay more miserable bike spins so it didn't bother me. The only difference was the hot wind felt like it was burning my eyeballs off!
After the turn point it was a bit hairy on the downhill sections with the crosswinds but thankfully stayed upright. Going over every timing mat I thought of my boys at home and kept thinking of them and all the sacrifices they had to make too, to get me here.
A few Queen songs in my head helped too. Unfortunately there were a few inconsiderate cyclists out on the course, and dangerous too. Thankfully I got back in one piece, and seeing the mother back at transition I got all emotional and I still had a run to do! Getting off the bike I was so stiff I didn't think the legs would ever get going but after changing, and putting on sunblock though it was too late at that stage, off I trotted. Literally.
I think to begin with I was overly cautious about over heating but by the time it was cool enough to pick up the pace I physically couldn't. It was great craic running through the town, people shouting their support and a few garden hoses were out too. Then out on to the Queen K again. I don't really know what to say about the run, it was slow and boring, but better then laps. I jogged it all except for the aid stations where I walked, took on ice, coke and sometimes Gatorade. Thankfully I didn't suffer any G.I. issues.
One of the highlights of the run was the lone Irish flag out by the Energy lab, it gave me such a lift! Finally heading into town, the last mile was the longest mile in the whole race, eventually hitting the red carpet. I was never as happy to see the mother, definitely emotional again and she gave me the Irish flag, even though in my exhaustion it looks like I was holding the Ivory Coast flag!
Coming over the finish line to hear Joanne and Mike was just indescribable, two volunteers helped me to the recovery area,  I was stiff as a poker but no other issues thank god.  I never saw as many people with no use of their legs or getting sick as I did that night, and I've been to Oxegen.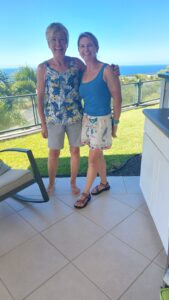 I ate the two nicest slices of pizza ever. I got my bike and bags and headed off looking for the mother, eventually finding her and the American family we were sharing the Airbnb with, and where thankfully they had a car and drove us back to our accommodation.
I slept awful that night, full of sugar and six gels! But the last few days or the trip were fabulous, swimming in the bluest sea, going on a boat trip, seeing the men's race. After watching the IRONMAN World Championship over the years I still couldn't believe I was there. I still don't!
The long journey home was as hard as the race if not harder, but having my medal coming home with me made it all worth it. It was an experience of a lifetime but so expensive and so far away from home. The people were lovely, and seemed to be delighted to have IM in town bar a few cyclists they had issue with, but those kind of cyclists are everywhere!
Highlights
The sea, the blue is imprinted in my memory
The boat trip and snorkeling with mam
The Irish gang taking over Kona
The eggs benedict the day after the race
All Tadhg noticing when they were watching me cross the line back home was my new hat
Lowlights
The expense of groceries
The lack of transport options
The uphill mile walk back to the Airbnb. Every day. In the heat.
All I need to do now is figure out what I'm doing next, any ideas……….