Marie Staunton from Drogheda Triathlon Club shares her experience of racing at the first ever Women's only IRONMAN World Championship in Kona last October
'The Short Version'
On October 14, 2023, a dream came true – taking part in the IRONMAN World championship race in Kona, Hawai'i. Even I find it hard to believe that I got there, through a mixture of luck, determination and hard work (not raw athletic ability).
Maybe, this might encourage someone else to persevere working towards their dream, whatever sphere of their life, as my love for triathlon was only equalled by mediocre results for nearly a decade of participating in IRONMAN Events!
Swim: 3.8k in Pacific Ocean.
Bike: 180k through lava field in heat, humidity and wind.
Run: 42.2k in heat, humidity and darkness.
I am happy and grateful to have the health, strength, financial means and family support, especially my ever supportive husband Mike.
Retirement from Ironman: postponed for a while longer
——————
'The Long One'
The Highlights 
1. Qualifying in August 2023.
I heard of Kona and the IM Wold Championship while I was still at school from an older cousin who went to Kona in 1982 and I was captivated by the idea of swim, bike and run back to back, without stopping, and in Hawai'i of all places. In 2021, it finally became a feasible goal coming 3rd in my age group at IRONMAN Portugal and 3rd again at IRONMAN Ireland in 2022. By 2023, my fitness wasn't as good as last year but enough for me to come 3rd again in Youghal where neither ladies ahead of me wanted a Kona slot so I grabbed it with both hands!
I only had a gap of eight weeks between Youghal and Hawai'i but maybe I was lucky as two weeks after Youghal, I had my first ever covid infection so my focus was "just finish in Kona and savour everything". Otherwise, I might have ramped up training and injured myself.
2. Imposter Syndrome/Babbitville.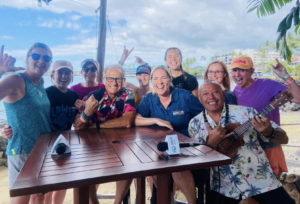 Kona, by the way is the coastal area around the town of Kailua where the IRONMAN takes place. Everyone around me in Kona seemed super fit and lean; many current professional athletes; some famous faces now retired. Joanne Murphy from Galway was the Lead announcer and the Irish contingent was there in full force when she was interviewed on "Breakfast with Bob", a Kona institution. Same for the welcome Banquet and the Banquet of Champions the day after, where every athlete was invited to attend, from the winner Lucy Charles Barclay to the final finisher who cross the line after 16 hours, 58 minutes and 12 seconds.
3. The Parade of Nations.
This first ever all-women Kona WC had athletes from 73 nations, who were invited to take part in a parade of nations, inclusive of their family and friends. The small but happy Irish contingent assembled half hour before the start and exchanged back-stories and established contacts for the week ahead.
4. Living The Dream.
The closest I can describe the feeling of being in Kona is to imagine being a young Man United fan during heyday of Sir Alex Ferguson, spending a week at Old Trafford and on the Saturday afternoon, line up in club kit with David Beckham, Roy Keane etc as a 12th man, and be allowed run up and down the pitch so long as you didn't score an "own goal" (I watched 4 episode of Netflix Beckham miniseries on long journey to Los Angeles rather than me being an avid soccer fan)
5. The National Anthem
I was lined up in my Corral with other ladies aged 55-59 when the Star Spangled Banner started and my eyes filled with tears. I glanced to my left and a British lady I'd just been talking too was also glassy-eyed. The Americans around us had tears openly flowing down their cheeks.
6. The Swim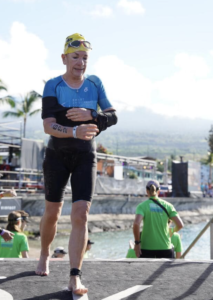 The swim was fabulous in warm crystal clear water full of fish – my first every non-wetsuit IRONMAN swim. I was in wave 4 and hoped faster swimmers in waves 5-8 might swim around me rather than over me. The leaders from each succeeding wave were like torpedos and had no hesitation taking the shortest line to buoys but nobody knocked off my watch or goggles, so I'll take the bruises. I might have been lucky with the swell. For first time since IRONMAN WC moved to Kona in 1981, 100% of participants made the 2 hour 20 minute swim cut-off with one swimmer exiting the water with 19 seconds to spare which would have been a bit tight for my liking.
7. The Bike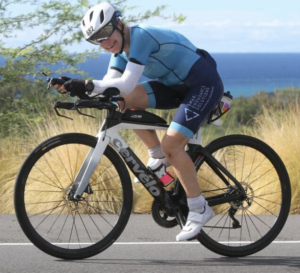 This course is extraordinarily uninteresting – the iconic shots of black tarmac road through lava fields and distant sea look look exotic but 170k of the course is out and back on a closed highway, called the Queen K as nobody seems to be able to pronounce Queen Ka'ahumanu, with no houses, therefore no householders banging saucepans or cooling you with a garden hose pipe. The volunteers at the 10 aid stations were fabulous but you couldn't hang around chatting. Still, it was everything I'd asked for – no punctures, no mechanical issues with rental bike, rolling rather than steep hills, managing to safely meet all the intermediate cutoff times. There is a fabled crosswind on the descent from the turn point but we had the tail end of "Storm Agnes" the weekend of my last long bike in Ireland & with plenty of Lanzarote cycling behind me, I didn't find it bad at all – a few gentle wobbles. My bike split was slower than I'd hoped but I came to a complete stop at each of 10 aid stations, so loss of momentum and stops probably added 20 minutes but better than missing a bottle or getting involved in a collision.
8. The Run
I was more like a donkey than a race horse. When I got off the bike, a wave of heat hit me, like opening an oven. I had no undue leg tiredness, no gut issues & no ache or pain, but no sooner had I left T2, than I had to revise my plan for a 5 hour marathon (or better). I was like a car that wouldn't speed up no matter how much I pressed the accelerator. I had done the hill training and the long runs. I wasn't scared of the distance; after all I've completed over 30 marathons. I'd stuck with my nutrition plan. All I can assume is that as I'd only arrived on the island 6 days earlier, I hadn't acclimated enough. The day after I arrived home, my running was back to normal. I spent the first hour mentally beating myself up over my slow pace, for all the good it did me. A bit of mental maths indicated I just needed to plod on and would finish safely inside the cut off, so I opted to be nice to myself, "relish the experience", getting an extra hour of Kona adventure
9. Team "Glow Stick" and the Natural Energy Laboratory of Hawai'i Authority.
The afternoon sun burns off some humidity in Hawai'i but you don't get the normal relief when the sun sets as the humidity climbs – it's been described as though someone throws a wet blanket over you so you're still hot and sticky but you now cannot see anything either. By the time I'd completed 12k, it was pitch dark and I was out of town on the Queen K Highway glad of my head torch. All you could see were glow sticks and head torches bobbing along. The glow sticks don't illuminate the road but are useful to stop runners crashing into each other! There is an 8k loop through the "energy lab" which is like an industrial estate for energy companies, with a long downhill to the sea, following by an equally long uphill to rejoin the highway around the 32k mark. I couldn't see the solar panels or any signs as I entered the "energy lab", but I asked a fellow runner if this was the famous energy lab and I struck lucky as this was an extremely chatty lady who had a huge endurance pedigree with loads of ultramarathons including Leadville 100 mile trail race so I knew she'd be both entertaining/ distracting and would never give up, so we stuck together until we were on the home stretch back to the town of Kailua-Kona. There was another uphill where I lost her but by the time the lights of town appeared, I was already imagining the final 2k on the streets of town and the finish line
10. Ali'i Drive and The World Championship Finish Line.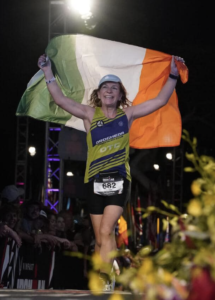 Approaching the town, I met my family who gave me an Irish flag. As I turned the corner to the finish on Ali'i Drive, the crowd was electrifying and suddenly, my legs felt as though I hadn't been running for the previous 6 hours. And what could be better than the familiar voice of lead announcer,
Joanne Murphy
calling "
Marie Staunton. You are an IRONMAN
." It doesn't get any better in triathlon than the finish line at the Hawaii Ironman World Championship, the sense of accomplishment and relief in equal measure
Thank You's
Thank you to everyone who sent me messages before and after  the race
Thank you to my daughter
Susannah Sexton
who has come to support me at races in random and extremely uninteresting venues over the years, and who believed me when I said "if I ever qualify for Kona, I'll bring you".
Thank you to my teammates at Drogehda Triathlon Club. So many have helped and encouraged me over the years. In recent months, the Youghal team especially
Sinead Delany
,
Patricia Hough
and
Paul Smith
really encouraged me, with everything from reconnaissance trips to gifting me copious amounts of (slightly) out of date Maurten gels.
Oliver Harkin
sat down with me to give me tremendous practical advice for managing race week and race day tactics.  Last but not least, this is a joint achievement by me working with
Steven Moody
aka Coach Steve of SmartEndurance Solutions. He took a chance on me almost 4 years ago when the only thing going for me was relentless consistency. I thought he would tell me what to do, to "train smarter" and if I did it to the letter, I would improve. What actually happened was much more collaborative, with us both listening to the other and sharing decisions together, modifying the plan as required, truly the difference between training and coaching.