Race Report written by Tom Britton of Marble City Travel, who not only raced in Kona but also helped many of the Irish athletes and supporters make their way to and from the Big Island for their race. 
The Legacy Race of a Lifetime
Writing this race report was a decision of politics or not being political. Kona 2022 had two races, a female race and a male race effectively. The debates will go on for some time to come! Myth, legend, whatever, all I can say – trip of a lifetime. "What's your favourite IRONMAN?" is a question often asked. Kona is without question my A race! For the last 3 years in our house, I do not know how Emmajo has put up with thousands of hours of bull on YouTube, meandering stories of 25mm tyres versus 28mm tyres, and other dazzlingly boring details of crap! But without question in my own mind – this race in hindsight does not have an equal. Yes, some of you will know of tougher climbs, harsher winds, etc. However, in the round– this is a trip of a lifetime. ………and for this soul – I am a tough audience.
The Swim
Maybe 2 weeks ago, a podcast from purple patch meandered across my ears. Matin Kirwan who had the misfortune of answering an email "Hello Martin, this is Tom, it's May, I've done no training, it's May, I've Kona in October – can you help?" Pre-May, James Ledingham was trying to coach me. James was patient and overwhelmingly a great guy who produced a training plan capable of planting a rocket on the moon. However, for this triathlete time was running tight, and I needed really specific help. I met Martin and he hit notes right down to which road I needed to train on! Back to Purple Patch!
On the podcast purple patch broke down the course, the first item which caught my ears "Kona will be your longest swim." Balls! For those sharks I have shared the pool with on Thursday nights, you scoot up and down the pool with shark like elegance, fast, completing all your various drills etc. Then over to your left in the wide lane was "Tom"! The woolly mammoth of IRONMAN swimmers! Brendan Doyle commented he had one gear; well, it looks like I must have picked up one of Brendan's gears. My stroke rate is twenty-six per minute, do what you like with it, it is twenty-six per minute.
The previous year, Robyn and John Duffy tried polishing the turtle. And in some ways, they had success. I used to windmill, however, between them they converted my stroke into a stroke which came from my shoulders rather than arms – ie. Yes, it is slow, but now my little arms were no longer providing the power, now, my shoulders were the powerhouse (relative term), bigger muscles. Well, little did I know how this would pan out! Back to purple patch – Kona will be the longest swim you have ever done. Panic phone call to Martin, and yes, he confirmed – potentially 20 minutes longer. This proved to be right. My usual 1 hour 40-minute swim touched 2 hours! However, instead of losing speed and giving up hope, the biblical, tidal swim was completed in just under 2 hours and I was not tired! Rumour has it – a smile was cracked leaving the Pacific Ocean.
The outbound leg of the swim was ding doing spot on, 40 minutes, I think. Swimming along the clear waters, watching fish below you, if you were able to draft – you could, you could see the person who was in the lead never mind the soul in front of you. We turned at a yacht a quick one hundred metres and began the homeward leg! The initial part of the swim again felt fantastic. The watch gave up the ghost, but who cares? I was sighting off the Kona pier and a giant Gatorade bottle. To my right was the Kona Coast Hotel – which I knew was not too far out. However, after what felt like forever the Kona Coast Hotel seemed to be not moving. One of the paddle boarders had warned me – the last five hundred metres is rough; the tide is coming out and you are swimming in! Understatement. I could see time on my watch, not distance. Time was getting tight. The old John Deere 1956 diesel engine of a swim stroke continued, putt, putt, putt, not fast but moving. I was trying to hurry up, to be sleeker, more effective, ultimately though, keep the head down, and push on! This I did.
I had entered the water at 07.20am and I left the water roughly 2 hours later. The swim did not feel as long as some of the shorter swims. Later swim waves had swum by me. Not a care was given! I will briefly reflect on the morning start. Our rest was interrupted by the bonging of my phone alarm. Sheepishly we looked at each other in an almost "what day is it?" look. Thankfully as a veteran of races, no panic!
Nutrition – half a cinnamon raison bagel was found, and cream cheese. Added to by a banana. Plus a few gels along the way. On the stroll down to the race, feeling all confident – there was a wobble. Emmajo was out front being the fearless leader however tucked away behind her, my thoughts lurched to "OH oh." There was a lava wall, combined with humidity my energy vaporised. Seriously I thought I was in trouble "Slow down." A panic was setting in. Once we slowed up, back came the energy.
I met up with Martin Kirwan in the corral and we chatted. Lord knows about what. However, Martin was cool as a breeze…" let the age groupers off, you don't want to be out front bobbling around for too long." And so, we were two of the last into the water, I started a left-hand side position which let me look a few buoys down. ……and the rest of that swim is history. It's a fantastic start by the way……..the Hawaiian drums roll……….they almost inject the adrenaline into your system.
T1. It was long, a bit of a run, textbook, planned over 3 years – no messing. Still long. Not a care was given. (the theme – not a care was given…………this was from the autopilot which had taken over……every last inch of this race was planned)
The Bike
Ok let us start with – the winner – Gustav Iden was on the same bike. Some weeks ago, a reputable bike shop told me my Giant Trinity was obsolete! Maybe – but in a world of digital, a good old analogue in the right hands won the IRONMAN World Championship in 2022! The bike course is straight forward, as indeed is the run. However, Kona is the home of a very dynamic Mother Nature. The Thursday World Championships was no cake walk, two races being held in 2022, and ladies were first up. A relentless wind, in bonkers heat made their race as challenging as any. "I felt" Saturday was "handier"! The road surface is super smooth for the most part. The famous climb to Hawi was challenging and slow. However – Martin had fed me power and heart rate sums. I followed Martins set up with boring perfection. A sub 7 hour moving time. What pushed me beyond 7 hours – drinks! Ice Ice baby! Mid way, I stopped at one of the aid stations, cups of ice cubes were popped down the back of my trisuit – it was the catapult I needed! It was incredible the effect of ice.
Seriously again – at midpoint I thought I was in trouble; energy was running low. Some months earlier I had hooked up with George Sherwood and had a sweat test – glad I did – my food plan was now simple, a precision 1500 salt tab and a pouch of precision every 45 minutes or so based on drinking one litre of water. That one litre of water was increased to two litres of water on race day per hour. BUT this turned into a new challenge. A lack of volunteers meant IRONMAN had to push out the gaps between aid stations. So, an extra bike bottle cage was purchased, and larger bottles added. Even still though despite great nutrition, and water I was gonzo 'ed in the heat! Aiden from Velo had equipped me with a super tri suit, dipped in copious amounts of sunscreen, and topped up special needs with extra sunscreen and nutrition ………the energy was still ebbing.
At the bottom of the descent from Hawi (10 minutes for five miles pace), the gears were jumping, they just would not settle in a low gear. A shady spot was found under a tree, some tweaking of gears was managed, and shortly afterwards an aid station. However – in this aid station I dumped a cup or two of ice down my back. LAZARUS like. Oh my god! Back pain gone, energy back! I was off. A few of the lads who had pushed on ahead were now caught up with. We were not competing for times, nor were there enough of us to cause a draft never to mind draft from each other. Either way, I had been clock watching, Hawi cut off was cleared with an hour to spare, likewise I was home with an hour to spare. Despite mechanicals etc, there was room for disaster to strike and recover. Overall, the planning since April, tweaking of plans (again I say God bless Emmajo's patience).
T2 – who would have thought a feckin pair of socks would take so long to put on! Seriously – I had talc on the socks, a towel, with the humidity I just could not get my feet dry! Three if not four times off, on, off on! The tent was emptying. But again, with nutrition, this time a longer transition was not because of a lack of energy etc. I was ready to bounce out on the run.
The Run
The run. WOW – seriously WOW. The craic was being had all round. You run out from transition and out of town to the South for a couple of miles. Every single person lining that route was shouting, and just so super positive. It was an out and back section; fellow athletes were being so positive with each other. Some were heads hanging, they were out of steam, that zombie apocalypse was in full swing! But either way, to a man everyone still cheered each other on.
Returning back into town, the Irish were there. Emmajo and her newfound friends Paula, Bill, Siobhan – best supporters ever! (Team Ireland were small in number – but by god you couldn't miss them with the Velo Team Ireland shirts, and they shouted loud) ((again the lads could have been maybe called quiet on the Thursday, but the girls were brilliantly vocal for us on Saturday)
As a write this – sadly, some of this is already a blur. A blur of contentment and happiness. I have arthritis, it had hung around all week. So, I said, ok you can push on, but, if you do, and you burn the matches be it lack energy, heat, pain whatever – you will burn the matches too quickly and then……well. So, I settled into a walk, trot. I had time to spare – lots of it. The energy lab, even in the dark is everything they say. Hot, humid, dead, boring! I had passed one of the Hoka mile markers shortly before going in "Mile 19". I was at mile thirteen ……. ahh flipping hell, six miles of this rubbish! Down into the abyss of darkness. As per earlier, those coming out were all "strolling" by now no one was trying to run. Some maths was rolling through my mind "if you pick up pace to a mile every 12, you could sneak in a 14-hour 50 kind of time". Ahh no! Then I pondered Shane McGale whose a legend in his own mattress (those who know him will understand the reference) I thought had done a 15 hours 50 minutes. ……. again, I just said – no bugger it. So, a quick calculation was done – do a pace of whatever and you will be home in your usual 16-hour hero's hour time. As a legacy athlete this was appropriate time wise. Legacy athletes were a funny mix of all sorts.
You ARE an IRONMAN 
The finish – well – I met Emmajo standing up at the top of Palani with my "Team Ireland" velo shirt. A quick switcheroo, and I was off. Planning the finish line……. Macarena? Wedding Dances moves? Down towards the finish line I sauntered, tears one second, laughing the next. It is ¼ of a mile in the finishing line. Lining up in the darkness like a pilot line up their flight on a runway, only this runway was not lit by runways lights, this runway was lit by people. Every single person had their hands out, and they were screaming. All I could do was weave side to side, high fiving, and trot……. leap……. feck it………sixteen ironman starts, 3 DNF's (Youghal, Wales and Bolton the 3rd), twenty-nine marathons outside of Ironman marathons, this was it. I have corresponded with Mike Reilly over the years – Mike was calling his last IRONMAN World Championship as the finish line King. Joanne Murphy was lined up and ready there too. This is your last few yards on this epic journey.
The lights were dazzling! To my right, Martin Kirwan, Siobhain – Martin's Mrs, Bill and Paula, and Emmajo. They were a blur of green! Happy faces. I did not stop for hugs! The blur of the finish was just too much. This time all I wanted was to cross the line and express how much joy was tucked in! Mike Reilly was there, and Gustav…. who neither I nor many more recognised! What I did know was Gustav had won and won well.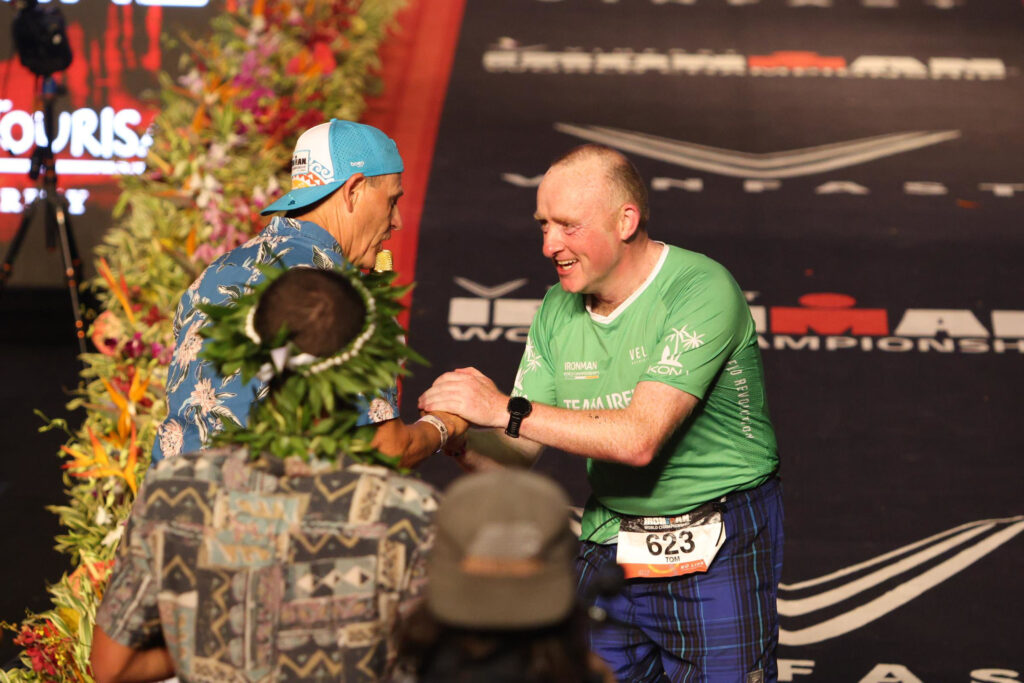 IRONMAN had two ladies from New Zealand – the volunteers on hand to escort me to t-shirt collection. I arrived there a few minutes later following chats on being Kiwi's in a foreign land and volunteering at the finish line etc. "Ahh, I need to lie down." This meant on the grass, at the t-shirt collection point. The adrenaline had run out. I did not have the steam or stomach to get in a wheelchair. More minutes were needed. In the end I was popped into a wheelchair, dispatched to the medical tent, oxygen and an IV drip for some time! Emmajo was called upon. Recovery took about an hour. All my temperatures and pressures were good as it happened – so no fear of me! I have a habit of doing this at the end of each race, only this time a bit more dramatically.
The Long Road to Kona 
Now the Star Wars title thank you: it has been a long journey! It has been amazing. I will say without Emmajo's steady hand, I am not sure where this would have gone! She has always been a voice of calm and reason, even when my thoughts have been bonkers! I know those of you in previous reports have reflected on your hubbies, wives, partners etc. But on Sunday mornings when I have wanted to stop ……. keep going was the message! "Peadar will be waiting."  Or "get it done before the day is gone." Consistency Tom" ………. Emmajo was always a voice of reason and positivity. During covid when there were many dark days, "sure you have Kona to look forward to." She looked after Mam and let me out for a run etc. There were two of us heading to Kona – Emmajo and Tom. I type this with a tear thinking of how great and unending her support in this journey was.
The cast of thousands. Afifa in Kilkenny Sports Therapy, between John Kearns and herself – they sorted my "achilies" issues when technology failed. Seriously, my body was fairly battered started into 2022. I was limping, lots of pain etc. Alternating each week – it was the Affifa and John show. James Leddingham for so much patience during the winter. John Duffy and Robyn for putting my swim right. …. not fast – but as mentioned above they gave me a technique which I really needed on the day for the swim. Jackie Varley, in the end it was not about weight, it was nutrition planning. Jackie followed up a fair amount to make sure the race plan I was following – was followed. Nutrition planning on the course was teased out. And in these teasing sessions, questions were raised, homework done, myths slay!
From my first race​ at ​I​R​​RONMAN UK in​ Bolton, a consistent player has always been Jackie Varley – sports nutritionist. In the beginning we had what felt like a corner shop on wheels; sandwiches​,​ nuts​, ​sweets​,  flat coke. Each race was tweaked depending on the​ local climate and environment​.  For those of us who are slower​, ​nutrition is still vital​​. By the time I hit Kona​,​  my nutrition was a slick plan​. ​Outside of the tons of water, precision hydration, and their industrial strength electrolytes we were down to a simple timing plan​. ​Jackie has tweaked every race​ as required​ and her follow through was exemplary. Hydration and fuelling is make or break at an IRONMAN and even more so on the Big Island, ​so​ it's vital to be prepared​.
George Sherwood – I did not really know George – but he was hyper efficient at making sure I had the supplies of Precision Hydration! George nearly took all this more seriously than I was! Eddie Sheehan – I will be back with Eddie shortly to keep the body moving. Eddie has had the most endless patience especially during covid when my head was not in the game. He looked after me for strength and conditioning. In the same "Just keep going" mind as Emmajo – Eddie was always "just another 5 minutes, do your stretches". Finally, the newest recruit – my coach. Martin Kirwan.
Seriously, March was a bleak month. I travelled to the US for work. Picked up covid. It dragged on for a month. Mam passed away at the same time (we both picked up covid within a day of each other). I was banjo 'ed. I sat with Martin for 30 minutes. He has a very practical, calm style. There is no flash and bang. Every week on training peaks the plan was updated. You can see the climb back to fitness moving at an incredible pace. Seriously – it was like watching a line just going straight up! He teamed me up on sessions with "faster" souls like Dinny, Karen, Philly M etc. They were speed sessions! The longer slogs were solo. Those I have trained with on the way – Peadar B on the Sunday morning winters at 08.15am, our spin arounds the county.
The gang in Dunmore East. Robyn and Marie with the tri club on swimming. But for sure – Martin Kirwan – who happened to be racing in Kona too! Was super practical. "Don't buy them wheels, wrong wheels on the bike with that wind, you'll be in the ocean." The Waterford Road, you will get the right winds there! Every session had a comment, right down to how fast I crossed the brow of a hill. Big brother was watching. Of course there was run training – lots of the longer runs were solo efforts – however – as Martin's training ramped up – I had Deckky Kennedy – Deckky was capable of moving along rapidly……..up hills……….."Deckky come back". …..as we slogged along the Waterford road. Sometimes which one was training for which race could have been questioned! And then we had Margo Conway and the "Marathon" gang. 6 ladies who never stopped training and casually mentioned they were training for A.N other marathon. Between "Margo's" hills and consistency they surely helped keep my run moving.
Call them professionals, Martin, Jackie, Robyn, George, Eddie. But in all cases I felt I had partners in this road. Likewise, to Emmajo – this has been a super journey I will never forget, and I am delighted she was here to share it with me……. Emmajo I am not so sure enjoyed every molecule of "tyre gazing", "Kona tube"…errr I mean the endless nights of Kona watching on youtube!  Finally, to you all who have messaged – thank you. The messages were absolutely appreciated,  oh and I can't forget Aiden in Velo Revolution! Thanks for all the fantastic kit, bottles, socks, …….fashionista in Kona – achieved!
It's emotional on so many levels. But when I reflect back – again – on an almost 18 stone, workaholic, arthritic, unathletic soul ………and think – "Anything is Possible" and I'm so grateful it was possible for me! (With so so many of you supporting). Where there is a will………there is a Kona.