Eight days in August!
2 x IRONMAN 70.3 and an IRONMAN in 8 days.
You might need 8 days to read this!
The Challenge
Complete IRONMAN 70.3 Swansea on Sunday 7th August, IRONMAN 70.3 Cork on the following Saturday 13th August and then IRONMAN Ireland in Cork the following day on Sunday August 14th, this was not planned, but as things developed it became a plan!
I had my entry for IRONMAN Ireland in Cork pre covid, did the inaugural event in 2019, and it was such a great event, we decided to go back in 2020, the world changed, the event didn't happen in 2021, eventually it was held in August 2022.
During 2021 IRONMAN announced, they would hold a new event in Swansea, obviously I couldn't say no, but then I realised it was the week before Cork, but ok, we could do this. Take Swansea easy, then go to Cork, simple right? Except IRONMAN then announced a 70.3 the day before the Full in Ireland. Well, I joked I'd do that too, after all, I had the travel and accommodation booked! Then the joke became a question, could I? So I entered to find out if I could.
Having done back to back weekends of a middle distance race and two full distance races in 14 days in previous years and a 24 hour triathlon earlier in the year, surely it wasn't beyond possible?  IRONMAN do say anything is possible, so let's ask the question, could I?  As the week drew closer I became worried about the recovery on Saturday ready to go again Sunday, but we had a plan!
IRONMAN 70.3 Swansea, Sunday 7th August
Being a local event, DC Triathlon had a huge crew entered and I think I knew 60% of the field too, no way could I have missed this. The Saturday before the race, gatherings for crew pics, a couple of pints on Wind Street with the Swansea uni resident and hotel roomie "G", finished with a pizza by the beach with a few more of the DC crew. Great start to the weekend.
Race Day was an extremely warm day, even at 6am! Bit of drama with the bike in T1, etap shifters wouldn't work, battery swaps and stress levels not needed!
Dock swim – 1.9k ahead, waiting to start in the pens with G, and after a small delay we're in the water. Settled in to a comfortable swim no need to race and blow up, got a long week ahead. 35 mins. That'll do, felt ok. Long run into t1, and G is there with me too. Onto the lumpy bike course, had recce'd this so knew what was coming. Decided not to race G up the first couple of climbs and let him go, he was racing, I wasn't.
Rugby legend Shane Williams saved my race, my bike and probably saved a nasty accident, as he'd just passed me we were both on the bars and powering along at 25 mph ish he had the awareness to know I was there and called out an unsighted nasty speed hump! Bike done in 3hrs dead. Again, that'll do. Knowing I'd taken it easy on some of the hills, happy with that.
Run, wow…. The heat! That was a toasty day, a two lap, flat out and back course along the Swansea/Mumbles front I was grateful for the beach front water park and it's waterfall, after a couple of minutes standing in it while the kids and families playing in it looked at me as if I had three heads, I couldn't care! It was lush.
Was great to see so many DC athletes, even DC and ND themselves and loads of other athletes on the run, and a great crowd with so many friends around it made for great support. One of DC's other highly experienced athletes, Jon Williams had run past me on last lap, but with a mile or so to go I was running him down, thought I'd cleared him as we approached the chute, I turned and he was back on me! A little burst, and as we approached the line, we celebrated the finish with a little dance. Great memories, crap finisher picture!  2hrs 06 for the run, about right, could have gone a bit quicker if I was chasing a pb, but that'll do.
IRONMAN 70.3 Cork, Saturday 13th August
Registration in Cork was fun, "are you doing the full or half?" Erm, Both! There was a bit of disbelief, a few people had heard, a few were looking out for me, there was 12 registered to do both…but how many would actually do it? Tell you later!
Sea swim, no jellies and calm conditions against a beautiful back drop, again no plan here other than to get the swim done, that's all I had to do so 33 mins was a good result. Into T1 lapping up the support from the family,  the amazing crowds and shouts from MC Joanne Murphy.
Onto the bike, again having done the course before, I knew what was coming, it's a fast rolling course with a stinker of a hill at the end of the loop the infamous WINDMILL HILL.  500m of something like 25% gradient, it's like a wall with no run up as you start the hill from a 90 degree right turn at the bottom, and boom it's there!
We had great weather and it drew the crowds, a lot of Sundays athletes (including a couple of DC guys, Becs and Rhys) were here eyeing up the hill, it's like something from the Tour de France, forget Heartbreak Hill in Tenby at IRONMAN Wales, this is epic! Standing on the pedals just smiling at the supporters who were so close you literally got pushed up by the atmosphere and another big shout from "the hill MC"  Jay Luke,  but more importantly, this is where I saw my true supporters and made it worthwhile, at the top of the hill and end of the bike was my wife Tracy and the kids, Lowri and Efan. Seeing her willing me up the hill was all I needed. Bike done in 2:55.
Onto the run. Down the hill and in to town, under the iconic clock tower in Youghal on High St, let's get this done, not far to go. Support around the town was epic, 2 hours 12, down the finish line and medal no 1 collected. A worried and relieved hug from Tracy with her trying her best to make it as easy for me as possible,  just an IRONMAN to do tomorrow!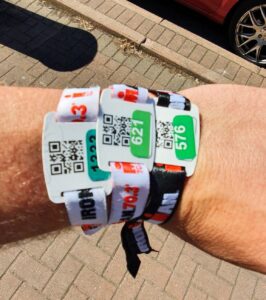 Bit of a logistical nightmare now, had to go back up Windmill Hill, collect bike, go back to accommodation and repack and re assemble all the kit bags needed for the next day before going back down to T2 to rack again,  (the 70.3 had a split transition a couple of km apart). Walking into transition with 2x 70.3 wristbands ( Swansea & Cork) and the full one had security and technical officers asking questions.  Now to eat, recover and rest to do it again tomorrow, luckily the accommodation had a jacuzzi bath, filled it with cold water and sat there for a good half hour, then probably a bit nervous tried to go to bed early, woke up Sunday and felt amazing! Legs felt great, I've started solo smaller events feeling worse than this, what's going on?
IRONMAN Ireland, Sunday 14th August
Literally twice what I'd done yesterday, a stretched swim, 2 loops of the bike course and 4 laps of town on the run. Everything was twice the day before including the crowds, oh wow! Yesterday was epic, this was a whole new level!
People had started seeing the trisuit, heard about a guy doing both the 70.3 and the Full, spotted both wristbands etc and a surprising amount of people came up to me and asked if I was "that guy"!
Swim, again a calm jelly free comfortable one, except from the beach the first buoy looked like it was 2.4 miles away! It would be slightly against the tide to the first one, two left turns and back with the tide to the finish. 1hour 11! A bit quick if I'm honest, I'm usually between 1.08 and 1.20 so this was a good start!
Bike – first loop, great no dramas and good craic with other athletes, a rolling loop with the killer hill before starting the second lap. This time the hill was even better than yesterday, a proper party atmosphere with 5 deep crowds and a wall of noise that definitely flattened the hill a bit, spotted some Irish friends Oliver, Elaine and Karen shouting abuse, or was it support? epic could do that again! Oh wait…. 2nd loop here we come!
This time a few miles into the loop, what was a mild lump last time around became a granny gear climb! Shit, I've got a while to go yet, why is this so hard? I was bonking big time in the heat, a few miles to next aid station where I decided I'd get off the bike, take 5 to eat and drink properly before getting on with it. Decided to do the same at next aid station in 15 miles. This worked! Phew. Except at about mile 90 ish I swallowed a fly which made me cough so hard I had to get off the bike and throw up! I could see the Gatorade coming back… ah feck  it. Not long to go. Dug in and in to T2  with a bike time of 6:25, I'll take that with a couple of stops and a bonk!
Just a marathon to do now and an incredible eight days would be done! Four loops of absolute epic support, I said it then and I'll say it again now, BETTER THAN IRONMAN Wales!  Tracy had set up camp in the Olde Imperial Hotel on the High St, where she'd get to see me twice every loop. She'd managed to get a group of DC support there too, with Becs' husband Matt and Rhys' wife Sian, obviously Rhys and Becs were out on course now too and this was great seeing each other and the support crew made the marathon a bit easier.
What made it more epic for me was by now more people had heard I was doing both, numerous shouts from Joanne and Jay on the mic's had helped this and more and more athletes were giving me a high 5 or a tap on the back. Felt great.  Was a warm day and  in one residential part of the course, a little cul de sac we'd run up and down 4 times, they were having their own party, live music barbecues and more importantly hosepipes! Lots of hosepipes! Tied to lampposts, set up as sprinklers, even one guy constantly running back and forth soaking anyone who asked! Legend!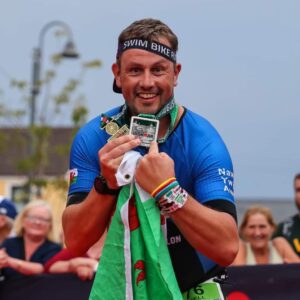 Last lap and I was absolutely buzzing, I'd done it, I'd asked the question and I'd answered it! I didn't care now about time, I'd stopped to talk to my amazing family a few times, stopped in hosepipe showers, had craic with the crowds and friends,  enjoyed EVERY single minute of it.  The last 100m are a blur, stopped to collect Saturday's medal and a Welsh flag, a huge kiss from a very relieved wife and bounced down the magic carpet!
Challenge Set, Accepted And Conquered
I hadn't realised how much of a buzz doing both was going to be for me, or others! We were in a pub in Waterford on Monday lunchtime on the way back to the ferry, miles from Cork, and a random guy from an Irish tri club recognises me and asks for a selfie, then tells me he's amazed to have met me and he can't wait to tell his mates in the tri club!  Proper ego boost that was!!
Oh…and I wasn't the only crazy guy doing both in Ireland, 12 registered only 2 started and completed!  Now to figure out what I can do in 2023 to try equal or maybe go one better than these epic eight days of 281.2 miles of racing across two countries because know I now that Anything is Possible.
Race Results
IM Swansea 70.3 – 5.55
IM Cork 70.3 – 5.57
IM Ireland  – 13.39
Thank You's  
Firstly it goes without saying, Tracy, Lowri and Efan for being there ever supportive and loving. I can imagine it wasn't easy for them worrying about me, doing the events is the easy part, supporting the way they do takes something special.  Dai Cole of DC tri for the coaching – can't be easy, I mean how do you coach that!  Fellow DC athletes for all the support.
Last but not least Ede Bone. This guy is more mental than me, the first guy I go to for validation when I dream up 24 hour tri and this type of week! He's the one who gave me the game plan for this madness and it was simple. Break it down. Swansea then the half in Cork and then the full, but break it down further. Get the swim done, the worry about getting bike done, then the run, don't even think about tomorrow until then, ticking them off one by one helped massively.
Roll on the adventures of 2023!