It is not exactly the Boston Marathon ……. more like outer Leitrim with Sunshine.
There are not many marathons you would call breathtaking! This however is one!
Eighty runners competing in a marathon on a Caribbean Island! 80, that is not a typo! This was like a rural county marathon with an international element. Every county race in Ireland will tell you how wonderful it is, friendly, unique medals etc.
The Barbados race weekend, and it is a whole weekend of running, is sport stripped bare. There are no "Run like Trump is chasing you" banners etc. There are no 25,000 athletes to manoeuvre. In our case, there were 60 of us. The Barbados Marathon is missing the marketing of a big marathon, bigtime! But think about it – 80 runners! However, what it lacks in "international marketing brand" it makes up for in craic, challenge and a most spectacular dawn!
This was a race which felt like you were running in a pair of adidas Roms (google them). At 5.30am just before an incredible dawn, the marathon and half marathon runners lined up together in rural "St. Joseph". It was missing the angst of normal races. It honestly felt like I was lining up with 10 of my best mates to go for a 5km trot. ……. but there were a couple of hundred of us including supporters.
It was also a "Pinch me" moment. Heat, by God was it warm already! Last week I had the pleasure of racing in Lanzarote – it was cool by some distance in comparison. In reading race reports, most are technical, breaking down mile by mile, etc. However, this was you, hydration, and a watch – period!
As it was a Sunday – the roads were not closed. Barbados stops on a Sunday, mostly. There is no stream of traffic.
Back to the start, the gun went off, normally I would like to mention the feeling of emotion which overcame the soul, how starting this race made me feel, a welling of emotions! Ahh no. A few high 5's, and "Jesus we are off" style of thinking. Quick, flick on the Garmin!
The first outbound section had the coast on our lefthand side with "The Atlantic", next stop Africa and waves to match. 500 yards in you could hear the breakers on the beach just off to the side. Over the horizon Zeus was in action as the sun's faint warm glow began to remove the skies inky darkness. The silhouettes of my competing friends (500 of them maybe?) slowly went from shadows shuffling in the dark, slowly we began to see each other's profiles.
No distance out, the leaders were already after cornering the first turn around and slipped back by us. At this point I had to stop, it was a "Lord thank you" moment. I had to stop, that glow was brightening by the second, the whites of the breaking waves were enhanced by gentle warm glow now surrounding us. And the thoughts were just "This is magic," surreal magic, but magic none the less.
After the turn around and approx. 1.5K trot back to the starting line, it was off down what felt like a gravel path. The road we were running was dug up for re-surfacing, so we had a mile of forest walk tarmac! As I am sitting here typing this, close to sunset, I'm watching two jet skiers in the bay cutting white foam arcs of water in the ocean, it is just bliss.  Back to the race, some of our crowd; well, we had two gents who previously ran seven marathons in seven days, one of which was type one diabetic, we had a bunch of ladies who pushed their boundaries to complete half marathons which was wonderful to see. Our group were some of the most uplifting, humble, fun individuals you could come across.
The remainder of the race was challenging. At a point I cannot remember, someone turned up the gas! It was around the half marathon point for me, so maybe two hours in and the legs fell off! Despite lashing in water, (no aid station was shy on the water) I could not drink the stuff fast enough. I had tucked away a large water bottle, electrolytes, and gels at the halfway marker. I was bang on time, not rocking the heart rate. Etc.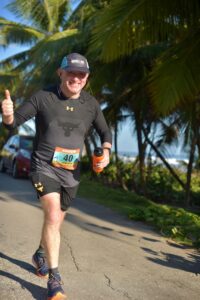 The midday sun arrived around 7.30am. Seriously. It was a big ask of my body to complete two marathons in a week! A bit of creaking in the hips and legs, the fertilization of sporting thoughts was now percolating through my brain. Sporting thoughts which have been birthed in 44 previous marathons, this was number 45!
When all else fails, slow down! I did not want to slow down, but an aching right Achilles, and broken walk were telling me, you have pushed too much lad, cut down the body stress and you will be fine. On the racecourse, once you have passed the initial turnaround, you soldier out by the starting line by a mile and half, then you take a left turn on a decent road surface for a couple of miles. Turnaround number two takes you off back on yourself, followed by an extension of the main "marathon "route for a couple of miles, turning again back on yourself, finally returning to home. In effect you've a race with 3 turning points!
If you are in the half marathon, you are now done! Collect your glory, go find a rum, and some fresh fish – sorted (Yea I know it's not Dublin). On the other hand, if you are marathoner, déjà vu to you!
Overall, there is reflection in this! If you want bling, bang Wizz "oh I'm amazing" marketing, you are looking in the wrong place. The Barbados people are proud of this race, and you can see why. It was amusing watching a guy with a camera on the back of a motorbike scooting in-front of the lead runner. The race was televised, and you would never know there was no "marketing" professionalism which sat in board rooms being consumed by advisors etc. It was all raw. However, the result was fantastic. Following the lead runner all the way was interesting to watch, and just showed how a wee bit of ingenuity can go a long way! Wonderfully so!
For 2022 Barbados moved the course across to the East Coast! If you want to holiday, tip out for a marathon (yes, I know) and then rejoin your holiday – you have cracked it. Barbados is super friendly, the island hosts hotels from the standard 3 star to the luxury all inclusive! I travelled with Aer Lingus to Heathrow, and onwards to Barbados with Virgin Atlantic. We as a group had the pleasure of staying in the Hilton Resort in Bridgetown. The Hilton sits right on the beach, close by are a number of restaurants – however one of the best restaurants we dined in was in the Hilton! It is fully equipped with a sizeable gym, spa etc. Overall, a fantastic location. ……. I could spend many pages telling you how wonderful Barbados as a destination is. Chilled vibe, warm waters, warm people, relaxed! If you are planning a race in 2023, why not think about putting Barbados on your list for an end of season, winter warmer?
Find out more about Run Barbados HERE, get the inside scoop on travel and logistics by emailing tom@marblecitytravel.ie