A few people have asked me to share my race report and my experience in Kona as a first timer so hope I have captured the race, the place and experience below. I say first timer instead of last timer, as I suppose I might as well go against everything I promised regarding it being a once in a life time experience, one and done etc to a few people and my wife Cheryl (to her dismay) and try to get there again, not next year but maybe in the future.
Hopefully at that time it is still magical and I am still capable of having a renewed first time experience. I will do my best to share things that you don't see in the race that are memorable and also share advice as a first timer in this report.
Telling Lies and Why do I do it to Myself.. 
When I started racing in 2016, back in "walk part of the swim" days in a sprint in the River Barrow, I never wanted to do an IRONMAN. After two years of racing, I realised I was rubbish at the short stuff and mildly better at longer stuff and gave IRONMAN 70.3 a go, then finally IRONMAN Wales as my first.
That night after the race, I drank beer with Mariusz Olejniczak (who qualified for Kona that day and was inspirational in my journey as such) and Brendan Dowd and I can distinctly remember saying "One and done, never again". One could argue that, after the day I had in Wales I would never do an IRONMAN again (Famous 2017 weather,  my chain snapped at 170k on the bike and I ran the rest).  Nevertheless all those lies I told came to fruition when I entered five more IRONMAN races with a growing desire to get a spot at the IRONMAN World Championship.  Thanks to some inspiration from many people, but especially my coach Declan Doyle and wife Cheryl, after seven years of triathlon and a lot of pretending along the way I made it to Kona via qualification in Estonia in 2020.
Kona – Five Things to Consider 
Five things everyone talks about in Kona when you haven't been there are; the heat, the wind, the humidity, the expense and the magic of the place.
The heat in Kona I found weird. I did some heat adaption in the lead up and when I arrived, although it was hot, I was not running for the shade and my HR was the same when training. So the heat training clearly worked. When I heard about the heat first I was expecting it to suck the life out of you. It doesn't. What it does do is slowly bake you from the outside in when you are racing. You don't feel it so much on the bike because of the wind but everyone feels it on the run. One such person jokingly suggested that unless you are the lucky few % who can handle the heat on the run you might aswell just go all out on the bike as your run is screwed from inception anyway. The effects of the heat is something I got to experience in a clinical way, more on that later.
The wind, I don't think was usual windiness. It wasn't Lanza wind but maybe it is more windy other years, the Kona veterans of Ireland can confirm that.
The magic of the place, on reflection Kona is not only a race it's an experience. The week lead up is like a festival, the Hollywood of Triathlon. Pro's everywhere mixing with everyone, chatting, all the brands showcasing, everyone on the buzz,  I was there eight days before the race, and having got up at 6am to go for swims most mornings the place was alive even at this time.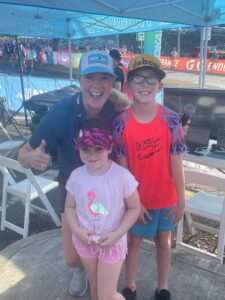 A parallel to my own personal goals was a goal for my kids to experience the possible as a result of commitment and hard work. A nagging doubt that they wouldn't even want to be there when we arrived due to the heat or lack of kids activities was short lived. They got to race themselves, do the underpants run, jump off piers, snorkel, they got to meet Kristian Blummenfelt, Jan Frodeno, Gustav Iden, Craig Alexander, Lionel Sanders amongst others including Sam Laidlow who was 100%, had a great chat with him, very grounded and he gave my son his race beads. Joanne Murphy also brought the kids behind the scenes on the hot corner on race day, adding to their overall experience of being there and I am already seeing the positive impact the magic of Kona has had on both of them.
I Was That Guy On Race Morning
Onto the longest day of my life, I'm generally ultra organised, have everything planned, I actually had the run, bike and swim bag separated with nutrition before I left Ireland. One thing I did differently in Kona was freeze my nutrition bottles (which I never do) and planned to use personal needs (which I never do). When I got up race morning I had six bottles in the freezer. I timed that it would take approx 2hours and 50 mins for the bottle to be melted but would remain cool for another 45-mins to hour.
The theory, self explanatory, bottles 4,5 and 6 would be in my personal needs bag, hoping that they would be 30 degrees instead of 40 by the time I got them. I took the first three out of the freezer when I woke (as per my timing) and planned to get the other three on the way out, letting them freeze as long as possible. However….  I left the three in the freezer and walked out the door. (This would come back to bite me later in the race).
Fast forward to arriving at transition for pre race prep,  realising I had no bottles in my bag to put on my bike, which saw me running back to my personal needs, trying to decide how I would split my bottles, estimating the time it would take to get back to my condo to retrieve the bottles etc.. panic panic.  I met James Hoare and Michael McCarron as I was running to my already stored personal needs bag..I was too embarrassed to tell them what happened until the swim queue…  I was finally the guy everyone tells you to steer clear of on race morning. Onto the race..
Swim: A Tropical Bath
Kailua Bay, you could bath in there every morning, I'm a pull buoy swimmer, I love wetsuits as I need them to swim well but swimming in Kailua Bay I'd pick every day over a wetsuit swim. It's just like a perfectly heated tropical bath. The swim itself was good, conditions a bit of rolling. Although the time I completed the swim was a bit slower than the swim race I did the weekend before it was a bit rougher even though there were less people around me.
Bike: Crashes, Coke…and Plan B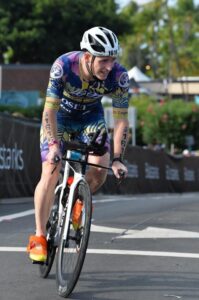 Onto the bike, the fun part. Within 2km of being on the bike however, my day completely changed.
Not long having left the Bay Area of Kailua one cyclist attempted to overtake me and just completely cut across my front wheel, crashing into me which resulted in me going over the bike handlebars and hitting the tarmac quite hard. Parts of my bike, my nutrition and some elbow, hands, thigh and ankle skin were all on the deck. The guy never stopped..kept going.. and rode off into the sun! I thought at first my race was over but In a matter of 3-4 minutes, I gathered myself, fixed some parts on the bike and was back on the saddle pedalling.
Having felt initially ok (I put this down to adrenaline) after approx 30 mins I could see the blood pouring from my knee, my Trisuit was a little shredded on the side and my elbow wounds were sticking to the arm rest pads and stinging as were my hand wounds. Ouch!
At this point , I knew it was going to be one of the longest days I've ever had. Everything went downhill from this point, feeling tired in a sleepy way by 40k couldn't be a good thing. I did what I could to complete the 180k out of the TT bars, I tried the one arm on the tt bars and one arm off up but was pointless. I completed the bike approx 45mins longer than what I thought I was capable of.
I didn't personally think the bike course was tough, maybe the wind was not as bad on the day but I recall alot of talk of Hawi and the climb. Compared to Wales hills it was a long mild ascent, nothing brutal. The bike is fast in my opinion.
At this point, you might wonder what did I do for nutrition to replace my three bottles I left in the freezer. I used the course nutrition – Gatorade & Coke. Gatorade was something I tested on myself in the week lead up to the race if I needed a Plan B. I knew from testing it did not agree with me but what choice did I have I had to roll with it….
Run:  Walk, GI Stress, Run, Walk, Finish
Acknowledging the performance aspect of my race was over, I took my time to cool my body down in T2 before the run. I spent enough time in there for someone to suggest I was having a Guinness and some tasty potatoes! The initial crowd in the town provided me with the energy I needed to forget about the bike incident and get going on the marathon. It was the first time since the swim I started to look forward instead of backward.
I finally met my wife Cheryl and the kids at km 3 and she knew something wasn't right. Weirdly the most important thing for me was I could see the kids were enjoying it.
The easy bit of the run, if there is one, is the out and back in Kailua on Ali'i Drive. People each side of the road but then you get to Palani Hill which takes you out of the town and onto the Highway. Palani is like the gateway to hell, the course planner must have got a payoff to ensure the run wasn't laps up and down Kailua.
This was my 7th IRONMAN,  and I've never seen so many fit people walking or sitting or lying down "resting" on the road. I also struggled on the run once I got onto the Highway. I never walk aid stations in races but decided having watched Chelsea Sodaro on Thursday,  it was the right thing to do this time, take ice etc. It didn't really make a difference. The heat and humidity was brutal, 19k in was where the final wheel came off for me.  The error I made in the morning, leaving my nutrition in the freezer, taking the Gatorade on course, inevitably decided to strike and found myself banging the door down of a cubicle at the aid station. It was the final nail in the coffin for my race.
Regardless of how long the day was, I remember listening to a few audio books – The Chimp Paradox and another book by Lesley Patterson and her husband the power of verbalising your thoughts. Saying out loud to myself "I didn't come all the way to Hawaii to go home without a finishers medal" I clambered on for the next 23km and met my kids and wife in an emotional state just before the finish line.
I did it….maybe not how I hoped, but I finished what was definitely the longest day on a race course. One thing I will admit is rewatching a video of the kids and my wife at the finish line greeting me again and again. I can see the emotion in my son, that he got it, the whole day, the experience it meant something to him and he knew what it meant to me. I hope he will take the experience with him and something positive will come of it.
The Final Kicker, The Importance Of Nutrition and a Reflection on Life
I thought the day was over there but there was another scorpion sting in the tail.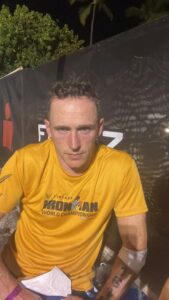 Excited to meet my wife and kids, I quickly left the recovery area to pick up my race gear bags and bike and exited the expo and finish line area to wait for them across from the finish line outside a coffee shop so we could go get dinner and a long promised beer.Not long after, I found myself on the floor of the coffee shop covered in ice, shaking and slurring words, I thought I was having a stroke. Thankfully still only a few metres from the medical tent the medics were called and what I was experiencing was a combination of heat stroke and hyponatremia (I was told brought on by the stomach cramps I.e. me leaving the bottles in the freezer, taking Gatorade…). Three IV drips later I was back up on my feet and got an IRONMAN volunteer t-shirt as a souvenir, but what started as a normal day ended as a scary reflection on life!
A sincere thank you to Adrian McGarvey for staying with my wife while the medics were there and Ciara Sheridan who took the kids and my bike/gear so they didn't need to witness my carry on!
The following night I had my beer and am good and healthy since and enjoyed seeing how much the pro's know how to party, the old saying, work hard play hard came out the night of the awards ceremony and was refreshing to see and lots of fun.
Learnings as a First Time Kona Finisher
When I go back to the Big Island the next time, I'll be keeping these thoughts in mind…
Travel two weeks before the race so I can get my last long hard run and bike on the island
Get a costco card for better value shopping
Add an extra one to two thousand euro on whatever you were thinking for spending money
Allocate an extra one thousand for excursions. They are expensive
Hire a car for the week while I'm there.
For now, it's time to rest up, enjoy some downtime and plan my 2023 season racing and fun.