On Wednesday 5th of October I travelled to Veneto, Italy, to take part in the first UCI Gravel World Championship.  To qualify for the event, I attended, and podiumed at, one of the eleven UCI Gravel World Series events earlier this year. The top 25% in each category at each of these events qualified for the World Championship. There were several age-group categories for men and women, and an elite race in which I competed.
The Women's races and the men in the 50+ age categories all competed on Saturday October 8th, on a course of 140km with 700m of climbing. The Men's Elite competed the following day over 190km with 800m of climbing: the same course as Saturday plus two laps of 25km. Men in the age groups 19-49 years also raced on Sunday, completing one extra lap for a total distance of 165km.
World Championship Build Up
I arrived a few days ahead of the event to make sure I had time to recover from travelling and recce the earlier parts of the course in particular. September was hectic. Between Ras na mBán, travelling for work, and then travelling again for an unsuccessful race outing all in one month, feeling recovered ahead of this race was one of the real challenges for me. The legs were decent, but maybe not the freshest they've felt this year.
With that in mind, my training load was steadily decreasing through September into early October. I took an easy week in July after the Newry 3-day where none of my numbers mattered, going on longer easy rides on routes I had never ridden, before going back into a big block of training again. Two friends of mine were training for Badlands in September, a 780km unsupported endurance race through the Spanish desert, so I spent most weekends riding longer gravel routes with them this Summer.
When the UCI announced the course details for Veneto, 140km and 700m seemed like a great deal (a long way from the splash-and-dash 50m sprint days in the pool). Millau had been 136km but with 2,500m of climbing. I thought the course in Veneto might suit me a little better. However, with gravel, the map will only give you half the story. A breakdown of the various terrains is included, but until you ride the course you can't fully appreciate this. "Unpaved" is a very broad term.
I recced the first 20km or so on Thursday, and we drove around to various points on the course to get a feel for what the day had in store beyond the opening sections.
We stayed in Vicenza close to the race start, so on Friday I rode to the race registration in Citadella as my pre-race ride, to pick up my race numbers, in some of my Irish kit. When I arrived and walked in the door for registration, Nico Roche was the first person I met. I obviously recognised him, however because I had my kit on I was greeted with a "Hi, you must be Emma", which made the whole experience really start to sink in.
Going Mad For Gravel 
I hopped on a gravel bike for the first time last summer. I loved it, but I was still very much committed to training for triathlon at the time, meaning I didn't ride gravel again until the end of the last year. I started this year wanting to cycle only, and, in particular, race gravel. I raced "La Santa Vall" and the "Traka" before heading off to Millau for a UCI World Gravel Series race. So to end up at the UCI Gravel World Championships just over six months after my first gravel race is crazy.
It's been a bit of a whirlwind year in many ways. I had been delighted to qualify in June, but it wasn't until the start-list came out that it really dawned on me what I was doing. If you had told me a year ago I would be on a start-list beside Elisa Longo Borghini, Pauline Ferrand-Pervot, and Sina Frei, I would have thought you were crazy never mind not believed you.
The imposter syndrome from when I landed in to Italy until before the race was insane. I had to keep reminding myself my only goals were to leave it all out there and enjoy every moment of it. I was so wound-up all week but by the time we got to the call-up a lot of it had settled.
Race Day 
There were two main climbs in the first 20km totalling 3km, one on gravel and one on asphalt, with gradients of around 10%. The race started directly into a climb before closing the riders into a narrow dirt path, down a switchback descent in to an even narrower bike path. Due to the call-up process, I was lined up further towards the back of the group as we started. While I didn't lose too much time on the climb, if the rider in front of you couldn't descend, you could lose a lot of time getting down the switchbacks.
Having looked at the start-list in detail before the race, considering my level of experience, technical abilities, strengths, weaknesses, and realistically the current shape my legs were in, I had decided that being in the region of 20th to 25thposition at the finish was possible, challenging, and realistic for me.
Coming down the first descent I was able to get around a few riders in front of me, which really gave me confidence. Coming out of the first single track section into the second climb I had found myself in a small group with Puck Mooneen, Maddie Nutt, Hayley Simmonds, and two others. Going up the hill Hayley pulled away slightly, and I thought we would pull her back on the descent.
Getting to the top of the second climb was such a buzz. I spotted a familiar face in Michael Garrison with his Hagen Berman Axeon kit on, in full support mode shouting at everyone, and I got such a lift from the crowd.
Myself and Puck broke away from Maddie on the descent before riding together for a few km. Eventually I rode away on my own, hoping I would be able to bridge to Hayley. I was making progress for a while, I passed an Aussie girl on the trails and was chasing someone else up ahead.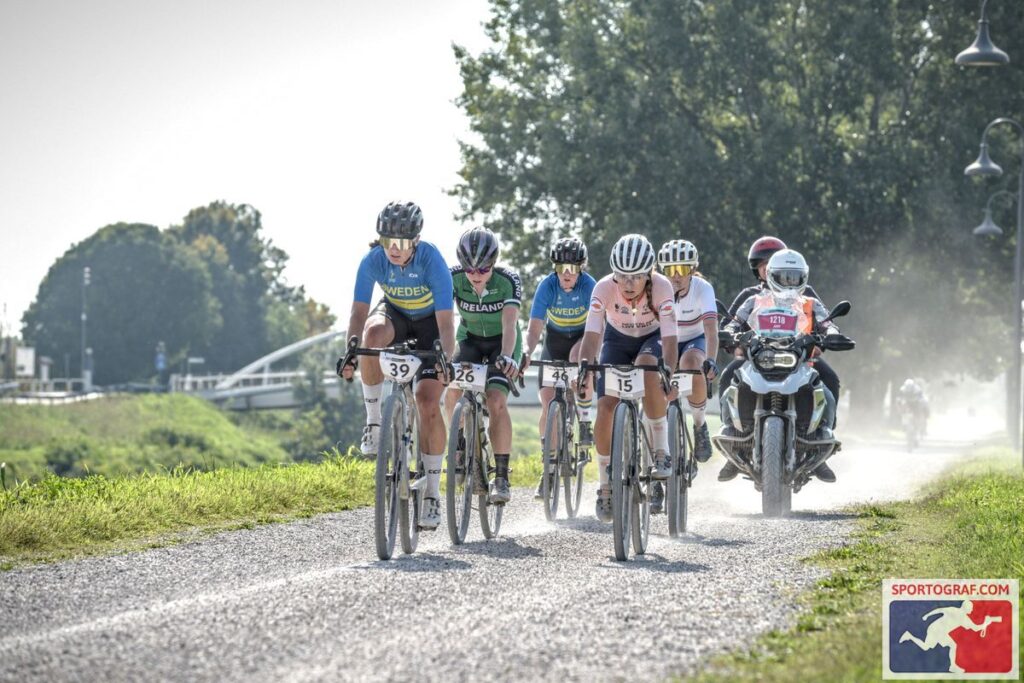 Gear Trouble – Game Over 
At 38km I took a corner a little too hard and my back wheel skid out. I was back on the bike again in no time, but unfortunately I had hit the shifter hard and the cables came lose. I could move up the cassette but not down it, essentially leaving me stuck in the gear I was in, for the next 100km.
I rode up to the Swedish girl I had been chasing and we were soon caught by three more riders. I was sitting at over 100rpm just to hang on to the back of the group for the next 35km or so. When the men's over 50's passed at pace, one of the Swedish athletes decided it was time for the women to get a move on again. This was essentially the end of my involvement in the race, and the beginning of a different challenge.
My parents were at the feed zone at 81km, and my dad was wired about handing me a bottle. Having never done it, he didn't want to be the reason anything went wrong at a World Championships. When I arrived I could see him waving me over. He didn't have anything to worry about as I came to a dead stop to manually move the gears down the cassette. I rolled the pedals forwards and the gears changed back to where they had been for the past hour. I just looked at my parents and said, "I'm going to be out here a long time today."
I still had about 60km to go, on mostly gravel, with no gears. My nutrition plan was for just over four hours, and now I was looking at around five hours at the pace I was limited to. I was being passed by groups of the men's 50s who were shouting at me to sit in with them. I could see women I had long ridden away from sitting in with them and leaving me behind. This wasn't the day out I had imagined. My back was aching from being limited in position with the higher cadence. If it had been a different race, I'd have written it off and called it a day when I got dropped at 70 odd km.
Pushing to the Finish line Smiling
But, I was getting to ride my bike for Ireland at a World Championships, in Italy, with my parents there. I was the first Irish rider to ride this event. I wasn't going to DNF while I was still able to pedal. I was living out a dream; even if it wasn't going how it was supposed to go.
It was disappointing to ride much of the second half of the race alone. It was disappointing to cross the finish line and not have the result reflect your true abilities.
It was both disappointing and encouraging to look at the results and see the women you had ridden with finished in the 20th to 28th position bracket, meaning your ability was exactly where you thought it was. There were plenty of highs despite the disappointment. No matter what, I'll still always be the first Irish rider to compete at the UCI Gravel World Championship.
While normally in gravel racing men and women will race together over the same course and distance – which has its pros and cons, I enjoyed having the opportunity to watch the men's race the following day. There was, and still is, plenty of discussion around the UCI's involvement in gravel racing, and while there were elements of the event that could most definitely be improved, it was still an amazing experience.
I've taken some time off the bike since, and started making some plans for next year. In terms of gravel, I hope to make the most of the Klassmark events again next year and hopefully race a few more of the UCI World Series races. I found training and racing gravel this year has also made me stronger and more confident on the road. So next year is looking like more racing across the board. If the opportunity comes up to be on the start line in Veneto again next year I'll be grabbing it!
There were three Irish athletes between the Elite races this year; myself, Nico and Alexis Roche. It would be fantastic to see a few more athletes in green take on the Elite races next year.