Ireland secured a record 5 medals at the SPAR European Cross Country Championships at La Mandria Park in Italy yesterday afternoon (Dec 11th). The total saw Ireland finish in second place on the overall medal table alongside Spain and France, bettering the 3 medals won at last year's European Cross Country Championships which were hosted in Fingal-Dublin.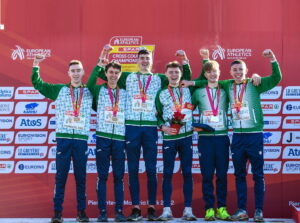 It was a day of outstanding team and individual performances, and those in attendance didn't have to wait long to see Irish athletes in contention for medals. Nick Griggs (Silver) and Dean Casey (Bronze) claimed a superb double podium finish for Ireland in the first race of the day, performances which would help the Irish U20's to the team silver medal alongside teammates Sean McGinley (12th), Callum Morgan (18th), Jonas Stafford (33rd), and Mark Hanrahan (53rd).
The men's U23 followed their medal-winning-teammates to the podium shortly after, claiming a superb team bronze medal thanks to some brilliant championship running from Efrem Gidey (5th), Keelan Kilrehill (9th), and Shane McEvoy (15th).
Darragh McElhinney (26th) was fearless in his pursuit of the individual medals, but last year's silver medallist had to settle for 26th having been with the leaders over the first 3 laps of the tough and undulating course. Jamie Battle (55th) and Thomas McStay (63rd) rounded out another inspiring performance from the U23 team.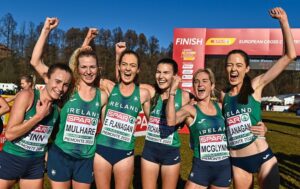 Irish medals didn't end there however, with a gritty senior women's team using all of their championship racing experience to win another brilliant bronze thanks to an outstanding double act from twins Eilish and Roisin Flanagan who crossed side-by-side in 11th and 12th place.
Mary Mulhare (27th) would round out the scoring for the bronze medal-winning-team, but she was closely supported by Ann Marie McGlynn (31st), Aoibhe Richardson (46th), and Michelle Finn (55th). The result continues an outstandingly consistent run from the senior women's team who have medalled for the 5th time in 11 years at these championships.
There were more outstanding performances away from the medals today too, with Jane Buckley securing a brilliant 5th place finish in the women's U20 race, while the senior men's team saw 3 athletes inside the top 30 places in a stacked field. Peter Lynch of Kilkenny City Harries was outstanding throughout and finished 15th ahead of Hiko Tonosa Haso (27th)  and Brian Fay (30th) .
Sarah Healy was right in contention for a medal in the U23 race but unfortunately had to withdraw during the final lap with injury.
Today's performances continue a remarkably consistent medal-winning-run for Irish athletes at European Cross Country Championships. Ireland has won 12 medals over the last 3 editions of these championships; a stat made all the more impressive when set against the 13 medals won in the previous 25 editions.
SUMMARY RESULTS
U20 Men Race
Individual Medals
1 GBR BARNICOAT Will 17:40
2 IRL GRIGGS Nicholas 17:41
3 IRL CASEY Dean 17:46
Team Medals
1 GBR Great Britain & Northern Ireland 10
2 IRL Ireland 17
3 ESP Spain 30
Irish Finishing Positions (Team 2nd):
Griggs 2nd
Casey 3rd
McGinley 12th
Morgan 18th
Stafford 33rd
Hanrahan 53rd
U20 Women Race
Individual Medals
1 550 FORERO Maria Spain 13:04
2 724 ØSTGÅRD Ingeborg Norway 13:07
3 571 MONONEN Ilona Finland 13:08
Team Medals:
Spain 21
Turkey 25
Germany 33
Irish finishing positions (Team 8th):
Buckley 5th
Hawkins 35th
Thompson 52nd
Gardiner 59th
Roberts 66th
Kehoe 72nd
Mixed Relay (4 x 1500m) – 09:30am Irish Time
Medals
1 Italy 17:23
2 Spain 17:24
3 France 17.31
Irish Team Finishing Position:
9th in 17.56
U23 Men Race
Individual Medals:
1 GBR HICKS Charles 23:40
2 GBR MAHAMED Zakariya 23:48
3 FRA BRESC Valentin 23:58
Team Medals:
1 Great Britain & Northern Ireland 11
2 France 14
3 Ireland 29
Irish Finishing Positions (Team 3rd):
Gidey 5th
Kilrehill 9th
McEvoy 15th
McElhinney 26th
Battle 55th
McStay 63rd
U23 Women Race (6000m)
Individual Medals:
1 ITA BATTOCLETTI Nadia 19:55
2 GBR KEITH Megan 20:08
3 GBR MILLARD Alexandra 20:27
Team Medals:
1 Great Britain & Northern Ireland 10
2 Italy 31
3 France 38
Irish Finishing Positions (Team 7th):
Donegan 28th
O'Mahony 35th
Mooney 39th
McCann 54th
Healy DNF
O'Cuill DNF
Senior Women Race
Individual Medals:
1 NOR GRØVDAL Karoline Bjerkeli 26:25
2 GER KLOSTERHALFEN Konstanze 26:29
3 GER REH Alina 27:19
Team Medals:
1 Germany 9
2 Great Britain & Northern Ireland 30
3 Ireland 50
Irish Finishing Positions (Team 3rd):
E Flanagan 11th
R Flanagan 12th
Mulhare 27th
McGlynn 31st
Richardson 46th
Finn 55th
Senior Men Race
Individual Medals:
1 NOR INGEBRIGTSEN Jakob 29:33
2 GBR CAIRESS Emile 29:42
3 BEL KIMELI Isaac 29:45
Team Medals:
1 France 24
2 Italy 25
3 Spain 36
Irish Finishing Positions (Team 8th):
Lynch 15th
Haso 27th
Fay 30th
Keane 33rd
Dalton 36th
Murchan 67th
Full Results: HERE