Gillespie and Dobbins among winners on final day of the Track National Championships and Dublin Track International
Lara Gillespie impressive win in the UCI Class 2 scratch race today backing up her win yesterday in the National Championship scratch race. The UCD rider faced tough competition and wasn't the only national champion on the start line with the Danish national champion, Amalie Winther Olsen (Spellman Dublin Port Cycling Team) also looking to take a win in her national champion's kit. Gillespie proved quickest in the sprint for the finish, beating Emily Kay (Torelli-Assure-Cayman Islands) and Italian rider Francesca Selva (T RED FACTORY RACING).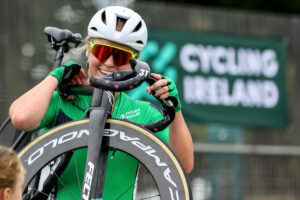 "It's nice to get out again today and feel strong. It came to a sprint today and the legs were there so I'm happy with the outcome. There's some really strong riders here this weekend and obviously Amalie is top notch and it's really nice to get to race her so it was a strong field so I'm really happy with how it's gone," Gillespie said after the race.
Speaking about her win in the National Championships scratch race yesterday, Gillespie added:
"That one meant a lot because this is my first national championship back since being sick the past two years. It's just good to be at my first national championships back and get on the top step so I'm really happy with it."
British rider, Matti Dobbins (Wheelbase CabTech Castelli) took two wins today, winning the UCI Class 2 scratch race and elimination race. After missing out on a podium finish in the omnium yesterday, Matti made no mistake today beating Irish national champion, Andre Grennell and Stephan Caulfield-Dreier (Spellman Dublin Port Cycling Team) in the sprint for the finish of the scratch race. In the elimination race, Dobbins had enough left in the tank to take the win from Aaron Wade (Team U Cube 17) who had an impressive medal haul on track yesterday winning the omnium and individual pursuit.
Orla Walsh went on to retain the sprint national title making it two wins from two this weekend. Yesterday Walsh set a new national record in the 500-metre time trial and has now repeated her success at last year's national championships to win all three sprint events, having won the Keirin national title in July. Deirbhle Ivory of UCD Cycling Club took home her second silver medal of the weekend while Emily Kay rounded off the podium after beating Orla Harrison (Arcane Cycling Team) in the match sprints for the bronze medal.
It came down to the third and final match sprint to decide the men's sprint national champion between Conor Rowley (Blackburn Cycling Club) and Eoin Mullen (Black Line). In the end a cramp got the better of Mullen which meant Rowley secured the win, claiming his first Irish national title.
Speaking afterwards, Rowley said, "I'm delighted. I knew it was going to be a challenge today with Harvey Barnes and Eoin Mullen in top form so qualifying in third I knew they had the better speed than me, so it all came down to tactics. I knew the gap wasn't too big that it was still possible to win so I just managed to execute each race at my best and come away with the title."
Gillespie and Kay partnered for the UCI C2 Madison and came away with the win on 65 points ahead of Amalie Winther Olsen (DEN) and her partner for the race, Francesca Selva (ITA) who finished on 47 points. Kerry Jonker (Andy Schleck CP NVST) (RSA) who teamed up with Gabriella Homer (IRL) rounded off the podium with 8 points.
Results from all the races today can be found below.
UCI Class 2
Women's Scratch
Lara Gillespie (UCD Cycling Club) (IRL)
Emily Kay (Torelli-Assure-Cayman Islands) (IRL)
Francesca Selva (T RED FACTORY RACING) (ITA)
Men's Scratch
Matti Dobbins (Wheelbase CabTech Castelli) (GBR)
Andre Grennell (Spellman Dublin Port Cycling Team) (IRL)
Stephan Caulfield-Dreier (Spellman Dublin Port Cycling Team) (IRL)
Women's Madison
Emily Kay (Team Ireland) (IRL) 65 points
Lara Gillespie (IRL)
Amalie Winther Olsen (Spellman Dublin Port Cycling Team) (DEN) 47 points
Francesca Selva (ITA)
Kerry Jonker (Andy Schleck CP NVST) (RSA) 8 points
Gabriella Homer (IRL)
Men's Elimination
Matti Dobbins (Wheelbase CabTech Castelli) (GBR)
Aaron Wade (Team U Cube 17) (IRL)
Andres Fynbo (Spellman Dublin Port Cycling Team) (DEN)
National Championships
Women's Sprint
Orla Walsh (Nopinz)
Deirbhle Ivory (UCD Cycling Club)
Emily Kay (Torelli-Assure-Cayman Islands) (IRL)
Men's Sprint
Conor Rowley (Blackburn Cycling Club)
Eoin Mullen (Black Line)
Harvey Barnes (Spellman Dublin Port Cycling Team)