The Olympic Federation of Ireland has named forty-two athletes who will compete across five sports in the Summer European Youth Olympic Festival (EYOF) taking place later this month. The EYOF is the largest European multi-sport event for young athletes between the ages of 14 and 17 and generally occurs every two years. This year it takes place in Maribor, Slovenia, and will run from the 23–29 of July.
The EYOF is a prestigious event that plays an important role in the overall development of athletes, as it mimics the Olympic Games model, preparing athletes for the nuances of performing in a multi-sport environment. This year's event will see forty-eight countries across Europe participate in the event, with approximately 3,600 athletes competing.
Team Ireland athletes who have been selected for this year's event gathered at the official team day earlier this week, where they picked up their kit, and took part in team bonding events, along with their parents and coaches. They also heard from Tokyo Olympian, Louise Shanahan, who won a gold medal in the 800m (athletics), ten years ago at the EYOF in Utrecht, Netherlands. Fresh from a successful campaign shared her invaluable Games experience and insights with the young athletes before their departure.
The Irish team departs for Maribor on the 21st of July with competition starting on the 24th of July.
Team Ireland – Cycling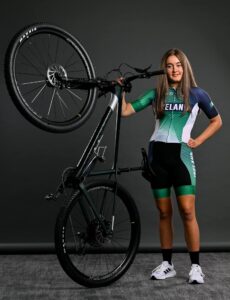 Six athletes will represent Ireland in cycling events including the female and male road race, time trial, and mountain bike events. The six athletes representing Ireland in cycling at the events are Aliyah Rafferty, Conor Murphy, David Gaffney, Greta Lawless, Kate Murphy, and Phillip O'Connor.
Team Ireland – Swimming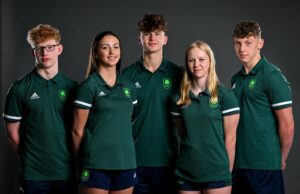 Six athletes have been selected to represent swimming at the event, Led by Michael McCarthy (Team Leader) and Sinead Donagher (Coach), Ava Jones (Portmarnock), Brydan Byrne (Bangor), Denis O'Brien (National Centre Limerick), Gene Smyth (Bangor), Niamh Connery (Galway), and Sean Donnellan (National Centre Dublin) will feature for Team Ireland between the 24-28 July Maribor.
Swimming Schedule: 
Ava Jones (Portmarnock) | 200m, 100m Breaststroke, 50m and 100m Freestyle (F)
Brydan Byrne (Bangor) | 200m, 100m Backstroke (M)
Denis O'Brien (Limerick) | 1500m, 400m, and 200m Freestyle (M)
Gene Smyth (Bangor) | 200m, 100m, and 50m Freestyle (M)
Niamh Connery (Shark Galway) | 200m, 100m, Breaststroke, 400m Individual Medley (F)
Sean Donnellan (Dublin) | 200m, 100m, Butterfly (M)
Team Ireland – Athletics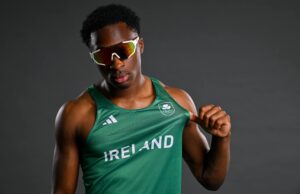 A large contingent from athletics are set to compete at the games with the following athletes selected to compete for Team Ireland:
Amy-Jo Kierans (Monaghan) Medley Relay (F)
Andrew Cooper (Kilkenny) Shot Put (M)
Cian Crampton (Offaly) Discus (M)
Clodagh Gill (Mayo) 3000m (F)
Davey Davitt (Dublin) 400m Hurdles, Mixed Relay (M)
Donal Martin (Blackrock) 200m, Mixed Relay (M)
Enya Silkena (Dundalk) Heptathlon (F)
Hollie Kilroe (Roscommon) 400m, Mixed Relay (F)
Jason O'Reilly (Killarney) Medley Relay (M)
Jesse Osas (Ratoath) 100m, Mixed Relay (M)
Katie Doherty (Ratoath) 200m, Mixed Relay (F)
Leila Colfer (Carlow) 100m, Mixed Relay (F)
Michael Kent (Wexford) Long Jump, Mixed Relay (M)
Nicole Dinan (Cork) 1500m (F)
Oisin Lynch (Killarney) 800m (M)
Oisin McEvoy (Lusk) 400m, Mixed Relay (M)
Oisin McGloin (Lisburn) 3000m (M)
Saoirse Fitzgerald (Lucan) 800m, Mixed Relay (F)
Sean Cronin (Dublin) 1500m (M)
Seamus Clarke (Mayo) 5000m RW (M)
Tara O'Connor (Dundalk) High Jump (F)
Veronica O'Neill (Derry) 100m Hurdles (F)