A summer full of triathlon adventures got underway last weekend with Tri795 Sprint Triathlon in Carlow and will run all the way until the 24th of September at Ballyhass Sprint in Mallow. With a long list of races to choose from, in all corners of Ireland, it's going to be epic!
This summer, thousands of triathletes will tour the country to earn their Triathlon National Series points, competing against the best in their age group. There's something for everyone, from ages 18 to 85!
The Triathlon National Series is Ireland's most prestigious and largest endurance competition with an almost two-decade-long history.
WHAT'S ON?
Well, there are over 25 races remaining around Ireland.  You can enter a number of those listed as National Series races, or simply choose four in order to get a final ranking in the Series.
While you can simply take part in your local triathlon and enjoy the event without being obliged to do three more races, if you will not rank in the National Series with points from a single event. An athlete will need to race four events – one sprint, one standard and two of their own choice.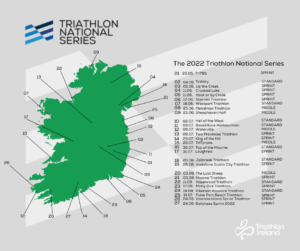 AWARDS
At the end of the season, medals will be issued to the top three female and male athletes in each Age Group and of course, an overall Triathlon National Series podium will be celebrated.
Previous winners of the National Series include a who's who of top triathletes (and even one Olympian!)
MORE INFO?
For more information on the series, and on previous winners, visit the Triathlon Ireland website here.
See what races are open for entries on the Triathlon Ireland Race Calendar. Be sure to act fast and register soon, many of these events will sell out long in advance of race day!