If you've been tempted to go for a quick dip in the sea due to the recent good weather in Ireland, you're not alone! Open-water swimming has seen a huge increase in popularity in the past two years, with sea swimming and lake dipping becoming one of few outlets for many people to engage in during periods of COVID-19 restrictions.
The benefits of cold water immersion are wildly noted. From an increased metabolism and immune system responses to lowering blood pressure and stress, and even providing anti-depressant effects. However, open-water/cold-water swimming doesn't come without risk; cold-shock, after-drop, and changing tides, are just some of the issues which swimmers can face if they are not properly prepared for their open water activity.
Whether you've been swimming or dipping for years, or you're brand new to making a splash, we've put together a list of helpful things for you to consider as you prepare for your open water adventures.
Be Safe
Never swim or dip alone if you are new to open water swimming. Even the most experienced open water swimmers should still make sure they have a swimming partner or someone close-by on shore.
Check the weather and tides in advance of your dip. If there are high winds or there is a storm, don't enter the water. Respect the ocean and remember no matter how strong a swimmer you are, the tides are stronger.
Make sure you have an exit plan before getting in the water.
Start with short amounts of time in the water. It takes time to acclimatise, build up how long you spend in the water gradually. You may feel comfortable in the water, but if you spend too long in the water during your first few dips you'll likely suffer from after-drop shortly after emerging. After-drop occurs after cold water immersion, and can lead to feeling faint, violent shivering, and generally feeling unwell.
Even if the sun is shining and you've spent the day in shorts and t-shirt, remember the sea will take much longer to warm up after the winter and that nice refreshing dip will likely be a shock for your body!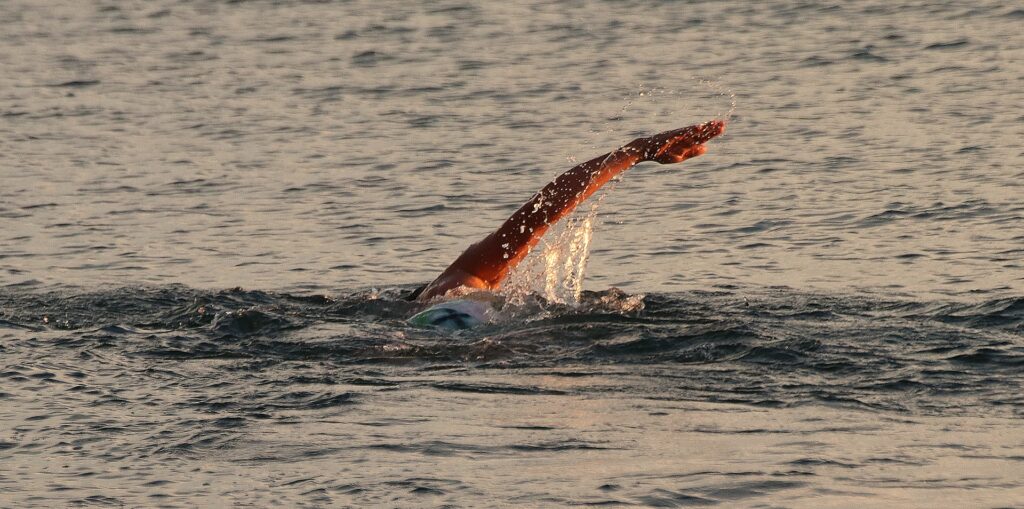 What You Need to Swim
A swim suit or a neoprene wetsuit. It's up to you! Whatever is more comfortable for you to wear while you dip or swim.
A neoprene swimming hat or two normal silicone hats will help keep your head warm. If you can, try to find a brightly coloured hat, this will help you remain more visible to those on the shore.
Neoprene gloves and/or boots can make a huge difference to your open water swimming experience. As your body tries to keep your core warm, blood moves from the extremities causing the temperature in your hands and feet to drop.
A tow float can be a very useful piece of safety equipment. These are not meant as floatation devices; however, the neon orange colour makes them easy to spot if, for any reason, you get into trouble in the water.
A waterproof watch will help you monitor how long you have been in the water.
Warm-up Beforehand
Get your body moving pre-swim and allow your muscles to warm-up before getting in the water.
Enter the water slowly if you are new to open water swimming. Jumping or diving in may lead to cold water shock or hyperventilation which can be very dangerous.
Warm Kit for Afterwards
Hat, gloves, fluffy socks, extra leggings, a dry-robe. As someone who feels the cold, let me assure you, there is no limit to the amount of layers for post-swim – especially in the winter! The sun may be out in March and April but if you're not used to swimming in the sea at this time of year, you might be surprised at how long it can take to warm up if you've stayed in the water a little longer than planned.
In the winter, a hot-water bottle can be useful for popping into your jumper to warm your core post-swim, or for pouring a little bit of hot water on the ground or your towel to prevent your toes from getting too cold while you change.
A towel or small mat to stand on will also help your feet avoid the cold ground.
Warm-up Slowly After Your Swim
Having a hot shower too soon after an open water swim can cause your core temperature to drop. Bring plenty of warm clothes and layer up after your swim or dip.
A thermos of tea, coffee or hot chocolate will help warm you up nicely, however, make sure to prioritise getting dressed first.
Respect the Sea
Always check the weather and tides in advance of your dip. If there are any weather warnings in place, it is not safe to swim.
If there is a lifeguard on duty, follow any instructions they provide on where it is safe to swim.
Leave no trace. The sea is home to a host of aquatic life and shared by billions of people around the world. Make sure you bring all your belongings home with you and any packaging or rubbish to the nearest bins.
Always tell someone where you are planning to swim and how long you will be in the water for.
For more information, see https://watersafety.ie/ and https://www.swimireland.ie/open-water