After a three-year absence, the Triathlon Ireland Awards returned with a night to remember on Saturday at the Alex Hotel in Dublin.
Almost 250 members of the triathlon community gathered to celebrate the first full-year back since the onset of the COVID-19 pandemic.
Medals were collected, trophies held aloft and old friends celebrated together. Opening the evening, Triathlon Ireland CEO Darren Coombes spoke about some of the standout moments of the year, and congratulated the special achievements of everyone in attendance.
Triathlon Ireland President Alan Ryan looked ahead to an exciting 2023 season, in particular the return of international racing Ireland with next year's Europe Triathlon Junior Cup at Dublin City Triathlon.
Age Group medalists from all of this year's national championship competitions as well as the Youth Series supported by Costcutter; the Duathlon and Triathlon National Series picked up their awards in the Medalists' Lounge before the dinner.
The winners of every medal from the 2022 season are listed in the 2022 Annual Awards Booklet.
HP Athlete of the Year
James Edgar
In an exciting Vodafone Dublin City Triathlon, James Edgar won the draft legal title of Sprint Distance National Champion. James is also 2022 Aquathlon National Champion and took part in his second Commonwealth Games at Birmingham 2022 last summer.
HP Para Triathlete of the Year
Chloe MacCombe & her guide Catherine Sands.
The partnership of Chloe MacCombe and her guide Catherine Sands earned a fantastic Commonwealth Games silver at the Birmingham games. Chloe & Catherine unfortunately can't be here this evening to collect their award but we send our heartiest congratulations to them on their success.
HP Junior Para Triathlete of the Year
Oliver Gunning & his Guide Kyle Duncan.
This year has seen Oliver Gunning and guide Kyle Duncan go from strength to strength. At the age of seventeen Oliver raced his first Commonwealth Games in Birmingham. The pair had a number of top ten finishes internationally this year and earned their first World Cup podium with second at the 2022 Europe Triathlon Para Cup Bari.
HP Junior Athlete of the Year
Ethan Doherty completed his first international start at the Europe Triathlon Junior Cup Wels, finishing inside the top 20 for 16th place. He also had a strong domestic season, finishing with Junior Men's National Championship silver at the Vodafone Dublin City Triathlon.
The Caroline Kearney Award
The Caroline Kearney award is presented for exceptional contribution to the sport of triathlon by a female athlete and is named in memory of high performance athlete Caroline Kearney, who was killed while training on her bike in 2005. The award is decided by a panel consisting of Triathlon Ireland's President, CEO and Women's Participation Lead.
Over the years a number of inspirational winners have had their name added to this trophy in Caroline's memory, and 2022 is certainly no different. The recipient of the Caroline Kearney Award for 2022 is Athy Triathlon Club's Karen Kavanagh.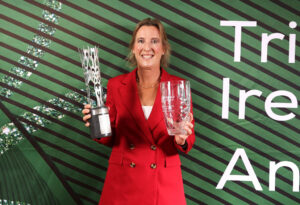 Karen was awarded for her huge contribution to the development of junior triathlon and especially for young girls in triathlon through her work within her club. Her approach to getting more young girls engaged with the sport and her drive to get them involved in coaching has been described as amazing.
Through the pandemic Karen's work helped to grow the junior section of Athy Triathlon Club to become one of the largest in Ireland, growing from 15 to 85 members. As a triathlete, she is always encouraging club members and anyone she meets to take part in races and training sessions.
Karen has also helped her club establish New to Tri and Return to Tri programmes, introducing triathlon to more of the local community.
Congratulations Karen!
Club Coach of the Year
Gerald Lynch from Athlone Triathlon Club is the Club Coach of the Year.
Gerald's clubmates at Athlone Tri Club said it best in their submission:
"Since he started in the club a few years ago Gerald has been extremely active as a chairman and a coach. He has qualified as both a Tri Leader and level 1 coach and has immediately put it to use within his club for swimming, track and turbo sessions."
"He has also been the driving force in the New2tri programme, the beginner and novice swim sessions and inspiring new tri leaders and aspiring coaches."
"He epitomizes what being a team player means being both a great support to athletes and the other coaches of the club. Gerald is a brilliant chairman, a super coach and a true gentleman with an extraordinary caring nature that infects all members instilling confidence and calmness when needed."
Technical Official of the Year
Technical Official of the Year for 2022 was awarded to Hugh McAtamney.
Hugh is Ireland's highest ranked and longest serving TO. Hugh has had a big impact on the international stage over many years including Officiating at Olympic Games. This year Hugh was Technical Delegate for the Commonwealth Games, a huge achievement and Ireland's highest ever TO appointment. Hugh continues to give back domestically delivering LTO and World Triathlon Level 1 TO courses
Volunteer of the Year
Eugene Keane has been involved in Limerick Triathlon club for many years having been an excellent runner in his youth. Eugene served on the committee of Limerick TC as Chairperson. He volunteers at the club's events and has coached for the club. Eugene co-ordinates group cycling, volunteered at all 3 Limerick TC events, helps coach beginner swimmers in pool-based technique sessions.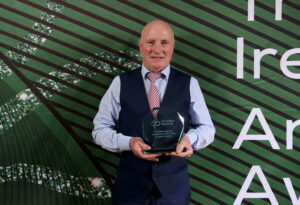 Eugene has a friendly welcome for all newcomers and no task is too much. He is a dearly loved and valued member of Limerick Triathlon Club.
Age Group Athlete of the Year
Owen Barron is the 2022 Age Group Athlete of the Year.
Owen year-on-year shows brilliant commitment to Tri-Team Ireland. A Massive seven international starts this year, including one gold, two silver and three bronze medals to show for his efforts. Owen is always happy to help other team members and guide new athletes making their Tri-Team Ireland debut. He brings a bubbly and light-hearted attitude to every Championship before getting down to business once the hooter goes.
Club of the Year
Tri Limits Triathlon Club
TriLimits is a club that has gone from strength to strength in recent years, particularly since the addition of a thriving junior section. The club scored highly on community engagement, supporting local charities and engaging with the local school. TriLimits place emphasis on cross-community support.
There is a 50/50 membership split of women and men in the club. In terms of the club's governance, they held a membership consultation for their strategic plan, they have a wellbeing programme for club members and they are recipients of the EVOLVE club standards Bronze Award.
Race of the Year
Vodafone Dublin City Triathlon
One of the biggest races of the year, this year Vodafone Dublin City Triathlon hosted the Sprint National Championships for both elite and Age Group competitors. As well as being voted for by the triathlon community, DCT scored highly across all areas.
We are looking forward to next year's Junior European Cup!
Hall of Fame
The Triathlon Ireland Hall of Fame recognises men and women who have made exceptional contributions to the growth and popularity of our sport and those who have put Ireland on the global triathlon map.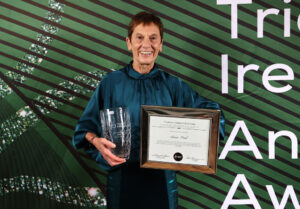 The Hall of Fame was inaugurated in 2017 and new inductees are added each year at the Triathlon Ireland Annual Awards.
This year Triathlon Ireland are very proud to induct Anne Paul into the Hall of Fame.
Anne Paul has been a stalwart of the triathlon community since the very beginning and has had an exceptional career that, even after 40 years in the sport, is still growing.
As one of the founding members of Triangle Triathlon Club, Anne has had success representing Ireland as both an elite and an Age Group athlete and this year raced her fourth Commonwealth Games, this time with para triathlete Judith MacCombe.
A very familiar face in our triathlon community, Triathlon Ireland is very proud to welcome Anne Paul as an inductee into the Triathlon Ireland Hall of Fame.
For more on Anne's stellar career achievements and commitment to the triathlon community, watch the following video https://www.youtube.com/watch?v=FKMdi7Ty1I4