Ireland's Para Triathlon team are recruiting for male and female guides for the 2023 season and beyond working with PTVI Para Triathletes in an exciting, vibrant, and inclusive sport.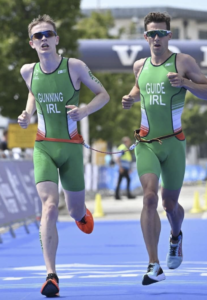 Triathlon Ireland is a leader in world Para Triathlon and is dedicated to supporting and developing athletes through a process of engagement, enabling, empowering and education. Guides give a para triathlete the gift of performing in triathlon and the ability to fulfil their sporting dreams. Guides have a vital role to play in the development of the para triathlete, sharing their sporting journey, and the future development of Para Triathlon in Ireland.
This is a very exciting time for Para Triathlon in Ireland with two athletes currently ranked in the top 10 of the World Triathlon rankings going into a Paralympic qualification year.
In 2022 Ireland secured their first ever major games medal at the 2022 Commonwealth Games, had an athlete place 5th in the Grand Final in Abu Dhabi, and won European and World Paratriathlon Cup medals.
If you have any questions, get in touch with Triathlon Ireland's Para Triathlon Programme Lead Natasha Kelly
If you are interested in becoming a guide, complete the application form by clicking on the green button below.
Apply to Become a Para Triathlon Guide