To celebrate World Health & Wellbeing Week from the 21st – 25th June, Triathlon Ireland have launched a series of Women in Sport Health & Wellbeing Webinars. Taking place each evening at 7pm, the webinars will cover a variety of interesting and educational topics with expert speakers.
The series of webinars for Health & Wellbeing Week is a great opportunity to hear from experts on a range of topics. There will be some really unique insights into many different topics relating to health and wellbeing that participants will take something away from.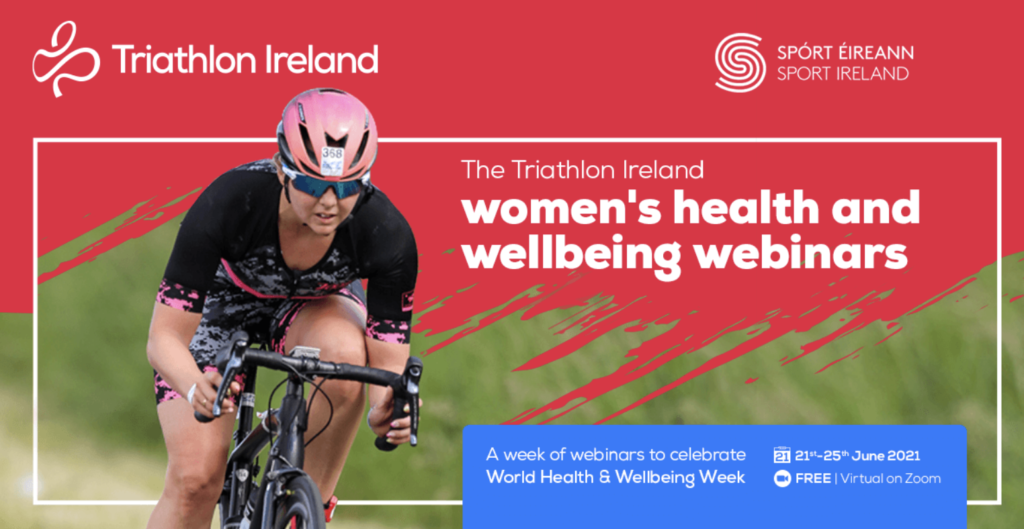 The Line Up
NOURISH YOUR NOGGIN
Monday, 21st June @ 7pm
Niamh Fitzpatrick, Psychologist
NUTRITION NUGGETS
Tuesday, 22nd June @ 7pm
The Beyond The Finish Line Advocates with nutritionist Fiona O'Donnell
JUNIOR SESSION – HEALTH & THE MENSTRUAL CYCLE AROUND TRAINING
Wednesday, 23rd June @ 7pm
Delivered by Move2B
Topic: Teenage Session – Health & The Menstrual Cycle around Training for Young Girls
CANCER & EXERCISE
Thursday, 24th June @ 7pm
Delivered by MOVE Charity
THE PANEL: RESILIENCE – MOVING OBSTACLES & OVERCOMING CHALLENGES
Friday, 25th June @ 7pm
Panel Discussion hosted by Nikki Bradley with Joanne Murphy, Hannah Shields & Laura Siddall.
For more information and to register for each webinar click HERE