The triathlon community celebrated the amazing achievements of young triathletes from across the country on Sunday at the  inaugural Triathlon Ireland Youth Awards which took place in the SETU Arena in Waterford.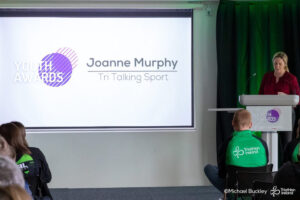 The ceremony, hosted by Joanne was followed by lunch and a social spin on the Waterford Greenway for all the junior attendees. The medallists had the opportunity to collect their awards from two of Ireland's top triathletes, Olympian Russell White and international triathlete Erin McConnell.
All of the awards winners are listed HERE for both the Youth Series supported by Costcutter and the Youth National championships. In addition to the athlete's awards, Junior Club of the Year and Junior Race of the Year were also celebrated.
JUNIOR CLUB OF THE YEAR
There was four very worthy finalists for the Junior Club of the Year award; Athy Triathlon Club, Pulse TC, TriLimits Triathlon Club and Tried and Tested TC.
Club nominations were received by the Triathlon Ireland Development Team who deliberated the winner. Junior club of the year was marked across the areas of safeguarding, community engagement, club activity and membership support.
Congratulations to 2023 Junior Club of the Year – Athy Triathlon Club.
JUNIOR RACE OF THE YEAR
All Youth Series supported by CostCutter and Junior National Championship races in 2022 were eligible for the Junior Race of the Year Award. This award was decided by a mixture of public vote, event experience, club activity & membership support.
Congratulations to all the shortlisted races; Pulse, Loughrea and Skerries.
Loughrea Triathlon Festival were the winners of the Junior Race of the Year, congratulations to all at host club Predator Triathlon Club!
THE YOUTH TRIATHLON COMMISSION
The recently formed Youth Triathlon Commission were a huge part of the awards ceremony, hosting a fantastic Q&A with international triathletes Erin McConnell and Russell White.
Representatives Chloe Kavanagh (Athy TC) and Cian O'Connor (Pulse TC) also spoke on their experiences of taking part in the Youth Series, supported by Costcutter.
Triathlon Ireland's Youth Triathlon Commission are;
Amelie Bocquet Predator Triathlon Club, Co Galway
Aoibheann Ryan Tried and Tested Triathlon Club, Co. Waterford
Chloe Kavanagh Athy Triathlon Club, Co. Kildare
Cian O'Connor Pulse Triathlon Club, Co. Dublin
Cillian Kirk Athy Triathlon Club, Co. Kildare
Claudia McGuinness Predator Triathlon Club, Co. Galway
Ethan Doherty Westport Triathlon Club, Co. Mayo
Fiona Jackson Pulse Triathlon Club, Co. Dublin
Mollie Jackson Tri Limits Triathlon Club, Co. Tyrone
Sadbh Kelly Fingal Triathlon Club, Co. Dublin
Sadhbh Brady Athy Triathlon Club, Co. Kildare
William Moore Cavan Triathlon Club, Co. Cavan
For more information on the awards, winners and gallery of photos by Michael Buckley click HERE