Russell White and Becky Woods are Ireland's new Standard Distance Triathlon National Champions following a morning of fast and fiercely competitive racing at Pikeman Triathlon.
The title is White's second, following his victory at DCT in 2016, and comes as a step along his path to full fitness following a period in hospital for treatment of his Crohns' disease. White spent 16 days in hospital earlier this summer with the condition, losing 9kg in less than two weeks, and enduring the following eight weeks without any food, only formula shakes. Describing his return to training as sensible, White declared his intention to park what happened earlier this summer, overcome it, and push on with hopefully continued good health and determination.
For Woods, the race was her first national title at Standard Distance and her first race at the distance in 2022. The win shows she's in good form for the upcoming World 70.3 Championships in St. George, Utah, in October.
Woods followed Fiona Murphy, the fastest woman, from the water almost 2mins down. But once on the bike, Woods began to make her way to the front of the field. She clocked a powerful 00:56:31 split over the 40km to come in to T1 with a healthy lead.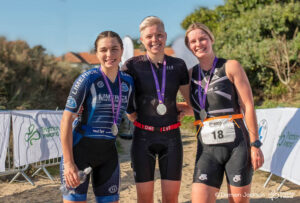 Then, once on to her favourite discipline of the run there was little doubt to the outcome of the women's National Champs but Woods kept the pace ultra-high, covering the 10km in 00:37:19, almost four minutes quicker than the next quickest woman.
She crossed the line in 02:04:10, a worthy winner of her first Standard Distance National Champs and said afterwards that she thoroughly enjoyed her experience:
Second place went to Niall Cornyn and Shauna Doellken O'Shea, while Eoin Lyons and Aisling Wyer finished in third place.
Provisional Results are on SportsSplits.com