It's that time of year when the world's best triathletes and para-triathletes gather to contest the World Triathlon Championship Finals. The 2022 World Champs are taking place this week in Abu Dhabi, and Team Ireland has a number of athletes competing in a variety of disciplines.
5th for MacCombe and Sands
The first to take to the course were Chloe MacCombe and her guide Catherine Sands. This is their second major championship of the year, following silver at the Commonwealth Games earlier this year.
Speaking of the pair's goals, Chloe MacCombe said, "Last year in Abu Dhabi we finished eighth and we want to come back and do better than that this year. So we're hoping for a top five. You don't know what's going to happen on the day but we're hoping for a top five".
A challenging yet realistic goal as the pair crossed the line in a time of 1:14:01 to claim 5th in the Women's PTVI event.
Top ten for McCarthy and Husband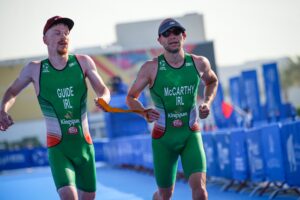 Donnacha McCarthy and his guide Sean Husband have had some strong results over the past twelve months, including adding European Middle Distance and World Aquathlon titles to their tally.
The duo were also looking to improve on last year's eighth position in Abu Dhabi. However, a strong Men's PTVI field saw them race hard in a time of 1:04:41 to claim 9th position.
Age-Group Success
Several age-group athletes were also in action today in the Super Sprint distance. Anna Benson claimed a bronze medal in the 15-19 age-group, while Nigel Fanning has taken silver in the 45-49 age-group, closely followed by fellow Irishman Patrick Tierney for bronze in the same category.
McConnell to take on Worlds Best U23s
On Friday, Erin McConnell will take on the best Under 23 athletes in the world. Triathlon Ireland caught up with Erin while on warm weather training camp recently, and she was looking forward to the start line;
"I'm really excited for this race coming up.
"It's my second time doing an Under 23 race so I do have that little bit of experience there but at the same time I'll still be looking forward to learning and I have another year after that as well for an Under 23 race.
"It'll be my first Olympic distance this year so it might be a big ask, I don't know yet. We're on camp at the moment and I'm really enjoying training and I'm working hard and things are going well so I'm excited, excited to race."
Where to watch
You can watch Erin McConnell's race live on Friday and on demand on TriathlonLive.tv with the women going out at 7.30am local time, and the men at 10.15am.