Race season is upon us at last! If this Summer is your first time taking on a triathlon, you might be a little bit nervous about how the event will go. We've pulled together a few tips for your first triathlon to help keep your mind at ease in the lead up to, and during the race.
Pre Race
Timing Chip
There's a good chance no one will tell you this unless you get it wrong. The timing chip goes on your left leg. This is to avoid any possibility of it catching your bike chain.
Check Your Bike
In the days leading up to the race, make sure you have everything you need ready to go. If you think your bike needs a service, make sure you book it in for earlier that week so it's ready with plenty of time pre-race day. The bike mechanics in your local bike shop will also appreciate your bike arriving with plenty of time and not adding to the pre-race rush!
Race Briefing
It is your responsibility to know the rules of the race as well as the race route course. Most races will have a race briefing document and either an in person or virtual race briefing, make sure to take the time to digest the information and take note of the important details. Make sure you check out how far away the race is; note the check-in and wave times, and important race information such as parking, bike check-in and check-out.
Get Organised
Pack the night before. If you need a run through of things you'll need for race day, we've got you covered there too! Check out our checklist for race day HERE 
On race day, arrive early to get set up and familiarise yourself with the course. Make sure to follow all race rules and listen to instructions from the race officials. During the race, remember to pace yourself and stay hydrated. And most importantly, have fun!
The Swim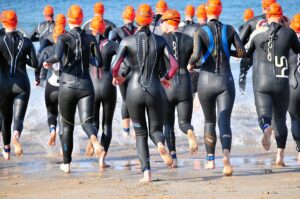 The swim is often the most daunting part for anyone who is taking on their first triathlon. Just remember, the race organisers must make sure the relevant safety precautions are in place in order to host the race. There will be stewards as you enter and exit the water. There will also be a number of kayakers and water safety marshals out on the water who are there specifically to help anyone who finds themselves in trouble.
If you find yourself struggling, or panicking, roll onto your back and take a few deep breaths. If you feel you're not able to continue with the swim, put your hand in the air and an on water marshal or  member of the safety crew will come to you.
Many races will have a mass start for each wave of the race. If you're anxious about the swim, take your time entering the water and keep towards the back of your group to avoid all the elbows and feet looking for the best line to the buoy. Don't forget to keep an eye on which direction you're swimming!
Top Tips:
A little bit of body-glide or Vaseline under your wetsuit will help you get it off much more quickly as you transition from swim to bike.
If you're not a confident swimmer, consider taking lessons to improve your technique in the lead up to racing! Additionally, you may want to practice swimming in open water (such as a lake or ocean) to prepare for race day. The open water experience can be very different to the pool environment, so it's good to experience it ahead of race-day!
The Bike
Unless you've had plenty of practice of mounting your bike with the shoes attached to the pedals (called a flying mount) and are confident you can successfully do so on race day, it's probably best to pop your bike shoes on beside your bike and walk/run to the mount line, especially for your first race.
At most IRONMAN races you are required to have your shoes on before you leave the changing area, unless you are doing a flying mount. Check the specific race details to ensure you are not penalised for doing something wrong in transition.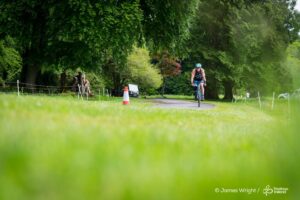 Most triathlons in Ireland and the UK are non-drafting. This means there shouldn't be anyone too close to your back wheel to avail of an energy saving draft. It also means you are required to give the rider in front of you adequate space so that you aren't benefitting from their draft. Unless you're making an effort to pull out of their slip stream and pass them, make sure to leave enough space between you and the rider in front of you. This will be outlined in the pre-race guidelines.
Make sure you have water or a carbohydrate mix in your water bottle for out on the bike course.
Top Tips:
If you're worried about mounting your bike and causing a traffic jam behind you, just move a little bit to the side after you cross the mount line and take your time. Ensure your bike is in a gear suitable for the terrain, you don't want to be in too hard or too easy a gear when mounting your bike.
Remember to have your helmet on and the strap closed before you remove your bike from the transition rack and keep your helmet on with the strap closed until you have your bike racked after completing your cycle,  otherwise you could be penalised by race officials!
Explainer: What is drafting?
If you've ever ridden your bike close to the back wheel of the one in front of yours, you'll likely have noticed it is somewhat easier to keep the pace with the bike in front of you than if you were a few metres behind them. Sitting in the slip stream of the bike in front of you is a way cyclists conserve energy, this is known as drafting. Drafting is not allowed in most triathlons, except where stated.
The Run
If you've pushed yourself on the bike, your legs will probably feel a bit jelly-like as you set out on the run. Don't worry, this is normal. Remember to pace yourself during the run course. It's better to finish strong than go out too hard too early and fade before the finish.  Running off the bike is call a brick run, incorporating short brick runs into your training will help with the ' jelly leg' experience on race day.
Top Tips:
In the last few 100m of your bike section, move into an easier gear and allow your legs to spin at a higher cadence to loosen them out a little before you hit the run.
Have a small bottle of water to hand to bring with you out onto the run course, the first aid station might be a km or two after the start of your run.
To wear socks or not wear socks that is the question, either way make sure your feet are dry going into your  running shoes, using talcum powder to help your feet dry and make it easier to put your shoes (and socks) on.
The Finish
Smile! Enjoy the atmosphere at the finish line and enjoy sharing race stories with fellow athletes.  Wear your medal with pride and sign up for your next race ASAP.
Even if everything doesn't go to plan on race day, don't worry, you'll be back to do another race soon with all the knowledge and experience you've acquired in your first race!
Triathlon can be a challenging and rewarding experience for beginner athletes. With proper training and preparation, anyone can complete a triathlon. Remember to focus on each discipline separately, practice transitions, and have fun on race day.